Opinion
HOW CAN TERRORISTS bring down the United States? Just keep up the chatter about fanciful bomb schemes so that we will chase our tails and spend ourselves into oblivion. What's next? Laser beams shooting from the eyeballs? Switchblade fingernails?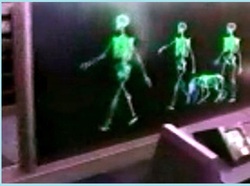 The government has warned airlines that terrorists are considering surgically implanting explosives into people in an attempt to circumvent screening procedures, according to U.S. officials. – LA Times, 7/6/11


I guess I'll have to be patient and wait for the medical professionals to weigh in. Is there really a body cavity that can be used to convey a significant amount of explosive as well as a detonator? Where will the detonator control be placed? Will the belly button become the "Fire" button? If there is such a cavity, could I use it to carry a very personal computer?

I have a better question: Why not stop the scare tactics and restore Civil Defense. Ever since 9/11, the politicians have used the terrorist threat to create new federal bureaucracies, increase defense spending, and infringe on personal liberty. We have been told to sit by and let the experts defend us from the creepy terrorists. (Call them creepy or anything you like except Islamic.)

Remember the platitude: When seconds count, the police are only minutes away. We can update that now with a new version; When terrorists count down, Homeland Security is only thirty thousand feet below.

It's my guess that the next attack won't come when or where we're expecting it. I also doubt if the cavalry will be within striking range when it occurs. Thus, it will be up to the people there to detect the threat, call for help, and delay the perpetrators. Has anyone prepared you for that? I know they haven't done anything for me or anyone I know.

What is going to happen following an attack? Don't worry, the government will come to the rescue, sooner or later. Remember New Orleans and Hurricane Katrina? Do you have an axe in the attic so you can cut a hole in the roof and sit up there waiting for help? Has anyone prepared you to cope with a disaster? Again, no one has done anything for me or anyone I know.

The truth is that if you mistakenly report suspicious activity you may be liable for defamation. If injure someone while detaining or restraining a terrorist, you may be guilty of assault and battery. If you attempt to help victims and harm them, you may be liable for their injuries.

In all probability, adequate training and preparation of a Civil Defense organization would be far less expensive than attempting to counter every threat, real and imagined, and would be far less intrusive into our lives and liberty. Furthermore, it would probably be far more effective than anything the government is doing today.

What do you think?