Sponsored by BallotCraft
Anyone who followed my blog postings for Elections 2012 and 2014 may easily imagine that I'm steeling myself for another disappointment in 2016. My powers of prognostication are probably no better than yours. However, I'm determined to have a little fun this time. I'm playing BallotCraft.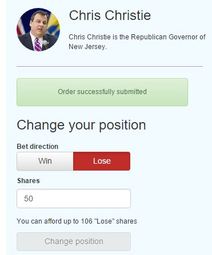 Playing BallotCraft is much like playing Fantasy Football. It doesn't matter if your favorite team wins or not. You win or lose based on the performance of the individual candidates that you select from every party and ideology. Your challenge is to pick the best performers from the field.

Don't put all your eggs in one basket. Points won with good choices will offset those lost on poor ones. Your overall score is based on the average of all the candidates you've selected.

Now, rather than annoying friends and family with your political views this campaign season, why not vent your spleen on your fellow players. There are discussion threads and a Chat Room where you can make new friends and political enemies.