Cuba
NO VEHICLE CAN be animated by the human psyche more vividly than one that swims upon the seas. Aircraft and land vehicles of all types pale in comparison. It may be that just as we gestate swimming in a sea of amniotic fluid, a seagoing vessel touches our souls because it delivers us safely from an unnatural environment; one to which we are destined to emerge but which will remain alien forever after. Thus, the Cuban revolutionaries cling to the Granma, the vessel that delivered the Fidelistas safely from Mexico to Cuba where they mounted a successful insurgency to depose the hated dictator, Fulgencio Batista.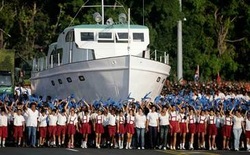 I suppose, too, that the Granma reminds them of the loss of so many of their compañeros. Men who share danger, such as the harrowing sea voyage in a derelict yacht, are forever bound by the experience. Thus, the Granma is a revered memorial to those who died within the first days after they landed.

This bond between men and boat is likewise memorialized in the name of a Province cut from the Oriente of Cuba where they launched their revolution. It is also memorialized in the name of their official party organ. Although the Spanish equivalent of Granma, abuela, could have been substituted, we are left to wonder if these men, born and bred on an island nation, clung to the ancient mariner's superstition that it was bad luck to rename a boat subsequent to its christening.

Now, here again, in the 50th anniversary of the Cuban victory at the Bay of Pigs, the Granma joins the celebration as its replica churns through a sea of jubilant children. Looking at the still photo you can almost here the chant. ¡Viva Granma! ¡Viva la revolución!

Unfortunately, the Cubans must reignite their revolution. The man who gave birth to it, also killed it. They seem to fail to realize that a bureaucracy now rules in Havana and it perpetuates the human rights violations that Fidel and his Communist compañeros began.