Opinion
There are only two arguments that matter in support of granting citizenship to all who have slipped across the borders without permission. Political arguments do not matter. Latin Americans, especially Mexicans, argue that they have more right to occupy the Southwestern territories of the United States than US citizens inasmuch as the land was stolen from them. I addressed this issue in another posting regarding the legitimacy of conquest wherein I argued that the Spanish conquest of these regions is no more legitimate than the US conquest of them. In other words, we only stole what was stolen. Indeed, you would be hard pressed to find a square inch of habitable land on planet earth at any point of history that isn't held by right of conquest. In this posting, I would like to address a far more important issue: The Rule of Law.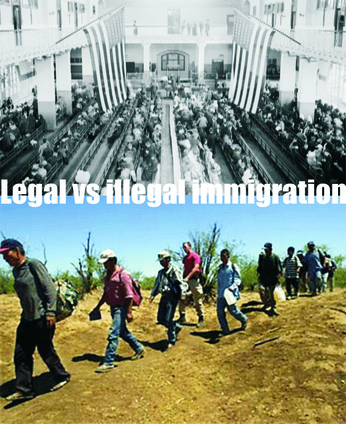 Obviously, those who have entered the United States without permission will be bewildered by my obsession with The Rule of Law. Their mere presence is clear evidence that it is of no importance to them. Sadly, many native born US citizens are likewise bereft of any understanding of it. The absence of civic lessons in our public schools, as well as many private schools, has denied them the opportunity of learning its importance.

The Rule of Law is fundamental to the success of any truly free people. To be free, people must be responsible for themselves. They must live responsibly. They must accept the fact that their liberty is full and complete, but it does have its limits, limits that begin at the extent of everyone else's liberty. Finally, they must abide by a social contract in which the rules of the community are specified. These are alien concepts to everyone who comes to live in the United States, everyone whether they come here with permission or not. In other words, respect for the Rule of Law must be learned.

I know with absolute certainty that my grandparents who immigrated from the old world – the Austro-Hungarian Empire (today's Slovakia), England, and France – didn't understand it. Neither did my wife's parents who immigrated from Russia. All had been raised in worlds ruled by tyrants. Obviously, my Slovak predecessors lived under the rule of an emperor, Franz-Josef, but England and France? Tyrannies?

Tyranny comes in many shades. My maternal grandmother, an Englishwoman, suffered under the tyranny of a class system. As Doctor Henry Higgins proclaims in My Fair Lady:

"You see this creature with her kerbstone English: the English that will keep her in the gutter to the end of her days." That fairly describes my grandmother.

My French forebearers suffered under a socialist tyranny wherein individual freedom extends only within the limits imposed by the needs of society. The tyrants are those who define the limits, usually bureaucrats.

I suppose that my most intimate knowledge of the endurance of cultural conditioning to tyranny came from my wife's father who considered the Presidents of the United States, each and every one of them, as little more than American tzars. He would no more criticize a US President than speak out against the Tzar under whom he lived. Liberty was an alien concept to him.

All of these immigrants came to America for different reasons: Religious freedom, opportunity to earn a better living, whatever. None actually realized that whatever they wanted or expected was the result of liberty. Few were prepared to take responsibility for themselves. This is why most immigrants chose to live in communities populated mostly with others of a common heritage. Enclaves of Italians, Jews, Germans, English, etc grew in every American city and town. Most willingly accepted the tyranny of their employers. True Americanization and independence would wait for their children and their children's children who learned to speak, dress, and act like Americans, and who were educated as Americans. Those who speak of America as a melting pot usually ignore the slag of first generation immigrants who resisted assimilation and clustered in their own communities on the fringes.

Sadly, assimilation is difficult for those who reside in the United States without permission. People who hide in the shadows cannot enjoy the warmth of the American experience. This is why lawful immigration is so important.

The United States has always benefited from its immigrants. In the first place, America's great economic engine owes it success to entrepreneurs. Corporations didn't create it. They are merely the caretakers of entrepreneurial successes. Government didn't create it. Indeed, every attempt by government to create a successful commercial enterprise has failed, from George Washington's attempt to establish fur trading stations on the frontier to Barack Obama's green energy industry such as Solyndra. No, America's success was built by private entrepreneurs, risk takers. They are the descendants of those who took the greatest risk of all, those who picked up their families and emigrated to America without anything more concrete than hope.

Of course, those who come here without permission have hope, many the same hopes that drove my ancestors. However, the lack of permission is significant.

Those who arrived with permission were taught the rule of law. Those who did not, fail to grasp its importance. Indeed, most who arrive from Latin America come from former colonies that were imbued with the Spanish habit of brutality and corruption. In those lands, most who have wealth possess it because they stole it. It is no surprise that many Latin Americans look at the wealth of Americans and believe that it was likewise stolen. That is, after all, consistent with their experience. Little do they realize that America's great success and wealth was earned through hard work.

Imagine for a moment that Mexico were to regain California by right of conquest. It's not too hard to imagine these days, is it? A weak government, led by a weak President, seem unable to contain the invasion crossing the US-Mexican border. Would the Mexican government inherit the seventh largest economy in the world, or would California decompose into another poor Mexican state?

Or course, Mexicans work hard, just as hard as Americans. However, they do not enjoy the same freedom. They live under the shadow of a brutal war being waged between their government and the drug cartels. They live with a Spanish-inspired system of bureaucratic corruption. I remember once listening to President of one of Howard Hughes' corporations describing how he once returned from Mexico with a tanker full of crude oil purchased by a few bribes just to demonstrate the corruption of that government. Yes, it is the same type of corruption that we see growing in the US.

What illegal aliens and many Americans fail to appreciate is the Rule of Law that is necessary for a free and independent people. That is why we need to return civics classes to American schools and all who would immigrate to the US must demonstrate their respect for the Rule of Law by coming here with permission.