Election 2012
I STILL HAVE doubts that Romney is truly committed to becoming President of the United States. He didn't display any real passion for it until his first debate with President Obama. The Republican debates during the primary season found Romney awash in conflicting ideas on how to best deal with America's issues. He didn't so much win the nomination of his party, but rather outlasted his opposition as, one-by-one, they fell by the wayside.

Mitt Romney's résumé is impressive. He has a long history of resuscitating lost causes: businesses, governments, and the modern Olympics. Some may cry foul at the mention of the Olympic Games inasmuch as he took public funding to help finance them. So what? Some will have to explain to me how that diminishes his accomplishment. The Winter Olympic Games in Salt Lake City that he managed was well organized and the city didn't go bankrupt by hosting them. Now, look at how many businesses have received public funding through Obama, and gone bankrupt. Yes, some businesses that Romney took on ultimately failed, and there are those who quickly point to these failures as reason to discredit his other accomplishments. However, those making this case are only belying their own ignorance of entrepreneurship. Most new businesses fail, as many as ninety percent of them. Romney is remarkable in having a far higher rate of success. The President's record of picking losers is stunning.

Does experience as a business executive qualify anyone to be a government executive? Hardly. We can find many examples of successful businessmen and women failing when they attempted to translate their business skills to governing. Arnold Schwarzenegger is a prime example. Many don't realize just how intelligent Arnold is, or how successful he was in business. Unfortunately, he had no experience in politics prior to becoming governor of California. Mitt Romney has no such problem. He has been a successful governor as well as a successful businessman.

One thing worries me about Romney. He was challenged in the second debate with President Obama to differentiate himself from former President Bush, and was fairly successful in his response. However, there is one weakness that he shares with Bush. He is equally deluded in the belief that he can "reach across the aisle" to create bipartisan consensus. Both men had experience working with state legislatures dominated by Democrats. Bush came to Washington thinking he could do the same in dealing with Congress. I can still see in my mind's eye, the image of Bush, shortly after his inauguration, standing arm-in-arm with Senator Teddy Kennedy, who quickly began inserting knives into Bush's back at every opportunity. I can imagine the same happening if the Democrats retain control of the Senate, and Romney attempts to get a budget through Congress. .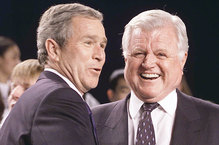 Senator Kennedy promised bi-partisan support for George Bush's Administration but progressive ideologues don't compromise
As the candidates discuss government spending during the debates, I can't help but think how futile it all will be if the Democrats continue to stand in the way of any budget that the Republicans attempt to craft. They even rejected the budget plan that Obama submitted. Why would any sane person want to deal with that mess?

Ultimately, Romney probably will fail to deliver on his campaign promises if he is saddled with the Democrats in control of the Senate. He won't be able to rescind Obamacare, revise the tax code, or get government spending under control. Unless, of course, Romney is able to marshal the American electorate to apply enough pressure on the Senate to approve his proposals. Few Presidents have had this ability, and I'm not sure that I see it in Romney as yet. He may surprise me.

First, he will have to convince me that he really wants the job