Cuba
AS SOMEONE WHO is famous for being late to engagements (he once kept guests waiting over 4 hours for him to arrive and give a speech), Fidel Castro arrived surprisingly early for his own funeral, still breathing. And, despite the fact that he has no official standing in either the Cuban government or the Cuban Communist Party, Chinese diplomats contend that he still wields power. As long as Castro continues writing columns being published in Granma, the official organ of the Communist Party in Cuba, they content that he will be able to sway and incite the people with his popularity.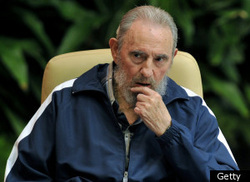 Still, there is no denying that Castro's health is waning. Delegates to the Sixth Congress of the Cuban Communist Party shed tears as their beloved leader was helped to the podium. It is doubtful that they would have mourned any more vigorously had be been carried there in a casket. The only thing missing was the requiem mass.

Just what are the Cubans really mourning, Fidel or his broken promises? Did he restore the Cuban Constitution suspended by Fulgencia Batista? Did he permit free elections? Did he do any of the things he used to justify his revolution? No.

Are the Cubans mourning their lost family members? Thousands have been executed or imprisoned for purely political 'crimes' and 'crimes of conscience.' Secret police, by whatever name they may be known, still smell as foul.

Are the Cubans mourning their loss of freedom? Not really. Those who truly value freedom left Cuba over the years. Most braved perilous crossings to the United States in unseaworthy and improvised vessels. Some may argue that they would have been better served had they invaded Havana rather than Miami, but Castro's popular hold over the majority of Cubans foredoomed any such attempt. In other words, those who remained in Cuba, cheering for Fidel, have exactly the government they deserve.

All of which leaves Americans wondering if the post-Castro era has already begun or must we still wait until he actually dies?