Vietnam
GI'S IN VIETNAM referred to shelters as hooches – a spelling variation of hotch, meaning booze or alcoholic beverages – but having no apparent connection to the hotchy-kootchy, a sensual form of a belly dance. During my tour of duty, I spent some nights in bunkers or sleeping in a ditch. Unlike the front line grunts, I spent most in a somewhat comfortable shelter. None of thehooches we occupied were in any way sensualbut most were supplied with hotch.

After checking in with the Adjutant General, the AG Sergeant Major escorted me to the 9th Admin Company orderly room where I received a flak vest, steel helmet, and an M16 rifle. I was also fitted for jungle fatigues and boots.

I was then shown to the mess hall and officers club. The last stop was my first billet.

My first shelters in Vietnam, both at the reception center in Long Binh and the 9th Admin Company Transient Officer's Quarters at Camp Bearcat, headquarters for the 9th Infantry Division, were wood frame buildings built on concrete slabs. The walls were simple frames covered in screen and overlaid with widely spaced slats that provided some semblance of privacy without blocking the breeze. The roofs were corrugated, galvanized steel.

On my first night at Camp Bearcat, I unpacked my bags and used a horizontal member of the building's frame as a shelf. Shortly after taps, a nearby 8" howitzer battery went to work. I dove from my cot to catch a falling bottle of after shave lotion – yes, I took after shave to Vietnam – and succeeded despite being wrapped in mosquito netting that I dragged with me.

The building seemed to breath – its walls expanding and contracting – with each salvo.

The sound of rain on a galvanized roof can be very loud, especially during a monsoon. It was like living inside a metal drum. I remember shouting bids to my partner while playing bridge during a storm. Even the howitzers firing nearby could not compete with the noise of rain drumming on the roof.

I moved from there to a wabtok that I shared with five other officers. A wabtok is an interesting structure having a wooden floor elevated atop metal shipping cases for large caliber artillery shells, resembling sections of sewer pipes. A flimsy wood frame covered in screening to keep out insects forms the walls, and a tent – GP (General Purpose) Medium – serves as the roof. The walls of the tent are stretched out on all four sides to serve as awnings.

The Division Adjutant Generals offices were also housed in wabtoks. They were arranged in pairs, end-to-end, along a road near the division headquarters building, close to the wabtok that housed the office of the division G1, the division's chief administrative officer. Unfortunately, the canvas tents rotted quickly in the tropical climate and were threadbare by the time the monsoon rains began. They sagged with puddles and I sent an enlisted man with a broom to empty them before the tent collapsed. Unfortunately, he used the stick end of the broom to try and push the tent up where it was sagging. The broom handle burst the puddle like a balloon and the poor lad was drenched. I couldn't stop laughing long enough to be angry.

The division had arrived in country en masse about four months ahead of me and construction of more permanent facilities was well underway. The division's Finance Offices were already completed – a row of the single story buildings similar to the transient officers quarters. It was a clear indicator of who was considered more important.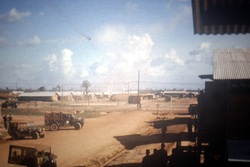 View from second floor balcony of an AG Office. Black streak is warplane bombing a target outside the berm (click to enlarge)
However, when the engineers finally got around to building our permanent quarters – about six months after my arrival – we were treated to two-story versions of the type of building that the Finance Corps worked in. We felt truly honored until we saw how quickly the termites could gnaw their way through a 2x4 – about a boardfoot per day. Also, it was unsettling when we realized that our new offices extended well above the base camp's protective berm and we were sitting targets for snipers. At night, we exited using the door away from the base camp perimeter even though that forced us to retrace our steps on the ground to reach the urinals (fodder for a later posting).

When the two-story company grade officers quarters were constructed, each of us was provided an 8' x 10' room with a screen door exit. However, each room shared an open doorway with the one it backed up to so that we would all have at least two exits – in case of fire or attack. CW2 (Chief Warrant Officer) Ray Cimbalnik and I had adjoining rooms and decided to share one as a bedroom and the other as a living room. We requisitioned four risers and stacked our cots as bunk beds. I slept on the upper one and only regretted the choice on one occasion when 144 mm rockets slammed into our base camp. It was about three months following the Tet Offensive of 1968 and hadn't heard a shot fired in anger until North Vietnamese Army (NVA) units reached the Delta and were able to resume the war that the Viet Cong had failed to survive. Ray and I both awoke sitting on the edges of our beds. The first rocket had awakened us. We didn't realize why until we heard the second explosion. Ray began to rise from his bed and my knees became hook over his shoulders and he dragged me with him This wouldn't have been a problem except that my mattress had slipped below the edge of the metal frame of the cot and my family jewels were hooked. I grabbed Ray by the ears and dragged him back. He didn't have enough hair to serve as a handle.

Our living room contained four chairs, a card table covered with a woolen Army blanket, and a counter containing a small refrigerator, a hot plate, and a small TV. We covered the end walls with pin ups extracted from Playboy magazines. A 3" x 5" ad hidden among the photos asked, "Had any lately?" We could always tell when someone examining the photos found that sign.

Most Vietnamese hooches in the countryside were walled with wood or wattle and had thatched roofs. The floors were packed dirt and mama-sans swept them daily with palm fronds. They separated the fibers of the leaves so that they were finer than any straw or plastic broom. Many had walls clad with flattened beer and soda cans. It was amazing to see what they could fabricate from the trash heaps that we accumulated at our base camps – including weapons.

City homes were mostly built of clay bricks or cinder blocks. Most used bamboo for structural support in the same way that we use steel. It didn't rust and was impervious to termites. Although the Vietnamese could not build higher than a couple of stories using bamboo in place of steel girders, their buildings were amazingly strong and long lasting.

One of the most common phrases heard came from new arrivals when seeing a Vietnamese hooch for the first time. "I wish my mom/sister/wife/girlfriend could see this." Yes, we all came back appreciating the homes we had in America, no matter how poor.