Americana/History
There are a few quaint traditions that have faded from the culture but not from my memory. People wore poppies on Veterans Day. Everyone wore a carnation on Mothers Day, red if she was alive and white if not. Americans stood for the playing of the National Anthem, hands held over hearts. Sure, some still observe these traditions. Others do not. Many do not even know that they were common practices once upon a time.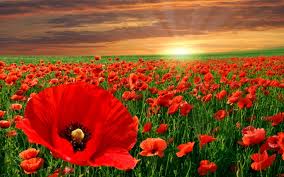 I saw the disparity of memory and knowledge as I sat outside a neighborhood grocery store this weekend passing out Buddy Poppies for the Veterans of Foreign Wars and taking donations from those who cared. A few paused to talk. One offered to fetch me a cup of coffee for it was chilly this November 11th in Southern California. I could not help but wonder how many or how few understood the significance of the little red artificial flowers that I offered.

Wearing poppies in remembrance of those who lived and fought and died in the Great War and all that followed began with a poem written by a Canadian soldier, Lieutenant Colonel John McCrae: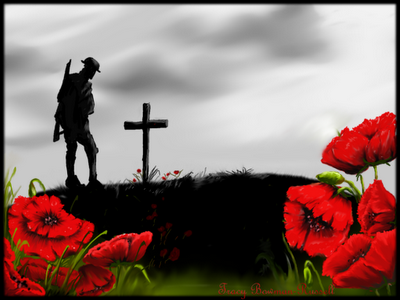 In Flanders fields the poppies blow
Between the crosses, row on row,
That mark our place; and in the sky
The larks, still bravely singing, fly
Scarce heard amid the guns below.

We are the Dead, Short days ago
We lived, felt dawn, saw sunset glow,
Loved, and were loved, and now we lie
In Flanders fields.

Take up our quarrel with the foe:
To you from falling hands we throw
The torch; be yours to hold it high.
If ye break faith with us who die
We shall not sleep, though poppies grow
In Flanders Fields.
---
A few who stopped to accept my offering of a poppy were from Canada and Great Britain. They mentioned their surprise at seeing me here. It seems that veterans distributing poppies and people proudly wearing them is a far more common sight in their native lands, their memories longer than those of Americans.

Sad.