Oh-dark-thirty
I'VE BATTLED THE BULGE nearly all my life, at least the past sixty years of it. Bear with me through my tale of suffering and I'll share a secret with you. Hopefully, it will be a valuable secret if you share my affliction.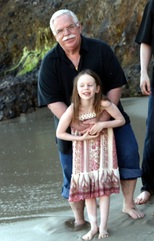 This was a few months ago. I usually hide behind others, like my granddaughter, when pictures are taken (click to enlarge)
I began gaining weight when I reached puberty. My mother took me to a specialist at Johns Hopkins who poked and prodded before declaring, "Mrs. Durish, your son eats too much." How perceptive of him. I didn't stop the gain until I reached two hundred-forty pounds in my fourteenth year.

I wasn't sedentary. I played outside of the house whenever possible. Baseball. Football. Getting out was my escape from an abusive father.

As far as I could tell, I wasn't overeating. My brother, who never saw the high side of one hundred thirty-five pounds consumed more calories in a meal than I did in any two days. No, he wasn't more active. My father also remained relatively trim regardless of what he ate. Unfortunately for them, both suffered severe arterial blockages in later life due to excessive cholesterol intake.

Shortly after graduating from law school, I applied to the Navy. They wanted me to lose seventy pounds before they would consider me fit for duty. My mother had heard of a "diet doctor" who was "working miracles". He gave me a month's supply of two pills and told me to return when they were gone. I lost the seventy pounds in about two and a half months. The doctor went to jail. No, I never learned what was in those pills.

I didn't begin regaining the weight until I was stationed in Hawaii with the U.S. Army (the Navy thing didn't work out), and an Army doctor handed me instructions for a thing called the Diabetic Exchange Diet. It was the precursor of the system that Weight Watchers made famous. I lost the weight and maintained myself for a few years on that.

One of the things I learned on the Army Diet was that I required far fewer calories than normal. The doctor calculated that I should be able to lose weight eating 2000 or less calories per day. I had to reduce my intake to well below that. I gained on two thousand.

Interestingly, I don't require as much oxygen as a normal person either. As a SCUBA diver, I often returned to shore with my tanks only half empty after my diving buddies had drained theirs. Apparently, I have the metabolism of a harbor seal.

Several times over the years, doctors have recommended that I keep a diary of what I eat. I developed an aversion to this practice in my youth because doctors would examine my diary and declare that I had a psychological problem. Obviously, in their opinion, I was lying. No normal person could eat so little and still gain weight. However, as I learned in later years, such a diary is valuable to weight loss and weight maintenance.
Now, you will be rewarded for your patience. I have found an excellent online diary. One of its greatest features is that it's free. It's called
MyFitnessPal.com
.
It's second greatest feature is that it's easy to use. When you first begin using it, you'll have to look up the foods as you eat them. You will be surprised to find that most everything you eat is already listed, including listings for different brands of the same foods. Then, those foods that you eat frequently will appear in a special list that you can add to your diary simply by selecting them.
And, it's free.
MyFitnessPal.com
also allows you to record your exercise activity and credits you with more calories in your diet if it is significant. And, it encourages you to drink water. You will be admonished to drink more every day if you don't record a minimum of 8 glasses.
Did I mention, it's free?
Also, we can be buddies.
MyFitnessPal.com
features a system that allows updates to be sent automatically to friends so that we can encourage each other as we lose weight.
Okay, one last time. It's free.
By the way, I've lost almost fifteen pounds since I began using
MyFitnessPal.com
about nine weeks ago. Huzzah for me! I must admit that it calculated that I was allowed two thousand calories per day based on my height and age. Right. I would need a forklift to get around if I ate like that.
The lawyer in me advises that I warn you to consult with your physician before embarking on any diet or exercise regimen, and your results may vary. Also, take note: This is not a paid endorsement. I'm just sharing.