Election 2012
WE THE PEOPLE are fast approaching a tipping point. We are about to relinquish political power to those who seek equality. People living on the government dole will soon outnumber those who pay for it. They will be in the majority and able to elect whomever they want. Is there any doubt that they will only want to elect those who redistribute wealth from the wealth producers to them? Once they dominate, is there any reason to believe that they will elect leaders who would reverse that trend?

These two graphs show our government at work attempting to create equality. They're taking from tax payers and giving to non-payers. Even though there are still more households paying taxes than there are collecting benefits, the system is unsustainable. Imagine how bad it will be when the balance tips the other way and there are more non-payers than payers.

Now imagine candidates running for office in an attempt to pull the country back from the brink of financial ruin. Obviously, most voters on the public dole will be inclined to vote for their opponents, especially if the opponents disclaim any problem and promise to continue redistributing the wealth. How should the candidates for fiscal responsibility appeal to the beneficiaries of government largess? Or, should they focus their attention on those who are footing the tax bill and looking for relief?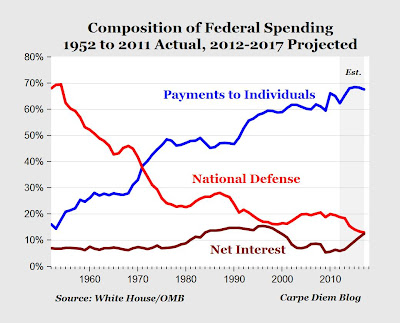 Transferring wealth from tax payers to tax non-payers has become "Job One" for the federal government (click to enlarge)
Interestingly, Candidate Romney raised this issue, and has been castigated for dissing the American people – well, at least those Americans who don't pay taxes.
This country was not founded on the principle of equality. The Declaration of Independence professes that all men are created equal, however, it then explains that equality refers to everyone's right to life, liberty and the pursuit of happiness. What each of us does with those rights is in our own hands. It does not state either explicitly or implicitly, that anyone of us is responsible for anyone else's life, liberty, or happiness. The word "equality" does not even appear anywhere in the Constitution or its Amendments.
"Equality" is a progressive concept, popularized around the start of the last century. Every attempt by progressives to attain equality has diminished the United States. We the people have suffered. Our economy has suffered. Our liberties have suffered for the following reasons:
The government does not create wealth. For it to give anything of value to anyone, it must first take away something of value from someone else. In the past, we gave freely to those who needed our help as the result of natural disaster or personal tragedy. We were among the most charitable people the world has ever known. However, the government has usurped that role and the wage earners no longer have the means to help everyone. We have grown to expect the government to perform that function for us.


The government does not have the resources, especially the knowledge, to manage our economy for us. We have seen every attempt at centrally-managed economies fail, as ours is failing now. No one and no one group is smart enough to dictate the best price for any commodity or service everywhere in the nation. They do not have the information needed to manage every business and every commercial transaction. Indeed, every attempt to do just that has met with failure.


The government does not have the right to diminish the rights of any citizen while expanding the rights of another. Yet this is how progressives attempt to transfer wealth and power to insure equality among all citizens.


Those who benefit from these attempts to insure equality, vote for those who dole out the rights and the wealth.


I don't know if the Republicans will be able to reverse this trend. Some say they will make the attempt, but I don't trust them. Progressives have been found in their ranks just as frequently as among the Democrats.
I do know that President Obama and many of his party have not only championed progressive ideals, but also promise to continue to do so if re-elected. It seems that a fair percentage of those polled wish to return the progressives to office. It's interesting that their popularity in the polls almost equals the percentage of people on the public dole.
This brings me back to my opening statement: "We the people are fast approaching a tipping point." They are approaching a majority, but have not yet reached it. There is still time to turn back the tide of progressivism. This opportunity may not exist in the next election if we fail to turn back the momentum of progressivism in this election.