Vietnam
GENERALLY, THE ENTERTAINMENT options in the Vietnam war zone were equivalent to those you enjoy at home: radio and TV via the Armed Forces Radio and TV Network, a night at the movies, live stage shows, and clubs featuring drinking and gambling.
Of course, the news and entertainment broadcast on radio and TV were censored to protect us from the hate waiting for us back home. Hindsight makes me wonder if that wasn't a mistake. Would we have handled it better when we got home had they prepared us for it?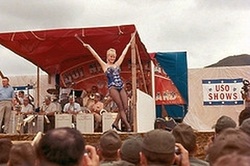 The North Vietnamese were only too happy to tell us that we were fighting an unpopular war.
Trinh Thi Ngo
, a popular radio personality in North Vietnam known to GI's as
Hanoi Hannah
, broadcast news and commentary about the war. I was never able to tune into her broadcasts. I suppose that we were too far south to get a clear signal.
Armed Forces Radio Network (AFN) played popular rock selections omitting only those that were obviously anti-war. I never saw any official rankings, but "
We Gotta Get Outta This Place
" by Barry Mann and Cynthia Weil, and performed by the Animals, must have been on top. Troops sang along energetically whenever it was played.
Fundamentally, I left planet Earth for about five years. My first two years in the Army were spent in training and then Vietnam. Neither place offered much opportunity to keep tabs on the world I had known in civilian life. I saw popular shows such as Laugh In and Star Trek in reruns. The next three years were spent in Hawaii where I had little interest in the outside world. Also, satellite TV had not yet been established and everything came to the islands on tape delay. We spent the week avoiding newspapers so that we could watch last week's sporting events without knowing the outcomes.
One of the funnier incidents occurred during my time in Officer Candidate School when I realized that the World Series should be played and I had no idea as to who might be in it. Another candidate told me that he had heard that Baltimore was playing. Baltimore? You've got to be kidding. I grew up in Baltimore with the Orioles and had never seen them win even one game that I had watched on TV, listened to on the radio, or attended at Memorial Stadium. We had a joke in Baltimore: What has nine assholes and lives in the basement? The Orioles. Now, the year I left, they won the World Series!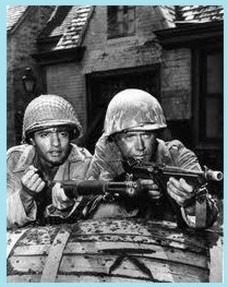 I purchased a small, battery powered Panasonic TV at the Post Exchange (PX) in Vietnam and my bunk mate and I watched
Combat
starring Vic Morrow. This was our favorite. I suppose we enjoyed it because it depicted a much more satisfying war than the one in which we were engaged. We also never missed the weather report featuring Bobbie The Weather Girl.
Feature Films were circulated throughout South Vietnam on 16mm film. The projectors were fitted with special CinemaScope lenses to accommodate the wide screen presentations. By the time these films reached our officer's club at Camp Bearcat, they were pretty well used. Sprocket holes along the film's edges were chewed up and the film frequently broke. We watched the projectionist scan the film looking for a good section before re-threading it into the projector and continuing the presentation. We would complain loudly if we saw him throwing away too much of it and we were convinced that the scenes we missed were probably the best ones in the film.
One film in particular remains firmly embedded in my memory;
A Fistful of Dollars
, starring Clint Eastwood. I wandered into the backroom of the officer's club where the projectionist had started the movie without an audience. I guess he was tired of waiting for someone to show up and decided to watch it for his own enjoyment. I watched with the projectionist for a few minutes and before telling him to stop and rewind it while I gathered an audience. I walked back into the bar area and announced the number of shootings I had seen – more than twenty in the first three minutes of the film – and everyone came back with me.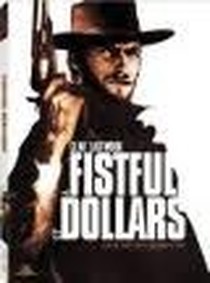 Besides free feature films and cheap booze, the officer's clubs were meccas of gambling. We had slot machines and card games. You had to buy tokens at the bar for the one-armed bandits since we had no coins (all our money –
Military Payment Certificates
– was paper). Some of the most popular games of chance played at officer's clubs around the world involved five dice in a leather cup: Engineer's Dice, Liars Dice, Horses, etc. Bartenders would play patrons for drinks – double or nothing (win and you get a free drink; lose and you pay double).
Most people have seen films of the big stage shows that the USO sponsored including the annual Bob Hope Christmas Show. However, most are not aware that smaller, lesser known troupes of entertainers toured the camps regularly. Many came from Australia and some featured Vietnamese bands playing and singing popular songs. It was surprising how well Vietnamese girls could sing American songs even though they could not speak a word of English. Of course, most were dressed in hot pants or mini skirts and we weren't too critical.
Our division had a portable stage that resembled a small camping trailer. A friend who
DEROS'd
a few months after me related that the stage had been hit by a rocket as it was towed south to Dong Tam where our division headquarters relocated. I hope that the NVA soldier who fired it never learned that he had wasted an opportunity and allowed many more strategic targets to pass unharmed.
Last, but not least, I must not fail to mention the Adjutant General's Special Services office. Never confuse this with Special Forces. Special Services managed movie theaters and craft shops at Army posts all over the world. They installed a large, above-ground swimming pool at Camp Bearcat (unfortunately the water was heavily chlorinated and I stayed away). They also kept a supply of sporting equipment and hosted softball and football tournaments throughout the theater. I learned that their inventory included bows and arrows when we found that
someone
had stolen and shot them at our guard posts one night while I was the officer on duty. Now, that's entertainment!