Good Read
WE'RE ALL HEROES of our own stories and, thank God, heroes don't have to be heroic all the time. We don't even have to be heroes most of the time. Indeed, many people are branded as heroes for just one act. As Christina Carson observes in her novel,
Suffer the Little Children
, no one is keeping score. We're all just supposed to be striving to do the right thing, if only once.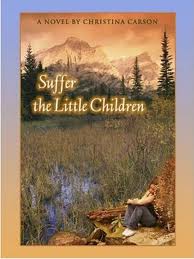 Christina's hero, Anne, strives to do the right thing by her child and fails until she is almost killed by a rampant grizzly attack. She was already on the right path to reconciling with her child before she stumbled upon the bear, but it was her brush with death that spurred her to take the final step and risk all to bare her soul before her progeny.
Does this tale resolve itself in a tearful reunion? I can't say. That is for you to find out. I can only warn you that these stories do not always end happily. Mine didn't. I have been estranged from my first born son for more than twenty years. Unfortunately for him, he cannot let go of the anger that separates us. I suppose this is why I connected with
Suffer the Little Children
on such a primal level. I hoped for the best as I turned the pages just as I've hoped for the best as I've lived my life without my son.
Like Anne in Christina's novel, life has allowed me to touch on the lives of other children, some my own and some not, and somehow I've been a better father for them. Sure, I've stumbled just as Christina's hero did, but not so fatally as I had before.
As I read this novel I thought of the advice so many have given me as a writer, "write what you know," which has left me wondering, how does this author know so much. Her descriptions of the northern forests are spot on. Her narrative is full of actual woodlore. And, her description of the grizzly attack is painfully believable.
No, I have never been attacked by a grizzly, but I have read accounts of them written by real witnesses. My favorite comes from the diaries of the Lewis and Clark expedition. Those fearless explorers laughed at the indians and considered them cowardly for opening admitting their fear of grizzlies. However, on their first encounter, those brave frontiersmen hoisted their skirts and fled in terror when pursued by such a monster that was undeterred by several large caliber bullets that had punctured its lungs.
Suffer the Little Children
is not a novel to be put aside lightly once begun. Nor will readers dismiss it from their minds when it is finished. It will linger and tease their souls with questions and challenges in the middle of the night. Parents especially will wonder, did I do the right thing? Did my children suffer? Do I need forgiveness? From my child? From myself?
Read Jack's novel, Rebels on the Mountain, the tale of Nick Andrews, an Army spy, who has Fidel Castro in his sights but no orders to pull the trigger. The mafia as well as the American business community in Cuba will pay a fortune for Castro's assassination, but Nick has his career to consider, his friends to protect, and a romance to sort out in the chaos of a revolution.