Opinion
IF POLITICS IS THE ART OF COMPROMISE, why aren't the politicians in Congress compromising? They used to be good at it, weren't they?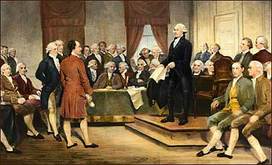 Without the Great Compromise there would be no Constitution, no United States of America (click to enlarge)
The Great Compromise: The most populous colonies agreed to equal representation in the Senate for all States and the lesser colonies agreed that population census including all citizens would be used to apportion representation in the House.
Three-Fifths Compromise: The Free States agreed to count slaves as 3/5 of a person in census counts for the purpose of apportioning representation in the House, and the Slave States agreed to ratify the Constitution.

Missouri Compromise: The Free States and the Slave States agreed to grant Statehood for Missouri as a Slave State and Maine as a Free State. They also agreed to preconditions for statehood for future states carved from the Louisiana Territory: All such states north of the parallel of Latitude 36º 30' to be Free States, and all south of that parallel to be Slave States.

Compromise of 1850: Free States agreed stronger laws providing for the recovery of fugitive slaves in exchange for admitting California as a Free State and allowing Utah and New Mexico to accept or forbid slavery within their states by popular election among their citizens.

Compromise of 1877: Federal government made concessions to former members of the Confederate States – federal troops removed from South Carolina, Louisiana, and Florida; assistance given to construction of transcontinental railroad via a southern route; and southern officials given prominent positions in the Hayes Administration – in exchange for negotiated election of Rutherford B. Hayes as President and James Garfield as Speaker of the House.


It seems that compromise isn't always such a great thing. In four of these five, politicians abandoned their principles and acceded to the scourges of slavery and racial prejudice to accomplish an end. In only one, the Great Compromise, was a reasonable consensus reached, one that allowed the new nation to come into existence with fair representation for all States and their citizens in the new federal government. Some might argue today that equal representation for all states regardless of size is not reasonable. However, that is only true because the federal government has unconstitutionally abrogated powers that were originally reserved for the several States, thus making them almost irrelevant.
So, what of ordinary compromises. Have they been more reasonable? Granted, the vast majority of them, sometimes reached through the quaint practice among legislators of "log rolling" are seemingly acceptable. You vote for a bridge built in my community and I'll vote for a new post office in yours. Most are harmless.
In recent decades, the Republicans, more often than not the minority party, have not negotiated smartly. On several occasions they have agreed to tax hikes in exchange for promises of spending cuts which never came. Once again, we see this debate raging in Washington.
Compromise seems to be a lost art in the U.S. Senate these days. No one bemoans this fact more than Senator Harry Reid. However, he has wielded his powers as Senate Majority Leader in ways that has made compromise impossible. Reid uses a tactic called
"filling the amendment tree"
to preclude compromise.
Senator Reid's opponents complain that they are left with no alternative other than to filibuster, take control of the discussion to avoid a vote on contested legislation. Reid then complains that the Republicans are just being obstructionist. Unfortunately, the media isn't reporting what is actually happening and the Republicans are tarred as "the party of no". However, it is evident that Senator Reid must take the lion's share of the blame for the fact that there is little honest debate or compromise occurring in the United States Senate.