Vietnam: Retrospective Part 4 of 8
WHAT WAS ALL THE FUSS about communism? Someone looking back who hadn't lived through the Cold War Era might well wonder. It's a defunct ideology practiced in a few backward and bankrupt countries.

Okay, China isn't exactly backward and bankrupt, but it isn't exactly a communist enclave anymore. Capitalism rules the streets while a few geriatric communists rule the government palaces.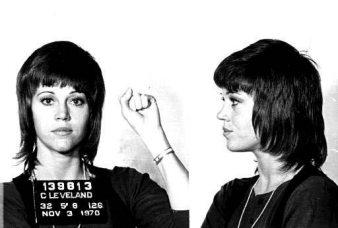 "It's my fondest wish, that some day, every American will get down on their knees and pray to God that some day they will have the opportunity to live in a Communist Society." - Jane Fonda Hayden, 1970

Face it. All other arguments aside, there were those anti-war activists who protested our involvement in Vietnam for the simple reason that we were denying the South Vietnamese the fruits of communism that their brethren in the north were already enjoying. They did not care what the South Vietnamese themselves wanted any more than they cared what we wanted for them. It's hard to debate against unless it can be demonstrated that communism would not only fail to provide any material advantage to the South Vietnamese, but also significantly harm them. Fortunately, we do not have to speculate on the possible outcome of a communist victory in South Vietnam. It is an accomplished fact and the results are readily apparent.

Let's be honest. Communism has its allure. In theory, it seems that it ought to work. No class distinctions. Deprivations borne equally. The fruits and benefits of the community be shared equally. Happiness and sadness shared equally. However, communism only exists primarily because, as Thomas Sowell so aptly states, intellectuals have a penchant to "…replace what works with what ought to work." This is why educators still preach it and, even today, students can be found on any American campus passing out copies of the Daily Worker.

Unfortunately, communism in practice has never matched its theoretical possibilities. One of the problems with communism is that it requires a central authority to decide what the community will produce and how it will be shared. If this central authority is weak, the ideology fails because people are about as easy to herd as cats. This was well proven in one of the early communal experiments here in the United States.

The Pilgrims formed a commune long before anyone defined communism. The land was owned by all and the fruits of their labor were stored in a communal warehouse. Families drew from the communal supplies and all starved equally.

Many think that the Pilgrims were saved by the American natives who were their neighbors. In fact, the Pilgrim's colony was on the verge of collapse even after the indigenous people taught them how to fertilize their crops with fish and hunt the forests. It was only after the Pilgrims abandoned their communal system and every family worked for themselves that the colony began to prosper. In all likelihood, it failed because the community was under the direction of a council of elders, a committee if you will. Their management was fragmented. Opportunities were missed and problems went unresolved for too long because committees are notoriously slow in responding to issues.

Fortunately, the Pilgrims chose to relinquish responsibility for making economic decisions to the individual members of the community, thus giving birth to capitalism in America and giving them the liberty to take care of themselves. Had they chosen instead to retain the reins of authority, they would have ultimately attracted a tyrant.

Tyrants always are drawn to the centers of power where they can grasp control. When people are free to exercise control over their lives as individuals, power is much too diluted to be grabbed by any one person. This is why history's most iconic communist societies have all been ruled by tyrants, and they rule with a heavy hand. Stalin reputedly murdered at least 20 million of his own citizens. Mao murdered more than 80 million. Castro had a smaller population to work with and his death count only numbers in the tens of thousands.

When communism failed, some communist leaders, most notably Chairman Mao Zedung, concluded that failures in communism were rooted in flaws in their citizens. They reasoned that people simply weren't constituted to live in a Utopian society. Mao attempted to create "perfect communists" during the Cultural Revolution. Children were taken from homes where they learned traditional Chinese values and mores, and sent to re-education centers where they were taught the skills and attitudes needed to be successful communists. Young intellectuals in the cities were sent to the countryside to learn the rigors of hard work. Youth gangs known as the Red Guards scoured the countryside for counter-revolutionaries, setting up their own tribunals, and persecuting many. Children were returned home to denounce their parents as traitors of the People's Revolution. Another appealing idea, but now a proven failure. Indeed, not only have the Chinese abandoned Mao's Cultural Revolution, but also, those who would redeem it are branded criminals.

These communist leaders missed the point. The truth they refused to face was that their societies failed because of their own poor judgment. In a society where choices, especially economic choices, are left in the hands of individuals, their mistakes only harm themselves. However, in a centrally controlled society, the mistakes of leaders impact everyone. In Russia, for example, a committee had to set prices periodically on every one of the commodities and services sold there, from toothpaste to an oil change in a car (for those few who actually owned one). In a capitalistic society, these prices are set by agreement between buyers and sellers, and can vary greatly even within the same market region. Mistakes are borne only by the individuals who make them. As Thomas Sowell has observed so accurately, no one person, no matter how intelligent, can possess all the mundane information needed to know everything and make all decisions.

Poor decisions lead to unintended consequences. Even in America, economic control has become increasingly centralized, and a large segment of the population is more than happy to accept entitlements when they equal or exceed the rewards of marginal employment. The incidence of welfare families has grown steadily ever since the inception of President Johnson's Great Society programs.

Although the fate that waited the Vietnamese at the hands of the communists may have been a surprise to Ms. Fonda and company, it was no surprise to those who knew the Soviets or, as President Reagan called them, "The Evil Empire." The human toll was staggering. Stalin's disciples sent millions of South Vietnamese to re-education centers – prison camps – where more than 150,000 died (the toll may be exponentially greater). Hundreds of thousands were lost at sea attempting to flee communist deprivations. Three million refugees were forced to live in relocation centers – a few fortunate enough to integrate into other free societies.

Antiwar protesters argued that these were casualties of the United States intervention in Vietnam. The two halves of the country should have unified "peacefully" under the terms of the Geneva Convention that ended French Colonial Rule. But, there were those Vietnamese who didn't want to live under communist rule. Shouldn't they have been allowed to live the lives they chose in peace? Isn't that what we were attempting to help them do?

Still, the protesters argued: What right did America have to intervene?