Opinion
BEFORE THE GUN, bullies ruled the world. A man who was given the leisure to practice every day with his weapons, developed the skills necessary to oppress his community. Peasants, farmers, artisans, craftsmen, and scholars, all feared him. They strove to keep him happy and fed, warmed and well-housed. It didn't matter to them if he were their lord and master or their lord and master's enemy. All people lived in fear of bullies.

Dominance was based on upper body strength. Casting a javelin. Swinging a sword. Smashing with a fist. Absorbing an enemy's blow. All required well-developed arms and chests. Running was for cowards, and cowards lost the luxury of being taken care of by their communities.

Human physiology dictates that upper body strength is the domain of the male. Despite the illusions (or delusions) portrayed in today's films and TV shows, women have always been, and might always have been, victims to the physical dominance of brutes. Although no one has ever proven that nobles exercised droit du seigneur – the putative right of a feudal lord to take the virginity of his serfs' daughters – it is far more believable than scenes of anorexic women overwhelming men using brute force only. However, a woman with a gun is a force to be reckoned with. Very little imagination is required to see how the gun, especially the handgun, came to be known as the "peacemaker" and an "equalizer".

Why then are guns feared? Is it because they appeal to the same primitive emotions that caused early man to cower before thunder and lightning? After all, the gun also delivers its lethal charge with a flash and a bang.

Benjamin Franklin taught us the nature of lightning and how to tame it. We no longer have to fear it as a capricious and malevolent god. Still, more than 24,000 people die every year from lightning strikes. An average of fifty-one in the United States. You didn't know that? I'm not surprised. It's not a well reported fact. Who's concerned with the lives of 24,000 killed by "an act of God"?

We don't seem too concerned with children killed in the barrios of our cities either. Countless hundreds of them are murdered every year and there is no public outcry. Their passings are hardly noticed in our news media. However, when a tragedy strikes close to the homes of decent folk, there is a public outcry: "Ban guns!" How silly. It's obvious that removing all guns, even if such were possible, would destroy the peace and we would return to living in fear of bullies.

Some may argue that we don't need guns to protect ourselves. We have the police. There are two problems with that argument. Firstly, there is no policeman sitting here in this room as I write this, and I daresay there is none sitting at your side as you read it. I doubt if there is one within earshot. Certainly, there are many only minutes away. Just dial 911 and they'll come, and they'll arrive long after they're needed.

In countries, such as Great Britain, where gun ownership has been significantly curtailed, violent crimes against people in their homes has risen markedly. Criminals are assured that they can invade houses with impunity. The occupants have been disarmed by their government.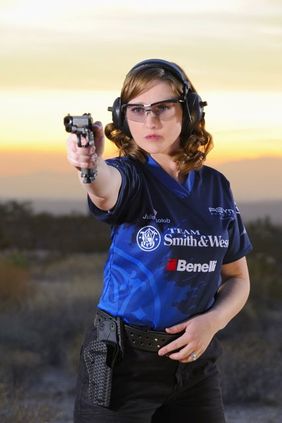 Does this image disturb you? Imagine how disturbing it is to a rapist, a burglar, a mugger, an abusive boyfriend or spouse, or any other criminal. (click to enlarge)
Secondly, there is a new problem. Many cities are losing their police forces. They and other public servants are being dismissed as municipalities are becoming bankrupt. Critical public services are being curtailed. How sad that voters didn't concern themselves more with electing people who would manage their affairs, especially their budgets, responsibly, rather than looking for ways to interfere with our natural rights to fashion a better, fairer society.

Unfortunately, the politicians who are elected are among the worst of hypocrites when it comes to guns. Recognizing that it is politically expedient to be against crime and natural catastrophes, and to preach the evils of guns as well as fornication and addiction, those preaching the loudest are often the first to avail themselves of these vices. They also send their own children to well-guarded schools while announcing to the monsters of the world that our children are attending schools where no such protection as armed teachers or guards will interfere in any massacres that they may wish to perpetrate.

Now, as we begin a new year, look back at the old one and we are confronted with a stark reality. It stares back at us from Chicago. Its overlord, Mayor Rahm Emanuel, is one of the greatest political bullies of our day. He has led the fight to make his city a gun free zone and every year, under his stewardship, violent death by criminals wielding guns has risen to new records. Chicago is now the murder capital of the country, possibly the world. Still, our President will not touch this fact as he shed tears over the tragic deaths of school children in Connecticut, but will not mention the even more horrific blood trail that follows him from his home district. Also, consider the strident call by Senator Diane Feinstein to ban "assault weapons" like the one used by the mass murderer in Connecticut. Is the Senator so blinded by her fear and ideology that she can't see that Connecticut already bans such weapons? Why would she believe that another such ban would make children safer?