Writing
MY VIETNAM STORY is on hold. Nick Andrews, the protagonist from Rebels on the Mountain, refuses to die in my head. So, I'm now embroiled in the Korean War when Nick came of age as an Airborne Ranger. No, it isn't going to be a war story. It's going to be the story of a young man coming to grips with his past, present, and future while fighting for his life behind enemy lines during the Korean War.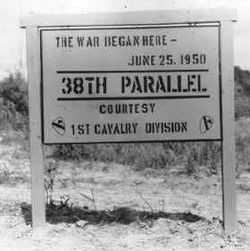 The research phase has begun and I'm already fascinated with the history of Korea. Little did I know that Korea's enmity with Japan began long before World War II. Japan's vision of a united Asia with themselves at the top evinced itself during the First Sino-Japanese War (1894-95) during which time they began their dominance of the Korean peninsula while the Western World watched with approval. Of all the Asia nations, Europe and America found Japan to be the most civilized after their own fashion.

Besides Nick, I have every intention of introducing a character from my past who has long intrigued me. He was an old sergeant who came under my command when I was assigned as Special Services Officer at Tripler Army Medical Center in 1968 after my tour of duty in Vietnam. When I met him, I couldn't help but be curious about the fact that he wore only one ribbon on his uniform, the Silver Star with Oak Leaf Cluster indicating two awards of it. I stopped one day at the personnel office and requested his 201 file. It was the thickest service record I had ever seen. From it I learned that he had lied about his age to join the American Expeditionary Force in Europe during The Great War (WWI), then rejoined to serve in World War II, and again during the Korean War. After returning to the service to participate in the Vietnam War, he accumulated the last of twenty years service, all in time of war. Buried deep in that record were two sets of orders, yellowed and crispy dry with age, awarding his the Silver Star. Both were signed by General John J. (Black Jack) Pershing.

The title is selected – Behind Every Mountain – and the Prologue is written. Actually, I wrote the Prologue for Rebels on the Mountain, but there was too great a gap between the events it describes and the beginning of that story. Some may argue that I am writing the new book just to salvage it. That may be true, however, as I begin my research, I am finding a great new story taking shape in my imagination.