Cuba
WITH CASTRO IN PRISON and most of his rebel band dead, Batista was confident of his position. In 1954 he granted an interview with American correspondents. He proclaimed that Cuba had finally achieved political stability and was becoming more economically diversified. For proof of his claims, Batista released his political prisoners including Castro and the few survivors of his attack on the Moncada army barracks near Santiago de Cuba.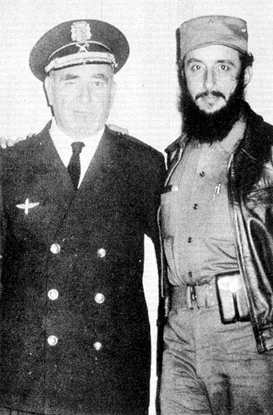 Alberto Bayo, with a Fidelista, was elevated by Castro to the rank of general in the Cuban army after Batista was deposed. (Click to enlarge)
Batista obviously underestimated Castro. Had he been paying attention, Batista would have been alerted by Castro's continued political agitation, even while behind bars. Fidel renamed his organization the "26th de Julio Movement" (MR-26-7) commemorating the date of his attack on Moncada. Even so, Batista freed Castro under a program of general amnesty.

Castro was received by his followers with great fanfare and celebration. They carried him through the streets on their shoulders. Fidel immediately set about writing and appearing in radio interviews.

Fidel and his brother, Raul, fled to Mexico which had a long tradition of sheltering exiled insurgents. They were followed by a few of the Moncada raiders and other dissidents. There they began planning an invasion of Cuba. Fidel enlisted Colonel Alberto Bayo, a fellow Cuban who had participated in the Spanish Civil War as well as the Cuban Revolution. Colonel Bayo distinguished himself for his courage and tactical acumen, but his side, the Loyalists lost and he took refuge in Mexico as an instructor at the Military Academy of Guadalajara until he joined the Fidelistas.

It seems that Castro had little time for military training. Fortunately for Fidel, Batista's army was well trained but poorly led, and Castro's failings as a battlefield commander went unnoticed. While his rebels trained in Mexico, Castro was kept busy traveling the United States, soliciting funds for his invasion of Cuba. He found contributors within the Cuban-American community but most withheld any significant funding because Fidel refused to offer them high office in his new government. Castro resented the fact that so many were willing to sit back and let him risk his life to depose Batista, and then turn over the reins of government to someone else. Thus, much of Castro's backing came from Americans who were inspired by his impassioned pleas for Cuban liberty.

Fidel wanted an airplane to insert his rebel band onto Cuban shores, but never garnered sufficient funds. He settled for an aging cabin cruiser, the Granma.