Good Read
I CANNOT IMAGINE living the life of a spy. No, not James Bond. A real spy. From what I know of it, spy craft is a life without trust. A life full of doubt. A life lived on the edge with little reward at the end of the day. It is the spawning ground of ulcers for anyone who survives long enough to grow them.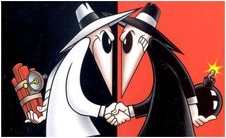 My Uncle Bill was a spy. He was a pilot in the United States Army Air Corps before America's entry into World War II. In those days, officers read the obituaries just to see what opportunities for advancement in rank were opening up. If a general died, a colonel could hope to be promoted to fill the spot. Then a major could advance to colonel, and a captain could advance to major. At the bottom of the heap were a scad of lieutenants scrambling for that one captaincy. The prospects for career advancement were not bright unless the nation went to war.
Unfortunately for ambitious young officers like Bill, the prospects for America going to war weren't bright. It seemed that there was little sympathy for Europe and its wars, not in America. Roosevelt had been reelected President on the promise to keep us out of it. But, the writing was on the wall after Germany occupied France and the movers and shakers in Washington secretly formed the Office of Strategic Services to begin compiling intelligence data that the Department of War would need to manage the Armed Forces effectively if the United States became embroiled in it. Bill was one of the eager young pilots they recruited to begin flying photo reconnaissance missions over Europe. Stationed in England, he flew regular missions that earned him combat pay that he sent home to have his sister invest in War Bonds.
If captured, Bill would have been executed as a spy. Inasmuch as the United States had not declared war, he flew as a civilian. Yes, they could have "lent" him to the British and he could have flown in their uniform, but that would have given them operational control over his missions, and access to the product of his spying. It is hard to imagine the strain he must have felt on every flight in an unarmed, unmarked airplane flying over an active war zone. I am certain that there must be a really good story in his service, but it is lost to the ages now. He is gone and he left nothing behind to memorialize his activities.
Today's spies are nothing like Bill. Most are bureaucrats, members of the Central Intelligence Agency that replaced the OSS. Not only did they replace the OSS, but also the individual spy activities of the branches of the Armed Services. President Truman swept the OSS out of existence with the stroke of a pen in 1945. He attempted to do the same with the spies of the armed services in 1947 when he signed the National Security Act. However, the armed services distrusted the bureaucrats and kept their own programs alive for more than a decade following the birth of the CIA. However, in the end, they had to defer to the CIA as Cold War expenses ate up their budgets and Congress wouldn't fund duplicate spy services.
As Operations Officer at the Strategic Communications Center for the Headquarters, United States Army Pacific in the late 1960s and early 1970s, I was able to monitor intelligence reports and assessments as they traversed my facility. It gave me some insight into the problems of sifting through the minutiae that operatives filed and analysts sifted through to glean a gem here and there that might give them insight into secret plans and activities. In later years, a larger portion of that information began to come from high-flying satellites and electronic monitoring stations. However, there was always need for feet on the ground to collect vital information.
During the 1950s and 1960s, many of those feet belonged to U.S. Army scouts and U.S. Marines. Concurrently, pilots of the U.S. Air Force flew spy planes over restricted areas and U.S. Navy ships and submarines observed and reported enemy concentrations and movements in the global chess match being played by the Free World and the Soviet Union. I touched on this subject in my novel,
Rebels on the Mountain
, in which a U.S. Army Ranger who has spent several years slipping in and out of Eastern Europe and the western reaches of the Soviet Union, is sent to Cuba to decipher the convoluted relationships between American businessmen, mafioso, and diplomats that had been driving U.S.-Cuban relations into a quagmire.
Another author with even greater credentials than mine illuminated modern spy craft in an exciting story set in Iran,
Satan's Spy
. The author, André Le Gallo, has crafted a tale that is as thrilling as any told by Ian Fleming, but far more believable. Whereas my novel hints at the problems created for spies by self-serving politicians in the U.S. Congress, Le Gallo rips into them with a vengeance.
In
Satan's Spy
, Steve Church, an independent operative who we met in
Caliphate,
is recruited by the CIA to infiltrate Iran to retrieve information about the Islamic Bomb, information that is vital to the policy makers in Washington who are attempting to decide how to respond to the prospect of a nuclear device in the hands of an unstable Middle Eastern government. Inasmuch as any citizen of the Great Satan, America, would be viewed with great suspicion, Steve enters the country under the guise of a Canadian businessman seeking to sell his companies services.
His lover, Kella, another familiar face from the
Caliphate
, accompanies him as his backup. Theirs is a tenuous relationship. Steve isn't certain of where he stands with Kella even though she voluntarily involves herself in this dangerous mission. Men are such fools, even the most daring of us.
Steve's task is to make contact with XYSentinel, an asset recruited a few years earlier by Steve's father, himself a former CIA operative. Dealing with an asset who might renege on his "deal" at any moment only adds to the sense of danger that Steve faces working in a hostile nation whose leaders would happily torture and kill him after making a public spectacle of his capture.
The author is able to inject a great sense of reality into the milieu of the story. His narrative is liberally spiced with first hand observations of the people and place. He himself had served there during some of the most turbulent times in Iranian-American relations. His plot progresses rapidly and logically to its thrilling conclusion. His characters are three dimensional. Most importantly, Steve's adversary is no bumbling radical fool. He is cunning, intelligent, and resourceful. He commands a cadre of willing and able cohorts who will quickly pounce on any sign of Steve's presence within their nation's borders and ferret him out quickly and efficiently. Indeed, these are men who will extend their reach to any corner of the world wherever they can inflict pain and suffering on any citizen of the Great Satan, especially its spies.
Interestingly, this book had one other quality that greatly appealed to me. It's not only entertaining, but also informative. I felt that I was learning real and valuable information about a country and a part of the world that is at best worrisome in these troubled times. This is why I could classify it as a must read. Together with
Rebels on the Mountain
, you may learn a great deal as well as be entertained.