America
My father was a Nazi. I don't know if he actually belonged to the American branch of the Nazi party. I have grounds to suspect he did. In any case, he was a fervent admirer of Adolf Hitler and all that he did. I grew up listening to my father extol Hitler's dreams. Fortunately, I learned at an early age that my father was bat guano crazy and to ignore him.​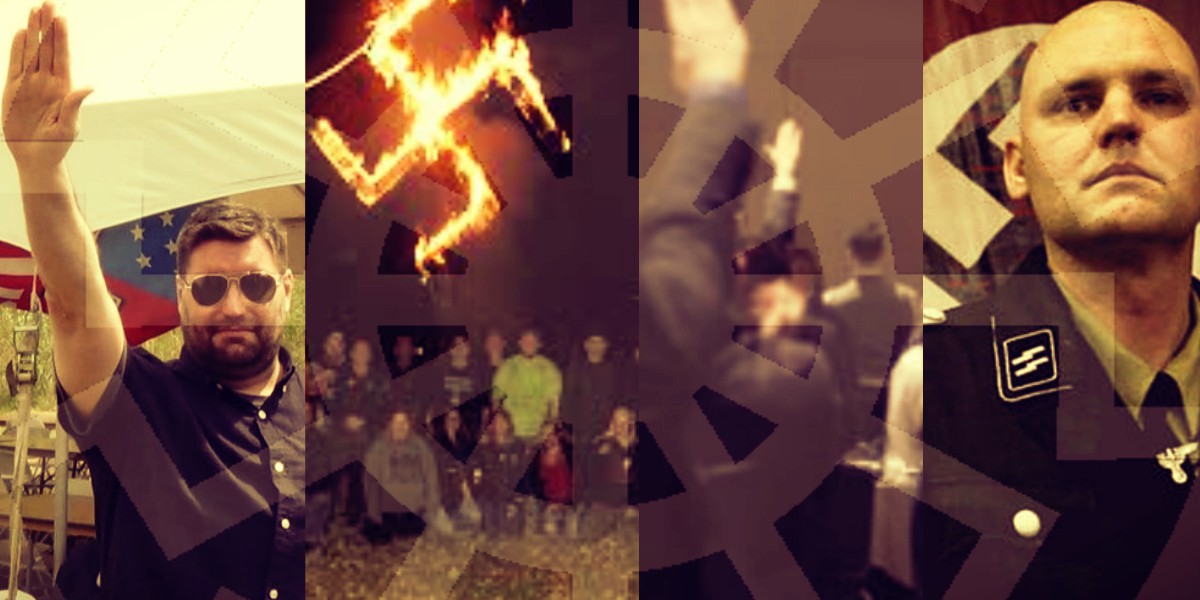 Now, before you judge him harshly (that's my prerogative) remember that many greatly admired Americans shared his beliefs. Charles Lindbergh for one. Joe Kennedy, the father of the famous brothers including President John F. Kennedy, for another. Why not? Der Fuhrer pulled Germany out of the Great Depression and who really cared what he did with the Jews? Everybody hated them.

Thus, I look with more than passing interest on the shenanigans of today's Nazis. I wonder. How do they compare to Hitler's minions?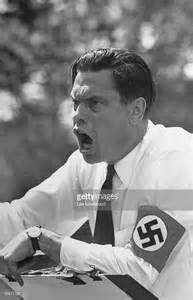 ​First, there is no direct connection that I can find between the Nazis of Germany and today's American Nazis. There is no individual who arrived on these shores to spawn such an organization. Indeed, there have been a couple of iterations of American Nazis since the fall of the Third Reich.

The first iteration of American Nazis were the ones to which my father belonged in the 1930s when Hitler first rose to power. They were distant admirers rather than acolytes. In time they met in enclaves to share news of progress in Germany and complain about American politicians who failed to bring such relief to their desperate lives. Interestingly, President Franklin Roosevelt was as much a socialist as Herr Hitler, possibly more so, but socialism wasn't the Fuhrer's principal attraction. He focused more on giving his people a scapegoat. I think that is why my father despised Roosevelt. I suspect that he wanted the President to be more like the Fuhrer in placing the blame for the nation's ills on some identifiable minority, blacks or Jews, more so than even curing the economy.

When the war broke out, American Nazis and their sympathizers scattered like cockroaches in the kitchen when the light is switched on. Some even joined the fight against the Nazis. My father didn't. He found work in the war industry that sheltered him from the draft.

The second iteration of the American Nazis came in 1959. It was an actual political party founded by George Lincoln Rockwell. Originally known as the World Union Free Enterprise National Socialists, he renamed it the American Nazi Party in 1960. Thank God. Is there anything more confusing than "Free Enterprise...Socialists". It's an oxymoron. They claimed to adhere to Hitler's ideals and policies, but that "free enterprise" think must have given them trouble. In any case, the American Nazi Party disbanded in 1967 when Rockwell was assassinated. (It seems unfair to elevate his murder to the level of an "assassination".)
The third iteration of American Nazis was headed by Rockwell's deputy commander, Matt Koehl. Koehl, a self-identified "Hitlerist" appears to have exposed the real intent of American Nazis, to seek an all-white America. Christian, too. Groups of American Nazis then began to splinter off, intent on pursuing their own agendas. For example, Frank Collin, secretly the son of a Jewish father, formed his own chapter of the American Nazi Party in Chicago focusing on a crusade against Jews. (Ironic, isn't it?) Their march through Skokie, Illinois, home to a community of Holocaust Survivors, led to the Supreme Court Case of Nationalist Socialist Party of America v Village of Skokie which established the legal right to display the swastika by virtue of the First Amendment Right of Free Speech. (Remember, popular speech doesn't need protection.)

Since the late 1960's there have been several other iterations of the American Nazi Party. Although their focus shifts to reflect their personal prejudices, they tend to remain enamored of the German Nazi iconography, especially the swastika, and uniforms.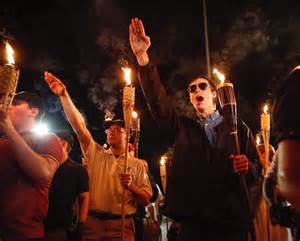 This, of course, merely glosses over a substantial history of Nazis in America. You will have to fill in the details for yourself. There are plenty of resources available in local libraries and on the Internet
.
Wikipedia
is a good place to begin, but question everything you find therein. Remember, Wikipedia is publicly edited and that may include a Nazi or two. However, I have reached a few conclusions of my own.
The American Nazi Party of today bears little resemblance to earlier iterations and almost none to the Third Reich. Indeed, if one of today's American Nazis met a member of the Third Reich they would likely wet themselves.
The American Nazi Party of today is not a socialist organization.
The American Nazi Party of today is primarily a racist organization preferring swastikas and brown shirts to white sheets.
---
I have two propaganda filmstrips that I believe my father came in possession of while participating in Nazi meetings and I'm still looking for a worthy home to donate them. Please see my earlier weblog posting describing them.