Fantasy
Ted Kingsley was a popular writer once. To be clear, just one novel he penned was popular. Ted enjoyed some renown, but not of his own. He merely stood beside the piles of printed volumes as they were snatched up at bookstores. He signed a few for the fans. They weren't his fans. They were fans of the book. He never produced another of its kind.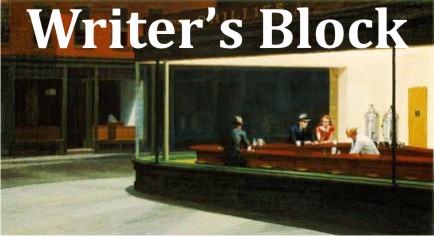 Ted tried. He invested countless reams of paper in his printer and dispatched them to his agent. The agent suggested some improvements, but Ted rejected them. He was the writer. The agent was, well, just an agent. The agent dutifully passed a couple on to Ted's publisher who summarily rejected them, until they told the agent that they weren't interested in seeing any more of his work.

The agent shopped Ted's manuscripts around to a few other publishers. He felt that he owed Ted some consideration for all the commissions he had earned on that first book. After a while, he simpleyrefused to accept them. It didn't matter how much he earned from Ted's first novel, his credibility was suffering for representing him.

Ted made excuses. He continued hacking out manuscripts, sending them to agents and publishers without luck. There was something magnificent, admirable even, about Ted's perserverance, but he couldn't see his words.
The money from the first book was running out. Ted moved from a penthouse to an apartment, then on to a tenement. Shortly after the money ran out, the words ran out, even the bad ones. Ted was surrounded by blank pages and he didn't have anything to fill them with.

One night, the whiskey ran out and Ted went in search of some more. That was the night that Ted met the other half of the population, the night people.

The night people weren't welcoming. They watched Ted's movements furtively as though he was an intruder in their special world. He was.

Ted began to feel that he was being followed and he ducked into an all-night diner. There were just three customers, well-dispersed along the counter, a waitress with a coffee pot in her hand, and a cook behind a chest-high counter. They all stopped and looked at Ted when he entered.

Ted ignored the people in the diner and watched the street outside. Only two people walked by. Both looked at Ted and glared. The five people in the diner waited and watched Ted until he turned, and they looked away.

"Can I help you?" the waitress called.

"Er, no," Ted stammered.

The waitress cocked one hip as though asking, "Then what the hell did you come in for?"

"Sure," Ted corrected himself, "I'll have some coffee."

The waitress waited.

"Where should I sit?" Ted asked.

"Anywhere you like," she replied and refilled one of the patron's cups.

Ted chose a seat equidistant from the other patrons and sat down. The waitress clanked a cup and saucer in front of him. She poured a cup and turned away.

"Cream please?"

The waitress expelled a snort and slid a dish with tiny, pre-measured servings of half-and-half.

"No cream."

The waitress snorted again, a cruel smile curling one lip. She walked to the end of the counter nearest the door, next to the register, and picked up a paper. She lit a cigarette and Ted assumed that there wasn't any cream.

Ted returned to the same diner every night for several months. His reception never got better. They tolerated him, but he was a day person to them.

Ted began to learn things about the people who lived in the night. He learned that they had their own social strata and were far more intimate than the people who walked the streets, and populated the shops and offices during the day. He learned more than they suspected until one night he asked, "Do you know who I am?"

The waitress laughed. The cook laughed. The other patrons looked at Ted as though he had sprouted an extra head.

"Sure, we know who you are," the waitress replied. "A washed up writer. A one book wonder."

Ted felt the heat rise from his neck, through the hair follicles on the back of his head, to his face.

The others laughed in unison. Ted's anger rose. "I know about you," Ted shouted. "I've been watching."

The others looked at him, their eyes narrowed.

"I've been following you to your jobs," Ted continued, tilting his head in the direction of the other patrons. "I've seen what you do."

The cook came out of his kitchen, wagging a cleaver threateningly in his hand. "What do you think you've seen?" he asked.

"You think you run this city," Ben accused. "I've seen your 'mayor'. She's nothing but a charwoman."

The others laughed. The waitress stepped closer. "She gets a helluva lot more done in this town than 'your mayor'," she announced. "Hell, if it wasn't for her and the rest of our 'elected officials', nothing would ever get done."

Ted backed away as the waitress delivered the last words leaning ever closer to him across the counter. He had expected a denial. "But..."

Again, the others laughed. In fact, there were many others. The diner had been filling as Ted confronted the night people.

One of the patrons who had been drinking coffee at the counter, looked up at Ted and smirked. "Look at the clowns you day people keep electing," he said. "All they know how to do is get elected."

"Yeah," another patron chimed in. "When have they ever filled a pot hole? Fixed a street lamp? Made sure the city was cleaned up, the garbage collected?"

"You do that?"

"Of course we do," came the answer. "Who the hell do you think has been doing it?"

Ted sat at the counter, his jaw hanging open. "Why don't you tell anyone?"

A gale of laughter assaulted him.

"I can tell them," Ted announced.

"Who's going to believe 'you'?" the waitress asked.

"I don't know," Ted hesitated. "Why, everyone. Why shouldn't they?"

Again, the laughter.

An elderly man who had filtered in during the discussion sat next to Ted. The waitress delivered a cup of coffee and a slice of pie. He forked a large piece into his mouth and chewed on it for a few moments. "Thanks, Bev," he said with an appreciative smile. "Best pie in town."

"Can't get anything that good during the day," a nearby patron observed.

The old man nodded his agreement and took a sip of coffee. "Look, son," he said at last. "Do you want to be one of them or one of us?"

"What do I have to do?" Ted asked.

"Well, you better give up writing for starters, and find something useful to do."

"Why?"

"Well, for one thing, you're terrible at it?"

Ted felt the anger welling up again.

"And you can't make a living at it. Night people need to be useful. They have to earn their way," the old man responded.

"What could I do?" Ted asked.

The old man mulled over Ted's question with a look of deep concentration. He glanced at the others as though seeking help.

"He could help sweep the gutters," one offered.

"He has skills," the waitress interjected, and the old man looked at Ted for confirmation.

Ted simply stared back.

"You can type, can't you?" the waitress persisted.

"Well, sure," Ted replied.

"Well, there you have it," the old man said and smacked his hand on the countertop as though signaling a decision. "We just need to find someone who needs a typist."

Ted sat in shock as the people filtered out of the diner. "A typist?" he wondered aloud. "Is that all I'm worth?"

The old man finished his pie and looked at Ted with open contempt. "There's no shame in honest labor, son," he said. "No shame at all."

Ted didn't become a typist and he stopped going out at night. A creative mind can conjure up all kinds of scary things in the dark.