Humor
I have long suspected that I'm a "Sugar Baby". What does that mean? Well, let me tell you a story...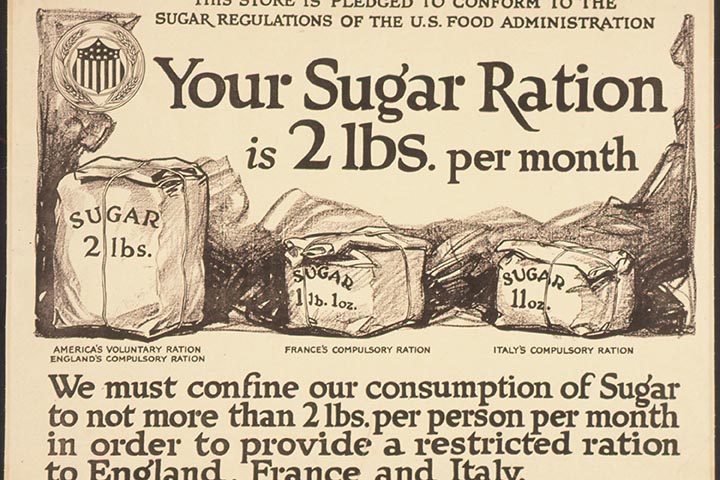 Sugar rationing during the war, World War II that is, fell heavily on my father. No, he didn't fight. He was born earlier than the Greatest Generation. Most of them were born during the Great Depression. He was born during the Great War, the War to End All Wars, World War I. When the Japanese attacked Pearl Harbor, my father was already a family man with a wife and a young son. However, I suspect that he wanted another son to increase his sugar ration.
To say that my father had a sweet tooth would be an understatement on the grandest scale, and when he drank coffee, he actually ate sugar dissolved in a splash of coffee. The family ration of sugar simply wasn't going to allow him to survive the war. That's why I suspect that he wanted another child, me, to increase the family ration. Of course, as a child, I wouldn't be eating any of it. My diet was limited, very limited, and it didn't include sugar. Bureaucrats, of course, didn't mind. They merely counted noses when doling out the rations without measuring their size. The button in the middle of my face was worth just as much sugar as the largest proboscis.
​
I'm sure that those who served in the enlisted ranks of the military are seeing humor in his predicament. They are most likely imagining how he would have suffered among them. Enlisted men drank cowboy coffee, thick enough to float a horseshoe, without the mitigation of sugar. By the time the coffee reached them, the officers had already used all of it.

I didn't fully appreciate his dilemma until the day my father poured a cup of coffee from the pot my mother was cleaning. She was percolating baking soda instead of coffee grounds. As the stain dissolved from the interior of the pot it colored the water. The mountain of sugar my father added completed the disguise. My mother didn't return to the kitchen until he had drained half the cup.

I happened to be standing nearby when he looked up quizzically and asked my mother if she had changed brands of coffee. It took her a minute to decipher the situation and then she broke out laughing and left the room.

My father didn't like being laughed at. He was a mean SOB, but mom held the occurrences to a minimum and usually got away with it. My brother and I simply found an excuse to be somewhere else on these occasions. Inasmuch as I was aware that mom was cleaning the pot, I disappeared before my father could turn to me for an explanation.

I didn't begin drinking coffee until I enlisted in the Army. As an officer I exercised the privilege of rank and used sugar, but never as much as my father unless, in later years, I am forced to drink Starbucks. I simply can't stand the taste of burnt coffee. If we were at war, I would have to seed an Army of children to have enough sugar to drink that swill.