Humor
JEB FOUND HIS YOUNGEST SON sitting under the old oak tree in their garden. The lad was weeping. He sat beside the boy, placed an arm around his shoulders, and asked, "What's wrong, son?"

The boy sniffled and kicked the dirt at his feet. "Nothing," he murmured.

Jeb squeezed his son and coaxed him, "Come on, son. Something's bothering you."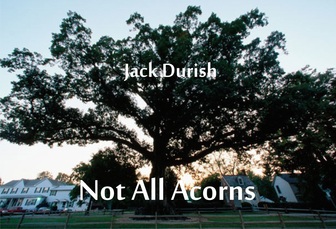 Several moments passed and Jeb's mind wandered. He soaked up the sun filtering through the leaves and enjoyed a birdsong wafting on the breeze.

The boy wiped his nose on his sleeve and tried to pull away, but Jeb held him close. He was about to try again to get his son to open up when an acorn bounced off his shoulder. Looking up, Jeb saw his two older sons scampering across the branches above.

"Sorry, dad," Lyle, the oldest, shouted.

Jeb smiled up at the boy. "Careful up there," he called out.

"We're careful, dad," the two boys aloft chorused.

Turning his attention back to his youngest son beside him, Jeb saw that the weeping had resumed. A glimmer of understanding came to him. "You want to be up there, too?" he asked.

The boy nodded and snuffled loudly, then inhaled deeply and sighed.

Jeb smiled. "You will," he assured the boy, "someday."

The boy looked up at his father. His eyes said it all: Could it be true? Then, doubt. "When?" he asked.
Jeb removed his hand from his son's shoulder and tousled his hair. "Someday," he replied, "when you're older."

"I'll be older tomorrow," the boy said.

Jeb laughed. "A little older than that," he responded.

The boy turned his attention back towards the dirt at his feet. Jeb could see his shoulders tighten and his hand ball into fists.

"Don't be in too big a hurry," Jeb advised. "Someday you'll be old enough and the next day you'll be too old."

The boy looked back up at his father. Confusion now reigned in his eyes.

Jeb laughed out loud. "It's true," he said.

"But, you can still climb," the boy protested. "I've seen you, when you're pruning it."

"Oh, sure, I can," Jeb replied. "But, Grandpa can't."

"He can't?"

Jeb leaned close. "Grandma would have a fit if she caught him trying."

The boy's eyebrows rose as he considered the idea and he was forced to smile.

Jeb reached down and picked up the acorn, the one that had fallen and hit him on the shoulder. "You're like this acorn," he began.

The boy looked at it.

"There's a boy in there," Jeb continued, and his son looked up at him. The disbelief was apparent in his eyes.

Jeb laughed again. "Well, think of this oak tree as an old man," he explained. "He started out in an acorn, just like this one."

The boy took the acorn from his father and turned it over in his fingers, examining it from every side. "How did he get out?" he asked.

Jeb didn't know. He guessed. "He just broke out," he answered.

The boy squeezed the acorn between his thumb and forefinger. "He must have been strong."

"Yep," his father agreed, "strong enough to climb to the sky."

Jeb waited a minute before continuing. "He started climbing as soon as he broke out."

"How high?"

Jeb looked towards the topmost branches and his son followed his eyes. "All the way up there," he said.

"Is he still climbing?"

"No," Jeb replied. "He's an old man now."

Father and son sat together a while longer. Jeb didn't relax until his youngest child was distracted and tossed the acorn aside. He was about to get up and return to his chores when a squirrel appeared from the other side of the tree. It paused gauging the danger that the man and boy offered, then scampered to the acorn.

Jeb and his son watched as the squirrel sat up on its haunches, turning the acorn over and over in its forepaws. Then, without hesitating, it bit through the tough shell and ate the meat inside.

Jeb's son raced into the house screaming.

"Jeb!" a mother's voice called from a window.

"Yes, dear."

"What did you do to this poor child?"

"Nothing, dear."

Jeb shrugged and looked up to where his older boys rested on separate branches. "I should hide up there, too," he thought to himself.