True Story
Imagine my surprise when, early in my sixth decade, I discovered that I had an aunt and twelve cousins of whom I had never even heard. I found a faded black and white photograph of two boys about seven or eight years of age, one who grew up to be a Nazi-sympathizer, my father. Before you condemn him, remember that he was in good company with people like Charles Lindbergh and Joseph Kennedy, father of President Kennedy. On the back of the photo someone had inscribed that the other boy was his nephew. I never really put it together that my father's nephew would be my cousin.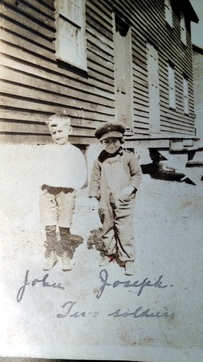 Several years ago I was speaking with an aged aunt, my father's sister. "Speaking with" does not quite describe it. Conversations with Anna were more like being spoken to. Sometime during the telephone call she mentioned that she had been talking to her sister's daughter. It took me about fifteen minutes to stop her and guide her back to that point.

"Your sister's daughter? I didn't know you had a sister."

"Of course," she explained, obviously perplexed that I didn't know. "Your Aunt Mary."

I had never heard of Mary.

When I asked my father, he merely flipped his hand dismissively and said, "Oh her, she married a drunk and we never talked about her."
​
Being a Nazi-sympathizer was the least of my father's failings.
Mary, I learned, had twelve children. One of those, the daughter Anna was speaking of, had thirteen. Suddenly my family grew quite large.
The little boy in the photo with my father was one of Mary's sons, Joseph Hrabovecky. That's Slovak.

My father was the son of Slovak immigrants. No, not from the Slovak Republic nor Czechoslovakia. They left their homes in the Carpathian Mountains of Europe when the land was still a portion of the Austro-Hungarian Empire. They were coal miners there and coal miners when they settled in Pennsylvania. No, don't waste your time looking for any nobility in my bloodline. My mother's parents were also a coal mining family, her father from France and her mother from England.

My father escaped the mines by becoming a professional prize fighter. Joseph Hrabovecky escaped by joining the U.S. Army.

They both migrated to Baltimore, Maryland. My father and his young family after a brief though successful career in the ring, and Joseph following his first tour of duty in the Army.

When World War II erupted, Joseph reenlisted. My father took shelter in the defense industry, at the Bethlehem Ship Yards at Sparrows Point near Baltimore.
​
Inasmuch as I never had any contact with any of the Hrabovecky family, details are sketchy, but the Internet is a wonderful research tool.
I learned that Joseph arrived in Europe shortly after D-Day with the 44th Infantry Battalion, 6th Armored Division. Sadly, he died on 11 August 1944 as his unit maneuvered into position for the battle of the Falaise Pocket (12 – 21 August 1944), and Tec 4 Joseph Hrabovecky is buried at Plat K Row 17 Grave 7 in the U.S. Cemetery in Brittany.

Like I said, the Internet is a marvelous research tool. I'll be using it to find one of his brothers who served with the U.S. Navy and is buried somewhere in the Pacific.

I wish I had known about these cousins long before now and had known this part of my family. It's sad when families simply can't get along.

I well remember spending a day with a work acquaintance, Liz Montoya, in the San Joaquin Valley of Southern Colorado. As we drove past ranches she named the families who owned each and recounted their histories for several generations in the past. She told me stories of the days when the U.S. Army first arrived and built a log stockade. They were ill-prepared for their first winter and the families who owned the surrounding ranches each took a soldier or two into their homes and cared for them until Spring. Her recollections were fascinating to a young storyteller who had been denied his own family history.
​
I pray that my children and theirs will someday appreciate the effort I've put into collecting as much as I can. People who don't know history, especially their family history, don't know who they are, where they came from, and where they are going.