Americana
Bob sat staring at his best friend, Frank. He had composed his face into a study of patience as Frank vented. "Don't you care?" Frank demanded.

Bob shrugged.

"You should," Frank continued.

Bob raised his eyebrows, just for a moment, and breathed a sigh.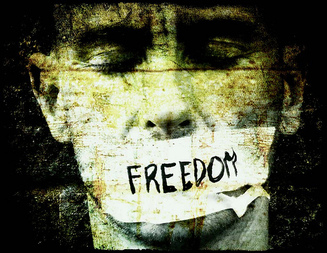 Frank stormed towards the refrigerator and opened the door. He stood with one hand on the door handle, the other on the upper edge of the appliance. His back and shoulders were rigid. Bob watched and waited from the kitchen table where he sat, a half empty bottle of beer sweating on the tabletop. Frank's bottle sat untouched across the table.

The distance between the two men seemed to expand in the silence that followed Frank's last outburst.

Frank muttered, "Damn," and Bob prepared himself for the next installment in the tirade.
"Damn," Frank shouted and slammed the refrigerator door.

Bob held his ground.

"You have to help me," Frank exploded.

"Why?" Bob responded and instantly regretted saying anything. He really didn't want to know.

"Why?" Frank echoed. He opened his arms wide as if to gather all possibilities. "Why," he continued, "because your wife's involved."

Bob sat up and stared at his friend. "Jan?" he reacted. "How's she part of this?"

Frank turned away to hide his guilt. Bob waited. "Well?" he prompted.

Frank looked at Bob over his shoulder. His answer was barely audible. "She took the test for Connie."

"She what?" Bob exploded.

Frank fairly jumped into the chair and reached across the table to take his friend's hands. Bob leaned away and glowered.

"There was no way Connie could pass the test?"

"The Pre-Marital Readiness Test?"

Frank nodded.

"And Jan took it for her?"

Frank nodded again. "She used a fake ID."

It was Bob's turn to explode. "Dammit! How did you talk her into that?"

Frank made a half smile. "You know Jan. Always the romantic."

"You talked her into it?"

"Yes."

"Now what?" Bob demanded. "What's happened?"

Frank drained his beer. He avoided Bob's glare. "Connie's gone."

"Gone? Where?"

Frank shrugged and buried his face in his hands. His words were muffled, but Bob caught their drift. "She's been playing around."

"How long?"

Another shrug. "It started shortly after we were married. Six months. Maybe three."

It was Bob's turn to drain his beer.

The two men sat apart for several minutes, both lost in their own thoughts. Frank seemed afraid to move. Bob went to the refrigerator and got two beers. He kept both for himself. Frank waited while Bob drained the first, then opened the second and took a sip.

"Who?"

"Who what?"

"Who's she been playing around with?"

"Anyone. Everyone. You know how she is."

Bob snorted. "Hell, yeah. Everybody knew 'how she was'."

Frank drew in his head like a turtle. "But, I loved her," he protested in a weak little voice.

"There's going to be an investigation," Bob mused aloud.

Frank nodded.

"Jan's going to get a fine, maybe some jail time."

"It won't come to that," Frank protested.

Bob's look silenced Frank before he could say anything else.

"You know they'll punish her," Bob continued. "They don't like it when their system gets played and someone gets hurt."

"Who got hurt?" Frank asked.

"You, you idiot," Bob retorted. "Society. No more failed marriages. Remember? No more failed anything. Failure is bad for society."

Frank grimaced. He didn't have to be reminded. The words had been drummed into them since their first days in school.

Bob stared at the label on the bottle in his hand, searching for an answer. "God, I wish we were free," he said.

"What?"

"I wish we were free, like the old days."

"What the hell are you talking about?" Frank asked. "We're the freest people in the world."

Bob responded with a harsh laugh. "You're an even bigger idiot than I thought," he replied with acid in his voice. "No one's free anymore. Free means being free to fail. To fall on your face."

Frank shook his head and protested, "No. Failure isn't good."

"It isn't," Bob retorted. "What have you learned about Connie?"

"I don't understand."

"Would you take her back now?"

Frank hesitated. "No, I guess not."

"See," Bob shouted, punctuating the statement by jabbing the beer bottle in Frank's direction. "Failure is good for something. It can teach you a lesson. Even someone as dense as you can learn from failure."

The two men sat quietly until Bob broke the silence. "At least when people were free, their mistakes were their own. Now you end up dragging others down with them."