Fantasy
ONCE UPON A TIME there was a place with no name. It was populated by people with names made up of grunts, whistles, and snorts. It was a really long time ago.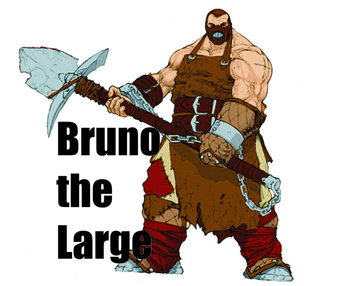 One man – let's call him Cedric, his actual name can't be written using ABCs – Cedric was full of ideas, but no one paid attention. They were too busy competing for the place's limited supply of food and water. Cedric was a small man with a very large head, easily brushed aside.

So, Cedric went to the largest, dumbest man in that place – let's call him Bruno, same reason – and began taking food and water to gain Bruno's favor.

Bruno protected Cedric from the other people, and Cedric made Bruno a hat. It wasn't any ordinary hat. Of course, no one else wore a hat in that time and place. They might drape a leaf or an animal skin over their head, but few did as it made them look silly and others laughed at them. Cedric decorated Bruno's hat with fancy baubles, mostly colorful rocks and leaves that he had gathered. No one laughed at Bruno.

People pointed at the hat and asked, "What that?" and Cedric named it, "Crown."

"What 'crown' for?" they asked.

"Bruno king," Cedric replied importantly.

"What king?" they asked.

Cedric leaned close to Bruno and whispered. The large man lumbered to his nearest neighbor and beat him to a pulp. No one dared intervene.

"King nasty," the assembled crowd observed.

With various whistles, snorts, and grunts as well as ample gestures, Cedric explained that the man had been beaten because he didn't pay his taxes.

"What 'taxes'," they asked.

Again, Cedric used their crude language to explain that everything in that place now belonged to King Bruno and that anyone who didn't share whatever they killed or gathered with the King would receive the same treatment. Everyone hurried to their hovels and returned with a share of what they had killed and gathered to pay their taxes, and life was again peaceful in that place. Bruno grew in strength and girth, and was never bothered again with having to kill or gather food. Neither was Cedric.

Cedric amended the tax laws several times in the following days to include fuel for the King's fire and a much improved hovel, bigger and better than anyone else's. Of course, it included a comfortable den for Cedric.

It came to pass that one of the people's daughters matured into a comely wench whom Cedric coveted, and he used the King's power to make her a part of their household. Unfortunately, Bruno was also attracted to the girl and took her as his mate, making Cedric extremely unhappy.

Cedric went to the people and tried to stir them into rebellion, but they had long ago figured out that he was the actual source of the new arrangement that they really didn't like, and they refused to help him. Bruno caught wind of Cedric's plot and beat him to a pulp.

Cedric became an outcast, living of the edge of the primitive society where he kept his ideas to himself.

Bruno's mate bore him many boys who became large and stupid princes. Since only one could inherit Bruno's crown, the others traveled to other nearby villages and propagated Cedric's system and insured that all had a fair share of village idiots. Thus, Bruno and his progeny lived happily ever after.

The End