Americana
THE GOVERNMENT LIMO sped along the covered expressway from the suburban enclave for members of Congress to the Capitol Building in Washington, D.C. Representatives Harold Stonemeyer of Oregon and Gerald Birmingham of Alabama sipped coffee freshly brewed from the built-in espresso machine. Stonemeyer gnoshed on a bagel and cream cheese that he brought with him from his home.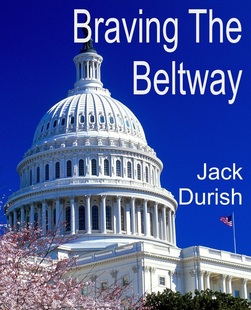 "Got a late start this morning?" Birmingham asked, and nodded to the bagel when Stonemeyer responded with doubt in his eyes.

"Oh, yes," Stonemeyer replied. "I was up late studying the new highway bill."

Birmingham grunted.

"You finished it already?" Stonemeyer asked.

"Don't have to," Birmingham replied, pausing for a sip of coffee. "It's my party's bill."

"You're going to vote for it without reading it?"

Birmingham looked at Stonemeyer with paternal patience and smiled. "Of course," he said, "You'll learn."

"But, where's the money coming from?" Stonemeyer persisted.

Birmingham chuckled to himself. Damn freshmen are so annoying, he thought. "It'll come from the highway fund," he replied and turned away to feign interest in the passing scenery.

Stonemeyer looked at the back of his colleague's head and fumed to himself. He knew there was no highway fund. Hell, there wasn't any fund any more. The government simply pretended to pay with money they pretended to have, and their contractors pretended to pay their employees and their suppliers with money that they pretended to get from the government. The whole mess cycled its way down to the taxpayers who pretended to pay their taxes. They had even stopped bothering to pretend borrowing the money from China when... when was it? Oh yes, when they regained control of the government after the Republicans replaced Obama after his second term. They found out. The people didn't want limited government. They wanted their entitlements and a limited government couldn't give them entitlements.

"God, I hate this part of the ride," Birmingham muttered and Stonemeyer was distracted from his reveries.

He looked up to see the end of the highway tube just as the car exited onto the surface streets of Washington, D.C.

"It's a shame they couldn't complete the tube all the way to the offices," Birmingham said, "before I retire."

"You're retiring?" Stonemeyer asked.

"Yep," Birmingham announced turning back to his younger colleague. "End of this term."

"But, it isn't an election year," Stonemeyer observed.

Birmingham smiled and shook his head slowly. Damn freshmen don't know nothing, he wondered to himself. "The governor will appoint my successor," he explained separating each word as though he were speaking to an idiot. "That will insure the election of the man we pick."

Stonemeyer looked at him without showing any sign of comprehension.

Birmingham sat back as though Stonemeyer had slapped him. "You don't get it, do you?" he asked.

Stonemeyer continued staring at the older man as though he were speaking an unknown language.

"You weren't elected in a general election, were you?" Birmingham continued.

Stonemeyer shook his head "no." The hand holding the bagel lay in his lap. A few crumbs stuck to his lip. Birmingham handed him a napkin and mimed wiping his own mouth. Stonemeyer took the hint and wiped away the crumbs, but remained mute in wonder.

"No one gets elected to their first term," Birmingham explained, "and no incumbent loses an election."

Birmingham turned away and gave his words time to sink into his dense colleague.

Just then a crude spear struck the car. "Hell, it's the 'jungle'," Birmingham announced.

The driver flipped on the siren and warning lights and sped up. He turned on the radio signal that preceded the limo changing all traffic lights to their advantage so that they could reach the Congressional Offices perimeter without stopping.

More projectiles hit the limo before they reached the gates where armed guards waited for them. The vehicle's composite body shell reflected all without leaving a dent or a scratch.

"Good thing we took away their guns," Birmingham observed as they raced down the street.

The car glided into an unloading zone inside the gate and a guard opened the door for the officials to get out. Stonemeyer stood looking back at the street they had just traversed. Stones, arrows, and spears littered the gutters along both sides, and more projectiles flew at another limo racing towards them.

Birmingham stepped up beside him. "Damn animals," he muttered.

Stonemeyer glanced at his colleague. "How can you say that?" he asked. "They're our constituents."

The older Representative laughed out loud. "Constituents?" he responded. "Yes, they are. And we gave them what they wanted."

Stonemeyer waited.

Birmingham turned to face him. "We gave them exactly what they wanted," he continued. "Equality."

"But they're destitute," Stonemeyer complained.

The senior representative made a moue and shrugged. "I suppose," he replied. "But they're equally destitute."