Fantasy
"Is he..."

"Sleeping."

Barbara relaxed at the word.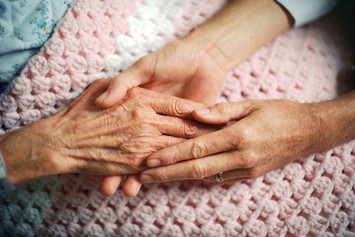 She pulled up a chair and sat at his bedside while the nurse finished her chores.

When she turned back to her husband she found him smiling at her.

"Is it morning?"

"Yes."

"Thank God for another day."

Barbara returned his smile and placed her hand on his. His felt cold.

"How are you feeling?"

"Ready."

"Ready?"

"Ready for it to end."

A tear came unbidden to the corners of her eyes.

"Don't..."

"I must."

"But..."

"But?"

"I have something to tell you."

"What?"

"I don't know how?"

A look of worry flitted across his brow like a wisp of cloud preceding a storm.

"Just tell me. There's not much time."

Barbara stood and walked to the window.

"You remember," she began.

"I remember much."

Memories were the only things left that they shared with smiles.

"Yes, me too."

"Go on then."

"You remember how you always wondered why I waited for you?"

A rasp of a chuckle broke loose of his throat and Barbara brought a glass of water. She placed the straw at his lips and he sipped.

"Yes."

"You always wondered why I didn't marry before I met you."

"Always. What was wrong with the men. You were so beautiful."

"To you."

"You are."

Barbara blushed as she always did when they had this conversation.

"Well, I never told you..."

"What? You were married before?"

"No, silly."

He smiled and waited.

"I never told you that you came when I was young and asked me to wait."

His brow furrowed with confusion.

"It was you. I know it was you. You were old, like now, but it was you."

"How?"

"I don't know. You just did."

Companionable silence passed between them for several minutes. He waited patiently for Barbara to explain.

"I was young, about twenty-five," she continued. "I was babysitting Brenda and Billy for my sister, at the park. You came and sat on the bench by me while I watched them play on the swings."

"I did?"

Barbara smiled at her husband and squeezed his hand.

"You watched the children playing a little while before you turned and introduced yourself. No, you didn't say you were my husband," she added quickly in response to his unspoken question. "You just talked about this and that. It wasn't until you got up to leave that you told me."

"Told you what?"

"Told me that I should be patient. That you were coming some day and that I should wait for you."

"For me?"

"Well, you didn't say it was you. You just said that there would be someone, a man who would love me more than anyone else could. And that we would have children and grandchildren together."

"I did."

"Yes, you did."

"I mean, I told you that."

"No, you didn't say that it would be you. You just said it would be someone I would love even though you might not feel that you deserved it."

He looked deep in thought for a few moments.

"I don't remember meeting you ever, before."

"We didn't."

"I don't understand."

"It just happened."

"Why?"

Barbara thought about the why and the how of that meeting ever since she first met her husband as a young man and fell in love with him just as the older version of himself had promised.

"I don't know. Maybe, just because I needed you to come and tell me. I was losing hope that I would ever meet anyone. Maybe because I am afraid that if you don't go to me now, I might not have the courage to wait for you."

"Then what?"

"I might not have waited. We might not have had all these wonderful years. The children. The grandchildren."

He closed his eyes to think and fell asleep. When he awoke, she was waiting. She looked almost afraid.

"I need you to promise me."

"What?"

"That you'll go now and tell me."

"How?

Barbara paced the room. She looked desperate.

"I don't know. I just need you to do it. Find a way. You always find a way."

He smiled and closed his eyes one last time.

I will, he thought, I must. I hope I can.

I wish I can.