Writing Rebels on the Mountain...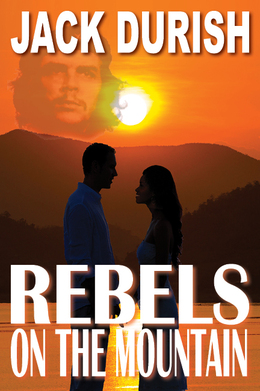 Rebels on the Mountain is a tale of revolution and romance set in Cuba during the days of Castro's ascent to power. I had planned to write the story for many years goaded by the regret that I missed the last chance to visit Cuba just prior to the beginning of the revolution. I was a Sea Scout and had garnered an excellent reputation as a navigator as well as an able bodied seaman. When a member of the yacht club where the Sea Scouts kept their vessels bought a new yacht in Galveston, Texas, I was recommended to help him bring it back to the Chesapeake Bay. Had I gone, I would have sailed the gulf coast to New Orleans and crossed to Havana before reaching the Inland Waterway of the East Coast. It was the opportunity of a lifetime for a young sailor, but my parents forbade it inasmuch as I would have missed the first month of ny junior year of high school and my scholastic record was anything but stellar.

The disappointment of missing that trip only served to whet my appetite and I sailed it in my mind many times. Using charts and sailing guides, I planned planned the voyage as though I was actually going. I also followed the political situation in Cuba in the newspapers and on television with far more alacrity than anyone might expect in a teenaged boy who was more interested in boats than academics. Unfortunately, I did not realize that I was viewing Castro's progress though many layers of propaganda and never fully appreciated how skewed my understanding was until recently when I began to research the topic with more maturity.

Unfortunately, the project had to wait until I retired. Although several novels have suggested themselves to me over the years while I was too busy living life to stop and write about it, Rebels on the Mountain pushed itself to the fore without any great difficulty, and I began researching it in earnest as soon as I quit working. My wife encouraged me to write it for young adults with myself as a boy in the role of protagonist. I disagreed feeling that a teenager could not participate in the story of a nation on the brink of revolution. Thus, I created Nick Andrews, a young man with the background, skills and training, to act as more than a casual observer.

I borrowed Nick's name from my youngest son, Nicolas Andrew, though much of the hero's linguistic and combat skill are more suggestive of my eldest son, John Robert, who is a Gunnery Sergeant in the United States Marine Corps, and a master of several languages. The tales of abuse and racial discrimination that appear in Rebels on the Mountain are uncomfortably autobiographical. The protagonist in Rebels on the Mountain and I suffered at the hands of our fathers, former prize fighters born and raised in a coal mining town in Pennsylvania. The life my father led is on my short list of tales to tell.

American-Cuban relations were driven largely by racial discrimination for more than 200 years, and Nick's love interest in Rebels on the Mountain, Lucia Comas, being a mulata gave me the opportunity to explore the influence of racism on Cuban-American relations in detail. Throughout the story, Nick is compelled to confront the racism that he grew up with and faced in virtually every facet of his life. Nick's romance with a mulata also adds to the conflict inherent in the story.

The yacht owners who draw Nick into an adventure in Cuba, Dr. Karl Regan and his wife, Emma, are closely adapted from a retired doctor and his wife, yacht club members who befriended me as a young lad. The plantation that they own near Jovellanos in Cuba was created fictionally for the purposes of the story.

As a work of historical fiction, Fidel Castro and his brother Raul, Che Guevara, Celia Sanchez, and Camilo Cienfuegos are central to the tale. As with most historical personalities, the extant stories relating to them are mostly self-serving and largely suspect. Thus, I absorbed descriptions of them and their accomplishments and activities from many sources before adapting them to my story. Where possible, their dialog is derived from quotes ascribed to them. To be fair, I avoided involving them directly in the story as much as possible, preferring instead to use fictional characters who observe their actions and conversations from the sidelines. I make every effort in Rebels on the Mountain to avoid judging my characters, especially the historical personalities, rather allowing the reader to judge these people, their words and their actions for themselves.

Ernest Hemingway appears in the story and was the easiest to research, as was his friend Herbert Matthews, a correspondent for the New York Times who also appears. Descriptions of them and their personalities are readily available. There is ample evidence that Hemingway contributed to the Fidelistas and that his boat captain helped hide and transport weapons and supplies for them in Hemingway's boat.

I thought I knew exactly what my first novel was about when I started writing it. I didn't expect the characters to take over and write it for me. The story that evolved required all my training and experience as both a sailor and a soldier to tell it. Rebels on the Mountain is a tale rivaling the myth of the Spartans at Thermopylae; a mere 300 Cuban rebels defeated the combined armed forces of the dictator, Fulgencia Batista, numbering more than 40,000, while the Eisenhower administration stood on the sidelines, concerned but too confused to intercede effectively. Indeed, American foreign policy appears to have completely overlooked events in the Caribbean; events that ultimately came to haunt succeeding administrations for more than fifty years. Even now, the outcome is in question. It is a cautionary tale for diplomats in general and the State Department of the United States in particular.
Click to read an excerpt from Rebels on the MountainRebels on the Mountain, the complete book, now available at...
---
---