Americana
"WINTER SHOULD BE WHITE. You should be able to see your breath. You should be outside sledding or ice skating or having snowball fights."

The old man looked each of his grandchildren in the eye to make certain that they were paying attention. They were.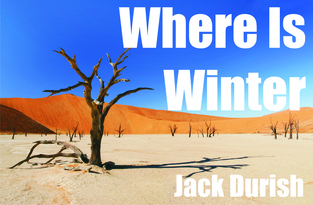 "And the girls always look better in woolen sweaters. We called 'em 'snow bunnies'," he added with a wink to the boys for effect.

Jake leaned close to his cousin Nick and whispered. "There he goes again."

"Sh," Nick hissed. "Mom will smack me if she thinks I'm disrespectful."

Jake snorted and scowled.

The children were all dressed for the beach. They were leaving as soon as their parents had everything ready.

The old man eyed the two miscreants at the back of the pack and raised his voice. "You think I'm just a crazy old man, don'cha?" he asked directing the question at Nick and his cousin.

"Not me," Nick protested. "He started it," he added leaning away and pointing at his cousin.
The old man ignored his protestation. "Hell, we went to the beach, too," he said with a huff. "In August. That's when you should be at the beach. January's for skiing."

"Dad," a mother's voice called out from the kitchen as soon as she heard the old man utter the offending word.

The old man grumbled something unintelligible but ignored his daughter's complaint. He lowered his voice as he continued, "Dammit all, there's nothing wrong with a little 'hell' now 'n then."

"Dad!"

The old man waved in the direction of the kitchen and took a sip of eggnog. He made a face. "Don't taste right 'less its cold outside."

The children snickered. They had all finished their "virgin" eggnog long before.

The old man leaned back in his chair and took a deep breath. His eyes wandered outside. "Even the damn trees ain't right," he muttered to himself.

"What was that?" came from the kitchen.

The children tittered.

"The trees ain't right," the old man shouted back.

"What trees?" from the kitchen.

"All of 'em," the old man replied softly. "Look at 'em. Nothin' but sticks with a little crap at the top."

"Dad!"

"Okay, okay."

The children were having a hard time stifling the laughter.

The old man kept looking out the window. "Nothin' but brown hills and sticks as near as I can see."

He looked back at the children and smiled. He leaned towards them and whispered as though sharing a secret mission. "You get old enough," he advised. "Get the hell out of here. Go somewhere there's seasons. Spring. Summer. Autumn. And, winter. You'll have different clothes for each of 'em and different things to do."

"I already have different things to do," Nick announced.

The old man raised his eyebrows.

"I have an xBox, a Playstation, an iPad..." the boy began to explain.

"Sheee-it," the old man exclaimed with a wave of his hand.

"Dad!"

"Shee-it," he repeated more softly.

A middle-aged woman came from the kitchen. "That's it," she announced. "Time to load up."

"Ah, mom."

"Ah, mom, nothing. We're going."

"But I have things to do. Can't I stay with grandpa?"

"No, you're going to the beach. You can do without your computer games for one day."

Nick's head came up with a snap. "What do you mean?" he asked. "I'm taking my iPad with me."

"No, you're not."

The boy looked at his grandfather. "What did you call it, grandpa?" he asked. "A snow day?"

The old man looked at his grandson. "Yeah, we had snow days."

"When you had to stay home?"

"Yep."

"Shee-it," the boy pronounced, "I could sure us one of them right now."

"Nick!"