Humor
THERE ONCE WAS A FROG named Maurice who lived in a small garret above his flower shop, Grenouille, on the Rue de Seine. It was a humble abode with a million dollar view of the rooftops of Paris and the Eiffel Tower, the Cathedral of Notre Dame and the River Seine. Beyond the peeling paint and cracked caulking of his window sash, the world was a colorful mossaic of trees, bricks, tiles, steel, stone, sky, and clouds.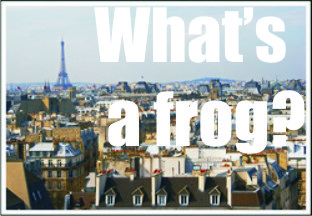 Being a man of simple tastes, Maurice broke his fast with hot chocolate and a croissant at a nearby sidewalk cafe before opening his shop for the day. He only scanned the news this morning because he wanted to get an early start. He was going on a short trip to meet a grower who seemed to have spectacular blossoms for reasonable prices.

By the time Brigitte, his shop assistant, arrived, he already had the sidewalk displays arranged and the store swept out. He stopped only a moment to help Brigitte who was fumbling with the frog at her throat. Maurice seemed perplexed that the device easily opened at his touch and her cape fell from her shoulders, softly to the floor. Their eyes met. She smiled, then made a moue as he gathered the frock and hung it from a hook behind the counter.

"You're leaving for the day?" she pouted.

"Yes," he replied, "but I want to finish Monsieur Picard's order before I leave."

"I can take care of it," she offered.

"No," Maurice replied, "I need for you to unpack the shipment we received from Brest yesterday, and restock the shelves." Maurice reddened as he caught himself staring at a portion of Brigitte's anatomy that was suggestive of the port city.

Brigitte's smile faded into a look of concern. "Are you not well?" she asked.

"Nothing really," he replied. "Just a frog in my throat."

Brigitte nodded coquettishly in response and went to the task as instructed while Maurice gathered his supplies to fill the order.

He began by placing a frog in an ornate bowl and piercing it several times with an ice pick. He then selected flowers, cut their stems to the desired length and inserted them into the piercings. Brigitte approached from behind and placed her hands on his shoulders and Maurice became aware of her breath as she looked over his shoulder.

"C'est magnifique!" she exclaimed as the arrangement took shape.

Maurice blushed again, but did not move. The gentle touch of her hands on his shoulders held him in place.

"When do you leave?" she asked.

"After lunch."

Brigitte waited patiently for Maurice to gather his courage. "Shall we dine together?" he finally asked.

"Oui," she responded looking away demurely. "What did you have in mind?"

"Frogs legs?"

"Bien sûr," she replied.

Business was slow that day and Maurice picked up his violin to pass the time waiting for customers, maybe attracting a few, by practicing. Unfortunately, he found that the frog was cracked and he would have to have it repaired before playing again.

Maurice almost missed his train that afternoon. The horse drawing his cab pulled up lame halfway to the station and the driver found a nail embedded in the frog in its right front hoof. Maurice was agitated by the delay, and set off on foot for the rest of the way. The neighborhoods surrounding the station were seedy, and thieves and cut purses abounded. However, Maurice's nerve steadied when he placed his hand on the hilt of his dagger held by a frog at his side.

Unfortunately, though delayed, Maurice arrived in time to catch his train. Unfortunately, because his train was derailed by a loose frog at the juncture to two tracks and Maurice was killed in the wreck.

Poor Brigitte. She lost her favorite frog as well as her position at the flower shop.

NOTICE: No frogs were harmed in the telling of this story – well, other than Maurice and his lunch.