Fantasy
HE LIVED UNDER A BRIDGE. Not one of those interstate highway spans. They're cold and nasty places to live. Rather, he lived under a rustic bridge he had built for himself in a forest. It spanned a ravine allowing hikers to cross easily without sliding down one side and clambering up the other. There he dug his barrow. After all, he was a troll.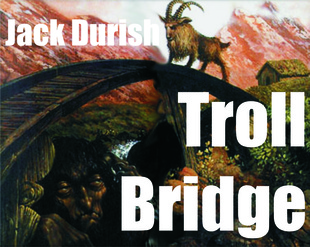 Times were never gentle for a troll. In the old days, heroes roamed the countryside, ferreting them out and slaying them to turn the head of a fair damsel. Well, there might have been other reasons. Trolls regularly ambushed travelers who happened on their bridges. This behavior irked some and they hired heroes to extract revenge. Not all heroes were motivated by carnal pleasures.

There weren't many heroes these days. But let a troll snatch a farmer's goat that wandered too near, and all hell broke loose. There were so many farms and so many goats. And so many children. Yum, children. So tender. So tempting. A troll had to practice self control or he would have to flee his comfortable barrow and build another bridge somewhere else.
Our troll liked to roam. Roaming was generally seen as a fault among trolls, but it was a fault that saved him when Europe became too crowded for a troll to live undisturbed. So, one day, a couple of hundred years ago, he sneaked aboard a ship and fashioned a comfortable barrow in the bilge. The ship arrived in New York, short just two crew members who had been assumed to have washed overboard, shortly after the new nation was proclaimed. The troll stole into the Alleghenies. There he found a likely bridge and dug a new barrow beneath it.

Life was good in the new country for the first hundred years. Game was plentiful and an occasional child fell into his trap. Adults wandered his way more often, and he'd eat one in a pinch. Adults were tough and stringy.

The nation grew and our troll was forced to move deeper into the mountains as the cities and their suburbs grew. In time, our troll learned to read. The skill helped him survive. Whenever the newspapers reported that people were growing angry over the disappearance of their children, he knew it was time to move on. He learned about National Parks and decided that one of these would be his best choice. No city and no suburb would encroach upon him there.

Even in the pristine wilderness of a nation's sanctuary, he knew that he would have to change his diet or he would never know peace. It was hard. It took time. In the past seventy-five years, he had not eaten one child. Not even one toe. One day the troll decided to test his newfound resolve. He would wander among children. In his reading, the troll learned that there was one night when he might get away with it. Halloween.

The troll sat on a hilltop above a pleasant suburban neighborhood waiting for sunset. He could see the smaller children already scurrying from door to door with their parents following behind. His stomach rumbled and grumbled, but he schooled himself to think of other things. Besides, he had more to worry about. Would his appearance be accepted as a costume? How could he escape if he were discovered?

The troll had no fear that he might be tempted to snatch a child. He had complete confidence in his self control.

Shortly after sunset, the troll made his way to the edges of the community, and waited and watched. The older children now outnumbered the younger ones, most of whom were already headed home with their parents and their loot. The preteens now dominated the streets. Fortunately for the troll, they were about his height. And, thanks to a national plague of obesity, most were similar in girth, although his was muscle.

The troll noticed that they traveled in groups and he feared that he might be suspect if he roamed alone. Thus, he quietly slipped behind a group and began trick-or-treating with them. When doors opened, he thrust his bag forward and accepted the offerings with a grunt.

"It's polite to say 'thank you'," one adult admonished him.

The troll grunted and glared, and the adult quickly closed the door.

It was then that the other children noticed the stranger in their group and surrounded the troll. They 'oohed' and 'aahed' at his costume and rewarded the troll with a cheer, before returning to the business at hand.

The troll breathed a sigh of relief.

After an hour, the troll found himself being pulled away from his new friends. He was drifting towards a teenage girl who was accompanying a small child, probably her little sister the troll surmised. The little one was dressed as a fairy princess and just as cute as she could be. At her sister's urging, she would advance towards an open door, hold up a plastic pumpkin with both hands, and demand, "Twik 'r tweet!"

The adult invariably smiled and gave her the best candies.

The trouble came at the third house he visited in company of the teenage girl and her sister. The adult fumbled with the troll's treat as he looked at the little girl walking away with her sister and remarked, "Isn't she the sweetest? She looks good enough to eat."

The troll's stomach rumbled and grumbled loud enough to attract the adult's attention over the sound of the screaming Halloween decoration on the porch. He looked at the troll, studying his costume carefully. He reached and tugged at the troll's nose.

The troll was salivating wildly. His eyes were riveted on the fairy princess walking beside her sister. He was losing control and he knew it. There was just one thing to do, and he did it.

The troll was on the move again. Dogs followed his scent to his barrow and he had to relocate again. Another state. Another national park. He would begin again, reconditioning his tastes.

Yes, the man's arm was tough and stringy, but it was only one arm. And, damn, why did he have to say that?