True Story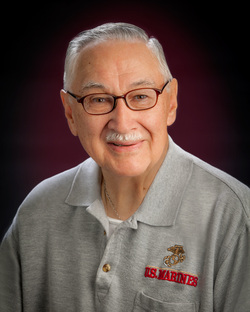 Dick Latham is a United States Marine whose story is missing a chapter. Members of every branch of the United States military wear their story upon their chest. Each chapter is written in a language of ribbons colloquially known as brag rags. In addition to tales of valor, meritorious service and achievement, almost every war, battle, campaign, and victory has its own distinctly color encoded ribbon. Almost, but not quite, and therein lies the gap in Dick's tale.

Dick has a collection of brag rags that one might expect of a veteran Marine of his age with more than 11 years of active duty. World War II Victory Medal: American Theater. China Service Medal. Good Conduct Medal with two bars. National Defense Service Medal. Korean Service Ribbon. United Nations Service Ribbon, Navy Operation. Marine Corps Security Guard Ribbon. Each tells a story. However, one chapter transcends all the others. Dick is an Atomic Veteran, one of nearly 300,000 who were witnesses, some would say guinea pigs, at atmospheric tests of nuclear devices. His close encounter with an atomic bomb occurred somewhere in the deserts of Nevada, but no acknowledgment was ever forthcoming, no award recognizing it ever existed.

No words could have prepared the men in the trenches for that experience. Dick's battalion was given the briefest of explanations and loaded onto buses at Camp Pendleton, California, where they were stationed, and transported to waiting Air Force troop carriers at El Toro Marine Corps Air Station. A short flight took them to a small Air Force Base outside of Las Vegas and another short bus ride to the test site. The only warning they received of impending doom was a metallic voice from a loud speaker counting down the last ten seconds.

The device they had seen the evening before mounted atop of a 100' tower in the distance was detonated at 0400 hours, just before the break of dawn.

First came the earthquake.

Charles Darwin described earthquakes best in Voyage of the Beagle for those who have never experienced one: "A bad earthquake at once destroys our oldest associations: the earth, the very emblem of solidity, has moved beneath our feet like a thin crust over a fluid; - one second of time has created in the mind a strange idea of insecurity, which hours of reflection would not have produced."

Many suffer vertigo and nausea in an earthquake, especially their first, but Dick was born and raised in Southern California and accustomed to them, although he remarks that this one was more severe than any he had previously lived through. Other members of his battalion in the trench were not as well prepared.

Second came a brilliant flash of light.

Dick remembers, "I saw the bones in my fingers held over my closed eyelids, part of the skeleton of the Marine hunkered down in the trench in front of me." Real or imagined, the vision awoke Dick to the danger into which his commanders had led him and his comrades.

Third came the blast. The debris of broken buildings, equipment, and tethered livestock flew over the trench faster than the eye could perceive.

The clarion call of the nuclear detonation arrived at the trench last traveling merely at the speed of sound. It signaled the troops to rise and survey the results.

The area from Ground Zero in front of them, to the mountains five miles distant behind, was a living hell overshadowed by the umbrella of a spreading mushroom-shaped cloud of irradiated debris and boiling gases that rose in a column to the upper atmosphere. Whatever remained above ground level was on fire.

One can well imagine the fear those Marines felt when they rose from their trenches and found themselves standing in the midst of a scene ripped from Dante's Inferno. Still, they were Marines, well-trained to master their fear and obey orders. Their orders were to march towards Ground Zero just as they would march towards the sound of gunfire and assault the very gates of hell if necessary to defend America. It mattered not that they had no shield to protect them from being bathed in deadly radiation from their outermost skin to the depths of their immortal souls.

Confusion must have been evident on their faces as they tried to make sense of the enormity of the devastation. How could anything, even fragments, have escaped. Then again, we must remember the fragment of the building that remained near the centers of Ground Zero at Hiroshima and Nagasaki following the detonations there.

The battalion to Dick's right began to march towards Ground Zero as helicopters swarmed from behind the shelter of the distant mountains to pick up and carry Dick's group there. The ones marching began patting each others' uniforms when they began to smolder from the heat of the radioactive ash falling on them.

When Dick's helicopter touched down nearer to Ground Zero, the crew chief leaned out of the aircraft with a Geiger Counter and quickly ducked back inside. He pleaded with the pilot via his headset to get out of there. "It's hot!" he screamed into his lip mike. Those marching finally received orders to retreat.
The ground and air were hot with radiation. So was Snow Canyon near St. George, Utah, where some of the fallout ultimately descended. Two years later when John Wayne and a film company arrived to film The Conqueror, a story about Genghis Khan, it was still hot. Wayne was photographed with a Geiger counter measuring the radiation that bathed the cast and crew. They must not have appreciated the danger in the story that the instrument told because they carted a few truckloads of the sand back to Hollywood to dress sound stages where additional scenes were filmed.

A statistically improbable number of that cast and crew contracted cancer. Forty-six died of it in the years following, Wayne among them, though it was argued that his seven-pack a day cigarette habit was the most likely culprit in his case. For the rest, the instrument of their deaths was launched by Operation Upshot-Knothole, a series of eleven atmospheric tests of nuclear devices that occurred in the Nevada Desert between 17 March 1953 to 4 June 1953, including the one Dick witnessed. It was the ninth series of tests conducted within the continental United States, a series which would include more than 1,000 detonations.

Imagine how much worse it was for the Atomic Veterans who were present when the deadly fallout was spawned. Many of them suffered fatal cancers. Studies reveal that approximately 20% of them bore children with birth defects, well over the incidence experienced among the general population. Dick suffered debilitating disease that ended his military career prematurely.

Legislation was introduced in 2014 to acknowledge the Atomic Veterans, but it failed. One can only wonder at the pressing business that prevented Congress from passing this act.
Maybe, some day, Congress will revisit this issue. If successful, Dick should be among the first of the Atomic Veterans to receive recognition. Why, you may well ask. Simply because just one year later the atomic genie caught up with Dick again in the South Pacific, during Operation Castle Bravo when the United States detonated its most powerful device, the H-Bomb over the Bikini Atoll in the Marshall Islands. But that's another story...
---
Read more about operation Upshot-Knothole in the document below
1953_-_dna_6014f_-_operation_upshot-knothole_-_shot_badger.pdf
File Size:
13076 kb
File Type:
pdf
Download File