Fantasy
HILLARY BEGAN COLLECTING pets when she was six years old. They found her when she got a late start dumpster diving for her family one evening and the sun set before she could clear out. That's when the animals took their turn.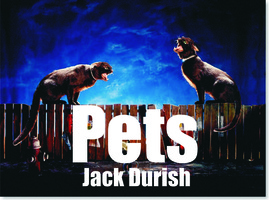 Dogs, cats, and rats took turns ferreting out food, and didn't take kindly to a child upsetting the natural order of events. All the animals felt that their sustenance was threatened by the little girl and advanced on her from all sides.

Hillary was a smart little girl and pulled the lid shut on top of her, but it didn't fit well and the animals began wedging themselves through every gap. What little light penetrated the dumpster found its way to their eyes and they glared at Hillary from every side.

Backed into a corner, Hillary's hands grasped at everything in reach, searching for a weapon. All she found were rubbish and refuse, some bagged and some not.

The rats goaded the cats who goaded the dogs, and all three advanced in ever tightening circles. Hillary had no option but to start throwing whatever was at hand. Fortunately, the first items were food. It sailed past the dogs and the cats and into the midst of rats that began fighting over it. The cats turned on the rats and the dogs turned on the cats and a melee ensued. Hillary slipped away in the confusion and was beaten by her father for returning empty handed.

Hillary returned to her dumpster diving making sure to arrive and depart before sunset thereafter. Several months passed, the days grew shorter, and Hillary was once again caught in the dumpster after sunset. This time, she didn't hesitate. She tossed food to the animals to distract them, but made sure she had something for the family dinner before scurrying away.

Weeks passed with the days growing ever shorter and Hillary fed the animals more often than not, providing them with tidbits that she dug from the deepest corners of the dumpster, things that they couldn't ordinarily reach.

One evening in the dead of winter, Hillary arrived to find the animals waiting for her. They opened a path for her to the dumpster and waited outside until she had tossed enough food to satisfy them all. They never knew that Hillary had put aside the best pickings for herself and her family.

Hillary's father was in jail that February and a social worker brought groceries for the family. It was the first time Hillary didn't have to go dumpster diving since she was five years old. It was a pleasant time, but she knew it wouldn't last.

Hillary was sitting by the window, glad to have a reprieve from the smell and dangers of dumpster diving when she heard a scratch. Looking in its direction, she found a rat looking at her from the other side of the pane. A crowd of its family were huddled behind, looking expectantly at the little girl. Cats sat on every fence and fire escape railing, staring in the direction of her window, their tails twitching at every angle. In the alley below, dogs padded in circles, some sniffing and rooting in the trash accumulated against the sides of the buildings, others looking at her.

The little girl watched them for several minutes before wrapping herself in a well-patched and threadbare sweater and a scarf, and slipping out the window onto the fire escape. The rats followed her down as the cats leapt from railing to fence to ground, and the dogs circled ever faster and began howling their impatience. Hillary then led them to their usual dumpsters and began tossing food to them.

Hillary's father was released from jail the following June. The only thing he seemed to have learned was how to drink even more and become even more abusive.

One evening, the pickings at the dumpsters were slimmer than usual and Hillary worked longer to find enough food for her pets and her family, and her father came searching for her. He had a bottle in one hand and a stick in the other that he began to use to beat Hillary.

Hillary is older now. She has a job and a child of her own. Neither have to go dumpster diving for sustenance, but they go together to feed their pets everyday.

Hillary also has a scar on her back where her father began to beat her that night long ago, but she no longer has a father.