Humor
Is there any more nostalgic memory than cutting down your own Christmas tree? Have you been tempted to start your own tradition? Don't!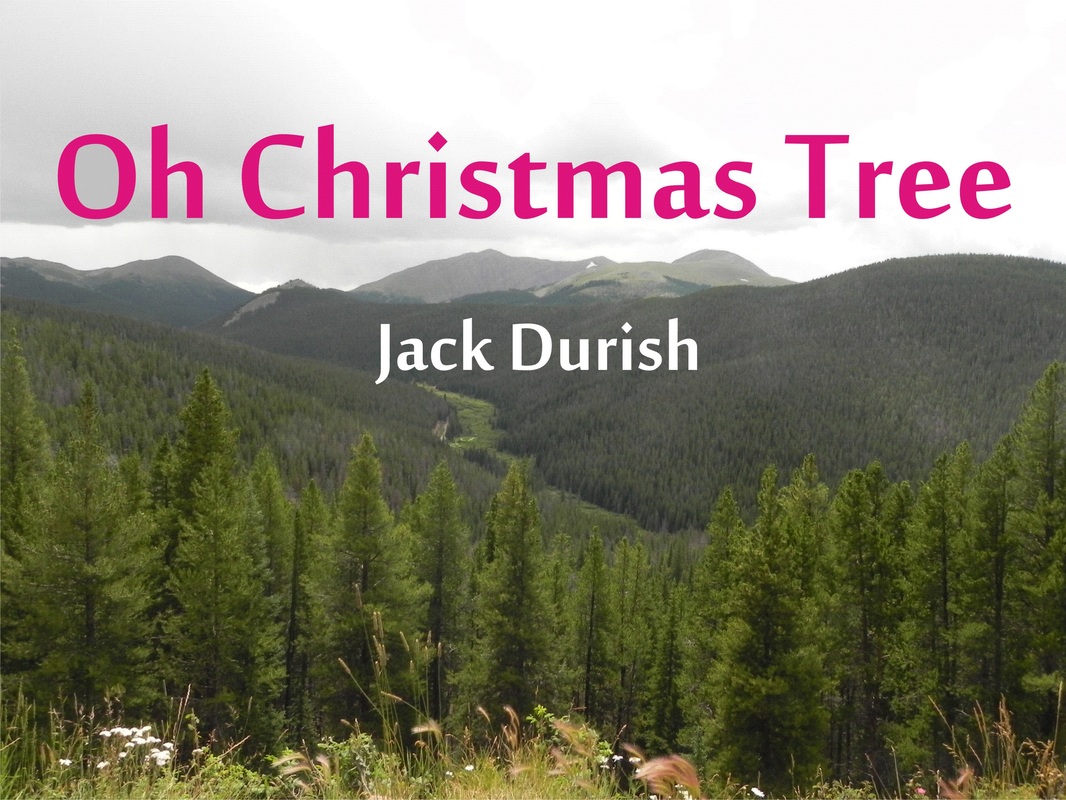 I was living in Colorado, in Fort Collins, north of Denver, when the spirit moved me to cut down my own Christmas tree. As it turned out, it was a malevolent spirit.

Fort Collins is nestled up against the foothills on the eastern slope of the Rocky Mountains. The tree farm, I was informed, was an hour's drive along the Cache La Poudre River which drains a portion of the Roosevelt National Forest and emerges onto the high plains in Larimer County.

I prepared myself and my young family for the excursion with a trip to the hardware store where I purchased a new axe. Although it was the first I ever owned, I was no stranger to this tool. I had used many, my father's for one and a couple that I swung in the Army before I became an officer. Unfortunately, my experience didn't include the proper preparation of an axe for its first use. I simply checked the edge which seemed keen as it was factory-sharpened and decided that I couldn't improve upon it. Little did I realize there was another, more important factor.
We loaded up in our little Datsun station wagon and set out to create a Christmas tradition for our new family. Although our children were too young to be fully aware of the proceedings, I was certain that they would learn as the years accumulated.

We found the farm well-marked thanks to a sign spray painted in large letters on a sheet of plywood and nailed to a tree along the road. We entered on the gravel drive indicated by a arrow drawn crudely below the information and parked in a parking lot half full of other Christmas revelers.

The attendant collected the fee and directed us towards a small crowd gathering nearby. We were told to wait for a war surplus half track that would transport us to grove where we could select our tree and cut it down. The half track would then transport us and our prize back to the parking lot. Sounds simple enough, doesn't it?

Although I had spent more than five years in the Army, I had not previously had the opportunity to ride in such a beast. We passengers were relegated to two wood benches, one fitted on each side of the half track, facing each other. A hard bounce was transmitted from every rock and rut we traversed as the half track climbed the mountain side. Neither did the suspension provide any relief. There didn't seem to be one.

We clung to the sides of the half track and our children as we climbed at a seemingly impossible angle until the ground leveled onto a meadow surrounded by fir trees. Here we were invited to disembark and begin our adventure. Actually, I thought that the adventure had begun several thousand feet below, but the anticipation of finding a tree for my family and procuring it through my own manly efforts extinguished all other thoughts.

It began to snow as we set off into the forest. It continued to snow until we returned home. Between, it accumulated by the minute.

Trees dwindle under the vast vault of the sky over the Colorado portion of the Rockies and no one warned me to bring a tape measure. Thus the tree I attacked with my axe was far larger than my ambition, especially when the axe head flew through a hole in the fabric of time and space on the first swing. This is when I learned my lesson. One should soak the axe head in water so that the handle will expand and hold it tightly.

I had little hope of finding the axe head inasmuch as it had disappeared into a drift and was covered by falling snow before I had so much time as to peer after it. The storm had grown into a minor blizzard and my visibility was shorter than the distance it had flown. I had even less hope of felling the tree with an empty axe handle and the Swiss Army knife in my pocket.

Fortunately, another customer passing by with his tree offered his axe. "Just return it to the half track driver," he instructed. "I borrowed it from him."

How nice. I didn't have to waste the money on buying one of my own and throwing away its business end. I could have borrowed one here.

Thus armed, I took my stance like the Mighty Casey at the bat and had at it.

Have you ever struck a frozen tree trunk with a dull, rusted axe? The shock of it reverberated up the handle and my arms like a Disney Goofy cartoon. I instantly dropped the axe and tucked my hands into my armpits to dampen the effect. Several minutes passed before I could screw up my courage to try again.

I'm proud to say that I felled that tree. It was only then that I discovered its true size. It was a monster.

Unfortunately, my wife had her hands full with the kids and I was left to carry the tree by myself. Actually, I couldn't. I was only able to manage lifting the end of the truck onto my hunched back and drag it through the snow a few paces at a time.

I sent my wife ahead so she could return with the children to the comfort of our car and plead with the driver of the half track to make one last trip to rescue me. Closing time was drawing nigh. In fact, the sun fell below the loftier ridges of the Rockies well before I reached the rendezvous.

Thank God, the driver helped me load my tree onto the half track. He made some comment as to how the other members of the church should have been there to help me.

"What church?"

"Isn't this tree for your church?"

"No."

"A lodge hall?"

"No."

He shook his head in wonder and abandoned the interrogation when he failed to find me any more helpful. That may be why he simply kicked the tree and me off the half track when we returned to the parking lot and abandoned me to my own devices to tie it onto the car roof.

My suspicions that the tree was too large were reinforced when I found that it was longer than the Datsun station wagon by a good eight feet. I positioned it with the trunk even with the front bumper and the excess trailing behind, wagging in the slip stream like a happy puppy. Fortunately, traffic was slow on the now snow-covered roads.

Yes, the tree was three times the height of the eight-foot ceilings in our home. When I chopped off the top eight feet, I found to my dismay that it had too many bare patches to provide a reasonably symmetrical appearance and that no amount of decoration would remedy its failings. The bottom half didn't look anything like a Christmas tree and the middle half was only good for manufacturing garlands and wreaths.

Thus, I ended up a the tree lot and purchased the most expensive tree I ever had (if you count the lost axe, the price of admission to the tree farm, and the generous tip to the half track driver to make one last trip just for me).

It was the beginning and end of a tradition...


---

A true story