True Story
The package was ugly, really ugly. A half gallon milk carton printed in black and Kelly Green on white. Nature's Own Organic House & Garden Fertilizer. "Organic" dominated the label. The purveyor, a sparse man of about seventy with crew cut white hair and the body of a college athlete, informed me that he had been attempting to market it in home and garden stores for about six months. It wasn't selling. I wasn't surprised.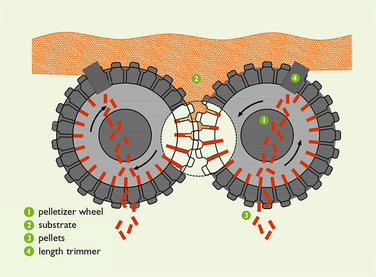 I was a young marketing consultant in those days, fresh out of the Army with no marketing experience, but my boss had enough for both of us.

I shook the package to test the contents and was surprised to hear something dry rattling inside. After all, it was a milk carton.

I opened it and shook out one pellet into the palm of my hand. It was dry and hard, about an inch long and a quarter inch in diameter. Peering through the spout I could see its clones nestled in loose array. All were uniformly dark brown and had no smell.

"What is it?"

"Cow manure."

I dropped the pellet.

He smiled.

"Cow pies," he added by way of explanation. "Cow sh..."

My expression stopped him.

"How..."

"I own a dairy farm," he explained. "The cows are my processing plants. I feed them. They produce milk and shit. I sell the milk. I decided, why can't I sell... this," he concluded in deference to the fact that I had been holding the other product.

"So I bought this machine," he explained by spreading his hands to describe the device. "It's made in Sweden. Dehydrates and pelletizes the manure. Weyerhauser printed the packages. Designed 'em myself," he added with pride.

I smiled wanly and nodded my head.

"What have you done to market it?"

"I got some stores to stock them. I thought the stuff would fly off the shelves. It's organic. That's all the rage now, isn't it?"

I shrugged.

"How did you expect customers to find it?" I didn't have the heart to tell him that the package would disappear on the shelves Remember, it was printed in Kelly Green and black. Just words, no graphics.

"Well, I gave some to the Welcome Wagon ladies and they handed 'em out to people moving into their neighborhoods."

"How'd that work out?"

It was his turn to shrug.

"Do you have a marketing budget?"

His look answered. He had spent everything on the machine and packaging.

I rose and walked around my desk. He rose with me. It's axiomatic that a standing visitor is easier to get rid of than a seated one.

"Let me look into it and get back to you." A consultant's version of "don't call me, I'll call you."

He had left a case of the stuff behind and it cluttered a corner of my office until one day, for want of something better to do, I decided to look into it.

I called the local chapter of the Welcome Wagon and they were able to send me a list of addresses where their representatives had left the product in their gift baskets, and I visited a few.

Few remembered it.

One did.

She remembered it too well.

"Are you responsible for that... that stuff?"

"No, ma'am. I'm just here to find out if you tried it. If you liked..."

"Liked. Liked? Do you know what that stuff is?"

"Yes, ma'am."

"Do you?"

I nodded.

"Have you ever raised philodendrons?"

"No, ma'am."

"Come here."

I followed her into her home and found it decorated like an arboretum. It was filled with species that a horticulturalist would struggle to identify. She directed my attention to one variety growing in water filled globes suspended from chains.

"Do you have any idea what happens when you put dehydrated cow sh... manure in a bowl of water?" she stammered, her anger almost forcing her to name it.

It was easy to imagine the pellet re-hydrating, slowly, majestically. I almost smiled, but caught myself. She was watching.

"It took a week to get the smell out of my house."

I apologized on behalf of my erstwhile client and departed.

Well, that was another problem we'd have to deal with if we decided to help the dairy farmer. Actually, it was a minor one, a very minor one compared to his lack of a budget.

Why did I bother?

I was young and desperate.

I was just breaking into the business.

It would be years before I would have a real client.

Someone with a product with potential.

Someone with a budget.