True Story
Elly looked exhausted sitting alone at her husband Brad's beside in the ICU.

"No, I haven't eaten yet."
​
I had left Elly the night before after Brad had been wheeled in from the OR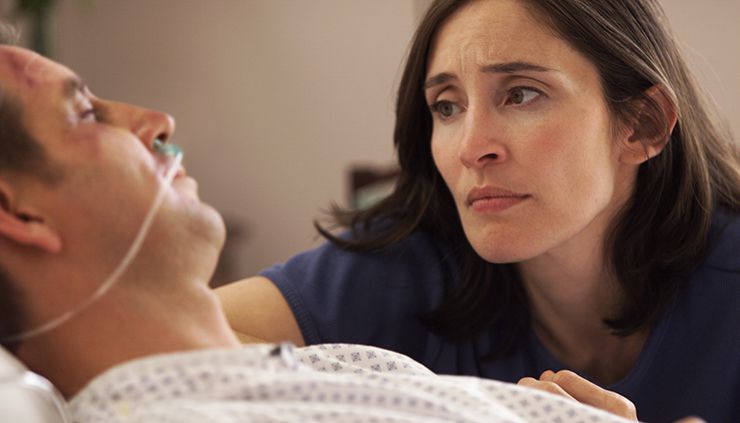 "Did you get any sleep?"

"Sort of," she responded tapping on the arms of the chair.

"Why don't you get something to eat and some sleep?"

Elly hesitated and agreed with a weak nod.

I helped her up and set her on her way to the cafeteria before taking up her station in the chair.

The nurse barely acknowledged my existence when she arrived a few minutes later to check Brad's vitals. Most assumed that Brad and I were brothers, otherwise I would have been thrown out.

"He's sleeping a long time. Is this normal?"

"Didn't they tell you?"

"What?"

"He had a heart attack during the bypass operation."

"Oh."

Elly must have found a place to sleep after breakfast. She didn't return for a few hours.

I amused myself remembering stories Brad had told me over the years as nurses made their rounds, coming and going, ignoring me as though I wasn't there. My only conversation was inspired by the arrival of a food service liaison when she delivered a menu for patients.

"I don't think he'll be eating anytime soon."

She glanced at Brad lying comatose in bed and shrugged.

"He'll probably be up tomorrow, and hungry. You can fill it out for him."

I couldn't pass up the chance for a diversion.

The menu surprised me. I had never seen the likes of it outside a fine restaurant. Three pages. One for each meal, complete with starters, main courses, desserts, beverages, and My God, a wine list? Well, that's Cedars Sinai in Los Angeles for you, catering to the stars.

Brad and I had been friends for several years, but I hadn't really paid that much attention to his tastes. No one had ever told me there would be a test. Still, Elly wasn't around and I was elected.

Breakfast.

Eggs. Scrambled, over easy, over medium, over hard, poached.

Meat. Sausage of several varieties, bacon.

Bread.

Cereal.

Fruit.

Coffee, tea, or hot chocolate.

Coffee of course.

"You want cream and sugar with that?"

I chuckled after asking out loud as though he were listening.

His vital signs monitor beeped.

It startled me.

Brad and I had a long standing joke. He had been an enlisted man in the military, a Marine in China following World War II, and a sergeant in the Army in Korea. I had been an officer in Vietnam.

Only officers drank coffee with cream and sugar, Brad explained, because the cream and sugar had all been used before it reached the enlisted ranks.

Maybe that's why the monitor beeped. Brad had heard me.

I began reading the menu aloud and checked off any item when the monitor beeped as I read it.

Years later I thought to mention this incident to Brad and he became facetiously indignant.

"You were playing with my body while I was dying?"

No, actually. He lived. Several years after that.

I still miss him.