Americana
THEY WERE EVERYWHERE THESE DAYS. They loitered in crowds looking for something to do. They queued up in endless lines outside soup kitchens. They huddled for shelter in doorways and under bridges. They lined freeway on ramps with their thumbs pleading for a ride from nowhere to somewhere else with no hope. They were the homeless French who had invaded America.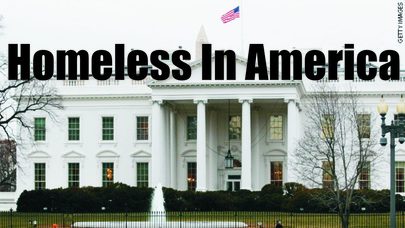 Secretary of the Treasury Henry Frobisher glared at that portion of the teeming masses who blocked his way to the White House gates. He was late for a meeting with the President. "Damn frogs," he muttered.

"Sir?" his chauffeur responded.

"Nothing, Jacob," he replied. "Just thinking out loud."

"Yes, sir."

The government limousine nudged forward another few feet as Jacob saw the sea of humanity give way. Another half hour passed before they were able to reach the secret service agent who glanced inside and waved them through.

It was raining by the time the limousine reached the front portico and Henry decided to cut through the White House rather than walk around the outside to the Oval Office. He paused momentarily to exchange greetings with the First Lady. "I hope you have some good news, Henry," the President's wife pleaded.

Henry only smiled sadly in response and continued to his meeting. He found the Secretaries of State and Interior and the Attorney General waiting with the President who was pacing.

"Well?" the President demanded.

"Sorry, sir," Henry answered. "It's not good. The French minister of finance refuses to acknowledge the claims of French expatriates in America to any portion of our debt to France, and if we make any such payments to them, the French government will declare us in default."

"What about the assets in French banks that the expats are claiming?" the President asked.

"They've seized them as security against taxes owed by the expats, sir."

The President ambled to the window and scanned the crowds milling outside the fence. "Poor bastards," he commented to himself.

"No, sir," the Secretary of State said interrupting the President's thoughts. "We're the poor bastards now."

The President shrugged conceding the point as the Secretary of State continued. "We're already pushed beyond our limits," he said and looked to the Secretary of the Interior who nodded his concurrence.

"At least we stopped the influx," the President mentioned.

"Only temporarily, Mr. President," the Secretary of Interior corrected. "They're pouring into Mexico now and we expect the next wave to come from that direction."

The President's face drained of color. "When did you find this out?" he demanded.

"Last night, Mr. President."

The President slumped into his chair. "We'll just have to start sending them back," he admitted in defeat.

"But, sir," the Secretary of State interrupted. "We can't send them back. The Muslims have begun interring all infidels."

The President's blood rose again. "Then, damn them, they'll just have to convert!" he shouted and pounded his desk. "We can't have them here."

The other men in the room were shaken by the President's outburst. He looked at each, daring any one of them to contradict him. "This is their own damn fault. They elected another socialist just as they were beginning to turn their economy around and we should pay for it?"

"No, sir," each responded in turn.

"Then we'll send them back," the President continued. "They made their bed, now let them lie in it."

The four members of the President's cabinet filed out of the Oval Office and found a quiet corner to confer.

The Secretaries faced the Attorney General, smiling like cats who ate the canary. "I guess this is your problem now," the Secretary of State announced.

"No," the Attorney General demurred. "This is on Homeland Security."

The three Secretaries thought a moment then looked at each other. A quick smile passed between them as they gave their tacit assent. "But you get to call and give him the word," the Secretary of the Interior spoke for them.

The Attorney General shrugged his shoulders. "Sure, I'll make the call," he allowed.

The four cabinet members reclaimed their limousines and began the push back through the crowds to the open streets of Washington. "Idiots," the Attorney General thought to himself as he examined the faces pushed against the car's windows until it broke into the clear. "Did you really think that you could just sit around cafes all your lives and let the Muslims do the work for you?"

The Secretary of Treasury had similar thoughts as his limousine broke through the crowds. "Thank God, we dumped socialism before it was too late," he said aloud.

"Sir?" his driver asked.

"Nothing, Jacob," he responded. "Just thinking aloud."