Americana
Never buy a home that you only visited on Sunday. My parents did and regretted the decision when we lived there on our first Monday. That's the day we discovered that there was a ready mix concrete plant on the other side of the woods that bordered our backyard. As if the dust and noise wasn't bad enough, there was the continuous traffic of heavy concrete trucks making deliveries to construction sites all day, every day.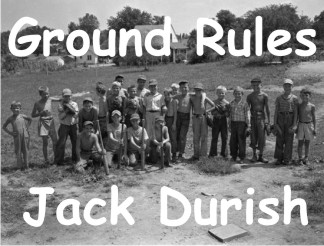 In time, the community rose up and filed a court case to obtain a cease and desist order. The judge granted it, but reversed himself when the business owner sold out to a more politically well-heeled gentleman and the concrete operations resumed.

Rather than rub our noses in his power, the new owner sought ways to be a better neighbor. In this spirit he demolished a field of tool sheds that occupied a couple acres of his property like a shanty town for dwarves. Nature, inclined as she is, filled this new vaccuum with a host of young boys from the neighborhood who came to play ball.

We played every kind of ball in season. Baseball in the spring and summer. Football in the fall. During the winter, we played ice hockey on a large pond where the truck drivers cleaned their vehicles at the end of the day if it wasn't frozen over. Lacking any equipment for the sport, including ice skates, we made do with scrap lumber nailed together in a crude imitation of a hockey stick and a steel roller skate wheel for a puck. Ankles beware.

All of our games were played with ground rules. Some of them were contrived to make allowances for irregularities in our playing fields. Others adapted the games to the numbers of players who we had available. For example, during baseball season, if we lacked a right fielder, the foul line was moved to second base for the outfield only. Infield grounders were fair anywhere between first and third, unless there was no third baseman. Other ground rules covered that contingency.

Of course, if a fairly hit ground ball hit a large rock and skittered foul before reaching first or third, it was out-of-play. The nearest defensive player was expected to toss the offending rock into a ditch on either side of the field. Somehow they seemed to reappear on the field the next day. We counted strikes as a swing and a miss, there being no umpires. Three swings and misses were good enough for an out. A batter who simply allowed a well-pitched ball to go by without swinging was hooted but suffered no penalty.

God, I miss those games.

Teams were chosen by captains. Captains were chosen by popularity. First choice was awarded by a contest with a bat. Hand over hand the two captains climbed the barrel of the bat and its handle until one grasped the tip with eagle claws, and won. The best players were chosen first. The worst last. No one cried about it. We kept score. There was always a winner and a loser. We dealt with it. We learned about life, winning and losing, as well as acknowledging and accepting our strengths and our weaknesses.

God, how I miss those games. The gang.

The best part was, there were no adults. No screaming moms and dads challenging every play. No one leading us other than our peers. No one reliving their own youth at our expense.

That all changed with Little League. Although founded in 1938, Little League didn't find its way into our neighborhood until the early 1950s. They sucked us in with uniforms and we all tried out until we discovered that there were adults who were there to replace our game with a sport. There were rules, but no ground rules. Sure there was grass and official base paths, but where's the fun in that. Anybody can field a grounder hit on grass. It takes real talent to judge a ball caroming off random rocks. Mostly, it was the adults that sent us back to the sandlot, especially me. The coach's son played catcher. So did I. It didn't take a genius to see who was going to be first string regardless of who was better.

Sadly, I haven't seen any kids playing sandlot ball in many decades. Who would dare allow children to play in a vacant lot they owned. Imagine the lawsuit if one of the precious dears were hurt. Ground rules don't count in court.