Fantasy
THE BOY SKIPPED along the wooded lane, the dried leaves crunching under his feet, until he spotted the old man up ahead and increased his pace. In moments he caught up, took the old man's hand, and looked up with a smile bursting across his face. The old man stopped and looked down, bewilderment clouding his expression.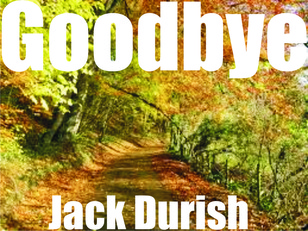 "How?" he asked, but the boy's smile was his only reply.

The old man looked around as though lost. He tried to find something familiar in the landscape. The boy waited patiently at his side. Once again, he met the boy's eyes and asked, "Where?"

The boy tipped his head to one side, his smile dissolving into a mask of concern. He raised his hand and pointed in the direction from which he had come. "There," he said.

The old man peered back along the path the boy had run to catch up with him. It was the same one he had been walking, but he didn't recognize it. Again, he looked down at the boy and asked, "Why?"

The boy shrugged with one shoulder. His other was busy, locked to the arm and hand that joined him to the old man. "They're waiting for us," he responded.

Straining his vision in the direction the boy had previously pointed to, the old man saw shapes that might have been people milling in a crowd. A few hands seemed to rise above the others and beckon to him. "When?" he asked.

The boy's smile spread across his face anew. "Now," he said, "it's time."

The old man's chin dropped to his chest as he became lost deep in thought. Ideas didn't come easily to him anymore. He lived by habit and routine. Change was upsetting to him.

Several more minutes passed before he gave in to the boy's prompting, and he began to shift his weight in preparation for turning his body to follow the boy back to the others. He was about to take his first step when a new thought rose above the others. "Where's Betty?" he asked.

A new smile formed on the boy's face, one of compassion. "She's behind you," he answered.

The old man began to turn back, but the boy stopped him by tugging gently on his hand. "No, you can't see her yet," he explained. "She's a little ways back, but she's coming."

The old man nodded and began following the boy's lead.

The two walked a short way in silence, holding each other's hand. The boy kept his eyes on the old man's face. The old man strained to see the people who were waiting but gave up and began looking at the forest around them. Soon the reds and golds of maples and sycamores gave way to a shower of golden leaves falling from aspen. The air was filled with the rustle of leaves brushing against each other and scurrying across the ground, driven by a gentle breeze fresh with the scent of Autumn.

Before long, the old man's legs warmed to the task and his stride became longer. The boy was forced to stretch out his pace to keep up. His eyes brightened when he saw the old man's wrinkles begin to soften and reveal a wizened smile.

"It's a beautiful day for a walk," the old man observed as they approached a narrow brook cutting across their path.

The boy laughed and tugged more firmly at the old man's hand and, side-by-side, they jumped over the water.

Now, it was the old man's turn to laugh. It wasn't an old man's laugh. It was carefree and honest, like the boy's. It carried deep into the woods as he and the boy trotted towards the waiting crowd.

"Who?" he asked, surprised that the word came easily. He wasn't out of breath.

"You'll see," the boy answered and led on, now running faster.

The old man was surprised when he looked towards the boy and found his eyes at the same level as his.

Betty smiled as she watched the two boys race through the woods away from her. She raised her hand to wave goodbye, but wiped the tears from her eyes instead. A sheet came between them and the nurse said, "He's gone."

Betty touched his hand with hers and said, "I know."