Fantasy
THE BLANKET FELL, one crystal at a time whispering in the dark. Like nature's cosmetologist, it smoothed every wrinkle and hid every blemish. Peace reigned, if only for a moment, and the deepest scars were bandaged. A sign rested on the ground at the intersection of two roads barely discernible beneath the accumulation of snow covering the countryside. It read Bastogne 2KM and pointed to the west although it may have pointed in some other direction when it was affixed to its post nearby.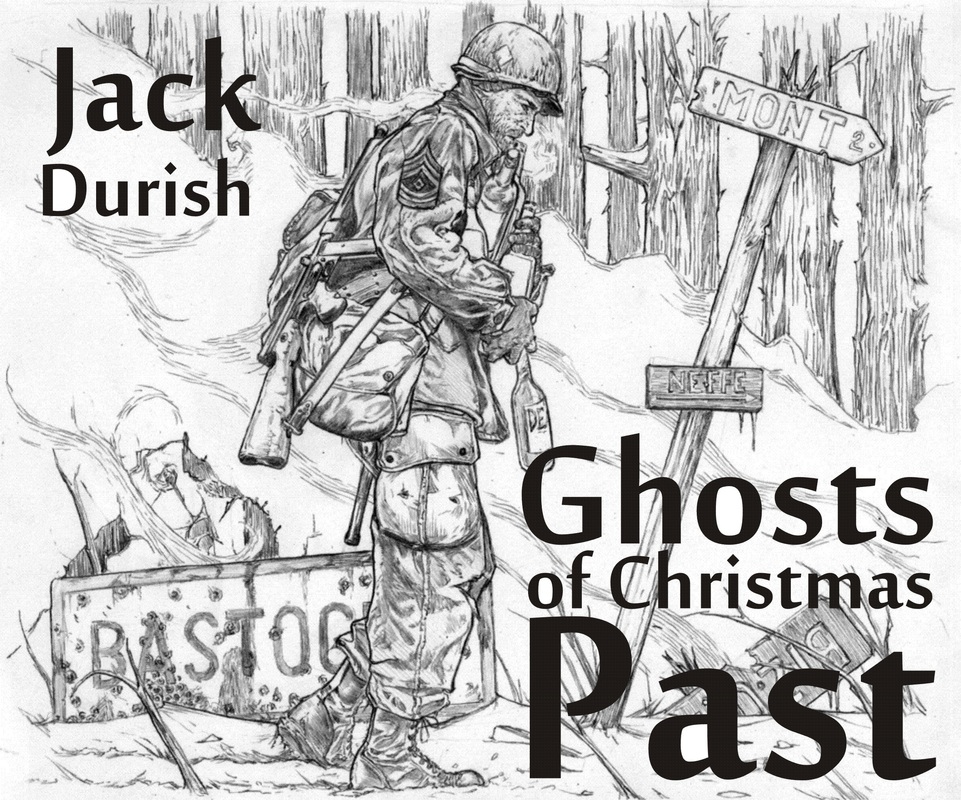 Peter stood transfixed. He ran his sleeve across his eyes and the sign disappeared. Only the snow remained. "Old fool," he muttered and shook his head, then returned to shoveling out the driveway.

"Peter, come in here and have some hot cocoa," a voice filled with concern called.
The old man turned and smiled at the vision of his wive silhouetted in the open front door. "I'll be done in a few minutes," he answered.

"It's only going to cover over again," she replied.

"I know," he said but, it's best to shovel with the snow, he thought to himself. It'll only be deeper and heavier if I wait for it to stop.

A reluctant hand closed the door and Peter turned, looking again for the sign, but it didn't reappear. He shrugged and shoveled another scoop of snow being careful to avoid picking up the loose gravel that covered his driveway. What he saw buried beneath startled him. It was unmistakable: the track of a tank tread.

Peter used the shovel to steady himself as he stooped to inspect it. Familiar fingers of cold fear crept along his spine as he felt the impressions in the ice and gravel beneath the snow with his free hand. A question dominated his thoughts. How did that get here?

He looked up and saw ghosts stalking through the field across the road from his house, their bodies bent into the wind as they glided in ragged ranks, weapons pointing the way ahead. Peter found himself holding his shovel at the ready like it was his best friend, an M1 Garand infantry rifle. "Sarge," he whispered, "do you see 'em?"

The snow hissed a sibilant reply. "Yes."

Peter backed with careful steps until he reached a brick wall. Confusion filled his thoughts. "Where did this come from?" he wondered.

It was his house.

A hand touch his shoulder. "What are you doing, dear?" his wife asked.

Peter jerked his head in the direction of her voice and looked up. "Nothing."

"Nothing?"

"No," he lied. "I… I was looking for something."

"What?"

Moments passed as Peter looked for the ghosts, but they were lost in the night, in the snow, in the years. "Nothing."

Concern deepened the furrows on his wife's brow as Peter rose. "Let's go inside," he suggested. "I could use that cocoa now."

Peter stood at the window of his living room, a cup of steaming hot cocoa in his hand. He stared intently into the dark outside. Swirls of falling snow confused his vision. Were they ghosts or just tricks of light from the Christmas decorations shining on countless miniature crystals fluttering by?

As his eyes focused on the pane of glass that held winter's cold at bay, he saw his own reflection. His cup was tin with a long hooked handle. A steel pot sat at a rakish angle on his head, and an Army blanket was wrapped around his shoulders. Damn quartermaster hadn't given them proper overcoats when they were rushed to the front. Hell, they didn't even have arms or ammunition. He and his buddies simply took them from the soldiers they found retreating ahead of the advancing Germans. Peter felt angry. He wasn't sure if he was more upset with the enemy or the cowards who ran before them.

Peter looked at the reflection beside him. He expected to see Henry, the coal miner from Appalachia, his foxhole buddy. He saw his wife.

"He's gone, Peter," she said. "That was a long time ago."

Peter nodded and sipped his hot cocoa. He licked the sticky marshmallow from his upper lip. She remembered, he thought. She always remembers how he likes it.

Peter's wife slipped her arm through his and drank her cocoa from a cup held in her other hand. She would stand with him all night if necessary. They had shared other winter nights this way before.

"Jeremy will be by in the morning," his wife said. "He'll finish the drive."

"Okay."

Peter didn't want to go back out. He knew what he'd find if he did. The frozen bodies of his buddies would be buried in the snow. Their body parts would be sticking up at odd angles from the drifts. No, he didn't want to see that again. Never again.

"You'll see them again," his wife said gently at his side.

"I owe them," he replied. "I owe them a great debt."

"And you know how you'll repay it."

Peter looked at his wife, searching for an answer.

She looked up into his face and smiled. "You'll live a long and good life," she said, "so you'll have lots of good stories to tell them, stories that you're proud of."

"They'll want to hear about that?"

"Yes," she assured him. "That way they'll get to live through you."