Fantasy
"Pardon me."

The grizzled bike messenger dispatcher looked up from the scratch sheet he was studying to see a fair young man waiting with a slight smile on his lips. He didn't bother pulling the unlit cigar from his mouth. He simply shifted it to one corner of his lips. "Whatcha want?"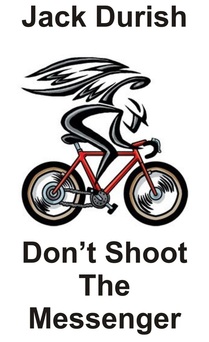 The young man held up the sign he had taken from the office door and held it up. "I've come to apply for the job," he said, "for a bike messenger."

The old dispatcher's eyes narrowed in suspicion. "Ya don' look like no messenger," he announced and looked back at his scratch sheet. "Don't forget to put the sign back on your way out."

The number five horse in the fifth race was looking good to him.

"It won't win."

The dispatcher looked up to find the young man still waiting. "What?" he asked.

"The number five horse," the young man responded. "It's going to lose."

"How do you know that?"

The young man shrugged. The same smile on his lips.

The dispatcher huffed. "Don't forget the sign," he repeated.

"I would like the job, sir."

"You got a bike?" the dispatcher asked. "You gotta have your own bike."

"No, sir."

The dispatcher tipped his head to one side so he could examine the young man with one eye, his good one. "How the hell you gonna be a bike messenger without a bike?" he asked.

"I don't need one, sir."

The dispatcher looked back at his scratch sheet and waved his hand to shoo the intruder away. "The sign," he said. "Don't forget it."

He didn't look up again until the phone rang. He was surprised to see the young man still waiting as he answered it. "Mercury," he spoke into a headset and wrote instruction on a delivery ticket. "1530 Park, Suite 4301, got it."

The dispatcher ignored the young man as he turned his attention towards the street. "Where the hell is Jones?" he fumed to himself.

"Excuse me, sir."

The dispatcher was surprised to find the young man still there.

"I told you..." he began.

The young man extended a mailing tube towards the dispatcher and nodded.

"What's that."

"It's the pick up from 1530 Park, sir," the young man explained.

"What? That's impossible."

The dispatcher was examining the tube when the phone rang again. "Mercury. What? You made an error in the address. It's supposed to go to Suite 6400 instead of 5400?"

The old man examined the address as he spoke on the telephone. "Yes, I have it right here. What? No, I mean... sure, I can get ahold of the messenger and have him correct it. Yes, ma'am. You're welcome. Yes... he was in the area when you called."

The dispatcher looked up to find the young man frowning and shaking his head.

"Yes, ma'am. I'll call as soon as I talk to the messenger to confirm that he got the correct address. Yes, ma'am. You're welcome, ma'am."

The dispatcher disconnected the call and scowled at the young man. "This some kind of a joke?" he asked.

"Joke?"

"Yeah, practical joke. Jones set you up to do this? Who was the broad on the phone? She sounded like Mary, but that couldn't have been her."

A smile of recognition broke out on the young man's face. "Oh, I see," he said. "A joke. No, it wasn't a joke. Call her back if you like. I never met her before."

"Okay, wise guy," the old man challenged. "How'd you do that?"

"I'm a messenger."

"You couldn't get there and back again that fast on a bike," the old dispatcher mused aloud. "How'd ya do it."

The young man shrugged. "It's what I do."

"What?"

"Messenger."

"Who ya work for?"

The smile disappeared and the young man hesitated. "You wouldn't know him," he answered.

"I know 'em all," the dispatcher replied. "Who? What's his name?"

"He doesn't have a name. He's not even a he."

The dispatcher touched the sawed-off shotgun that he kept behind the counter to reassure himself it was still there. The young man smiled broadly. "You won't need that, sir," he said.

The dispatcher withdrew his hand like a boy caught with his hand in the cookie jar. He scowled. "No name, right. Not a he or a she. What? He's one of them girlie-men or something?"

"No, not a 'girlie-man'," the young man replied.

"How long you work for him... or her... or them."

The young man's eyebrows rose as he looked up and to the left, deep in thought. "About forty-five hundred years," he answered.

"Go on, get out of here," the dispatcher demanded and the young man disappeared.

The dispatcher began to grumble about needing someone to deliver the package when he noticed that it was missing. He looked on the floor for it and found the young man in front of his counter again when he looked back up. "What the hell you doing here?" he demanded.

The young man held out a delivery pad with a signed receipt. "I thought you meant that you wanted me to deliver it."

"No, I wanted you to get the hell out of here," the dispatcher shouted. "I don't need no more pot heads around here."

"I'm sorry," the young man apologized. "Should I bring it back?"

"What?"

"The package. The one I picked up at 1530 Park."

"What?"

The dispatcher grabbed the delivery book out of the young man's hand and examined the signed entry. He sat down. He rarely sat down. He felt vulnerable sitting down. That's why he had a platform to stand on, so he could tower over the bike messengers. Intimidate them. Even the big ones.

"How..."

"I'm a messenger, sir."

"What kind of messenger."

The young man looked away, deep in thought again. "I guess you would call me a Heavenly Messenger, sir."

The dispatcher looked at his scratch sheet as though it might have an answer, until awareness began to grow in his head. "You mean an angel?"

The young man's smile returned. "Yes, that's what I believe some call me."

"But..." the dispatcher began and stopped.

The young man waited.

"That's not possible," the dispatcher concluded after a couple of minutes.

The young man waited.

"That's not possible."

The phone rang and the dispatcher ignored it. The young man answered, took the delivery instructions, and disappeared. He returned a few minutes later to find the dispatcher still seated behind his counter, still struggling with something in his head.

"About the job," the young man began.

"I can't afford you," the dispatcher objected.

"Of course, you can," the young man countered. "I don't need any pay. Just something to do."

The dispatcher looked at him with a new question. "Something to do?"

"Yes, sir. I was... how would you say this... I was laid off a few decades ago. Not much happening in heaven since..."

"Since what?"

The young man hesitated again, groping for words the old man might understand. The old man became suspicious and placed his hand on the shotgun. His mind danced with plausible explanations of all that had happened.

"Really, sir," the young man said. "You aren't going to like what happens when you do that."

"Do what?"

"Shoot me."

"Why would I shoot you?"

"Because you're afraid?"

"Afraid of what? I have the gun."

"Afraid I might hurt you."

"Yes, I think you might," the dispatcher growled and fired through the thin wall of the counter into the young man's gut.

The pellets, sixteen of them from the two barrels, .32 caliber each, sliced through the wood and struck the young man who wore a look of disgust on his face. The old man's jaw dropped. "You're supposed to be dead!" he demanded.

"Would you like me to lie down, sir."

The old man's head snapped back as though he had been struck. His chest felt as though an elephant was sitting on it. He fell back into his chair, dropped the shotgun, and grabbed his left wrist with his right hand. "Call 9-1-1," he gasped.

The young man cocked his head to one side and looked at the old man as though he was seeing something inside of him.

"I'll be glad to call," he said, "but I'm afraid it's too late. Those hamburgers," he added waving in the direction of the dispatcher's greasy, discarded lunch wrappers, "haven't been doing your heart any good."

"The hamburgers killed me?"

"No, sir," the young man replied with a thoughtful look. "Maybe it was the shock of shooting me. Fundamentally, I think you wouldn't have done that under other circumstances. Or, maybe it was the surprise of seeing me unharmed by the blast," he added with a smile.

"It didn't hurt?"

"Of course not."

The old dispatcher began swallowing each breath with difficulty, as though breathing was no longer automatic. A darkness closed around him.

"Excuse me, sir," the young man interrupted.

"What?"

"Could you do me a favor?"

The old man looked up at him.

"Please tell my former boss I found a new position."

"Wha..what...posi..tion?"

The young man closed the old man's eye lids gently and said, "Yours."