Americana
OLD MEN SAT on a motley collection of wooden chairs, some leaning against the wall, a few with their feet propped up on the porch railing. The boys sat on old crates or on the porch steps, listening to the tales the old men swapped. A soda cooler sat to one side, the hum of its compressor motor occasionally interrupted by a rattle belying the fact that the rubber bushings that it was mounted on were in need of replacement. An assortment of advertising signs framed the scene, the porcelain ones still colorful, the painted metal ones rusted and fading. The men drank beer and the boys drank Cokes or Nehi flavored sodas. Their bottles sweat the humidity out of the hot summer air regardless of whether their contents were hard or soft.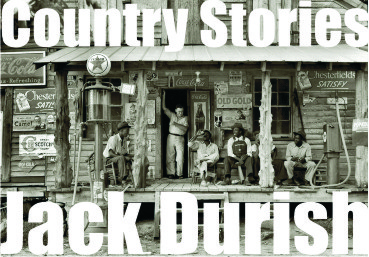 Occasionally the tales would pause as a car swooshed past heading south for Baltimore or north towards the thoroughbred farms in Worthington Valley. Other times it would be a truck grinding its way up the hill or using its engine compression to brake as gravity pulled it deeper into the hollow below. Some passing vehicles stirred a memory and a new tale would begin.

"Remember Hollings?" one of the old-timers prompted after a large, late model four-door sedan hummed past.

The other men grunted and muttered affirmation even if some didn't remember. Any boys whose attention had been flagging tuned in as though there might be a quiz later. Then began the chorus, like an ancient Greek play, wherein each old man was allowed to contribute.

"Yeah, Hollings, the Bromo king."

"Big mansion, 'bout three north of here."

Anyone who didn't have anything to add simply nodded and muttered assent.

"Yeah, that's him," the first man announced to commence his story. "Drove that big maroon car."

"Cadillac?"

"No, Pierce Arrow."

"Yeah, Pierce Arrow. Don't make 'em like that any more, do they?"

"No," the chorus intoned.

Turning, the old man faced the assembled boys for effect. "This was back when Falls Road here was still dirt."

"Not paved yet," the chorus agreed.

"He'd go by here doin', what?" the old man paused and faced the man to his right. "Ninety?"

"Maybe hundred."

The old man nodded as though lost in thought. "Yeah, coulda been a hundred."

"Pierce Arrow could do that easy, even on an old dirt road," the chorus sang.

The old man chuckled and the boys knew the punch line was coming. "Hollings would be drivin' and his chauffeur would be sitting in back, white as a sheet."

The chorus chuckled for effect. The boys played their role as straight men. "Why would the chauffeur be sittin' in back?" they asked in unison.

The old man slapped his knee and laughed. "Hollings didn't think he drove fast enough."

The chorus laughed.

The boys opened their eyes in wonder at the image. One chanced another question, not in the script. "Why'd he have a chauffeur then?"

The old man glared at him, and the boy feared that he'd broken a rule. Then the old man smiled and the boy relaxed.

"Why, he'd stop the car at the city limit and let the chauffeur drive from there," the old man explained. "He couldn't be seen drivin' his own car when he arrived at work, could he?"

"No," the chorus responded with the boys shaking their heads in agreement.

Just then another car approached, then slowed to stop at the gas pumps in front of the store where the men and their audience held court.

One of the boys turned to the nearest man and whispered, "Pennsylvania plates."

The man nodded an acknowledgment and passed the intelligence along to the rest as they watched the pump jockey dart past them from inside the country store to pump gas. The driver nodded to the assemblage as he walked up onto the porch and selected a drink from the cooler. "Nice day," he said and took a long drink.

"Hot," one of the men replied and the man nodded when he had removed the bottle from his lips.

The driver from Pennsylvania stepped to the top step on the porch and looked across the road after draining the remainder of his soda. "What happened there?" he asked pointing with his empty bottle towards the ruins on the other side of the road.

"Burnt down," one of the boys answered quickly to the obvious consternation of the old men who felt that he had infringed on their role as keepers of all local intelligence.

The boy dropped his eyes and stared into the depths of his now empty soda bottle.

"T'was a tavern until a month ago," one of the men offered.

The driver from Pennsylvania nodded. "Too bad," he said. "Coulda used a beer 'bout now."

"Got 'em inside," another man said. "Been sellin' em since the tavern burned down."

The driver looked at his empty soda and shrugged. "Too bad," he responded.

Everyone watched the driver for a few minutes, silently making bets whether or not he would step inside for a beer. The driver seemed to be considering it. The pump jockey had finished checking the oil and water and was washing the windows.

"How'd it happen?" the driver asked. "The fire?"

"'Spect arson," one old man answered and another snickered.

The one who had answered glared at the one who had snickered and the boys kept quiet. Even the chorus had turned mute.

The snickering man turned to the driver. "There's some who suspect his wife," he said with a laugh while pointing with his thumb towards the man sitting nearby glaring at him.

"Why would she do that?" the driver asked.

"She kept complaining that he spent all his time and money there."

The driver's eyebrows rose. The glaring man scowled. The boys tittered. The chorus choked on its response. Several awkward moments passed until the driver walked back to the cooler to deposit his empty bottle in a crate leaning to one side.

Looks passed between the men and boys as the driver returned to the edge of the porch and waited for the pump jockey to finish. He descended the two steps while the nozzle was being replaced in its bracket on the side of the gas pump.

Men and boys watched as he paid.

"That'll be five-forty-five," the pump jockey smiled.

The man handed him five-fifty and told him to keep the change. The pump jockey put a knuckle to his forehead in a casual salute while pointing across the road with the thumb on his other hand. "They tellin' you 'bout the tavern?" he asked.

"Yeah," the driver responded as he tucked his wallet into his back pocket.

The pump jockey looked past the driver and saw the old man glaring at him. He chuckled. "Guess they told you 'bout Clyde's wife," he said.

"Uh huh."

The pump jockey looked at the stranger's shoes and shook his head. "Hell," he said, looking back into the stranger's eyes. "Sheriff suspects it were all their wives," he said. "They used to spend all day over there."

The driver glanced back at the old men and their audience. The pump jockey continued. "Missus Sprecher, the owner, makes me sleep here since then."

A question narrowed the driver's eyes.

"She's 'fraid they'll burn her down now that the old men spend all their time here," the pump jockey explained with a smile.

The driver returned the pump jockey's smile, and pulled his keys from his pocket. "Wonder what the boys did for entertainment before it burned down?" he mused aloud.

The pump jockey laughed. "They used to hang around outside the tavern door," he replied. "Just like I used to do."

The driver nodded and got into his car, started it, lit a cigarette, and continued south to Baltimore.

An old man smiled. The boys faced him.

"Remember that stranger," he began, "the one with the cigarettes that lit themselves?"

"Yeah," the chorus intoned.

"Spotlight?" another man offered.

"Somethin' like that."