Fantasy
Harold Roberts arrives last at the board meeting with a stranger in tow. The board members and legal counsel stop chatting and look expectant, waiting for an introduction.

He takes his place at the head of the table as chairman and CEO of Wide World Amusement Parks, while his administrative assistant places a chair next to him for his guest. A solicitous gesture directs the guest to sit, and Harold turns to the board with a smile. "Ladies and gentlemen," he begins, "we have a special treat in store today."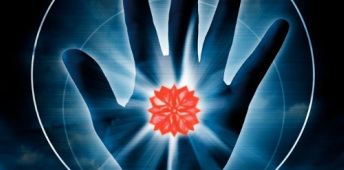 Harold pauses while the others in the room react to the hum of machinery closing the window blinds.

"Allow me to present," Harold announces with a broad sweep of his arm towards a screen descending from the ceiling, "the world's most terrifying amusement ride."
A projector bulb burns to life and the title slide appears on the screen revealing the logotype "Carousel" as Harold pronounces the word simultaneously.

Silence ensues.

Here a nervous cough, there stifled giggles.

"Carousel?" an anonymous member of the audience echoes incredulously.

"Carousel!" Harold thunders.

At this cue, the door opens and several assistants enter the room and apply a token to the left palm of each person around the board table, then leave. Several members pick at it, but Harold stops them. "Don't worry everyone. The heat of your hand activated a super glue-like substance that will release in a day or two."

With that announcement, he presses a button on a device sitting before him and the tokens illuminate with a dim red glow.

"Carousel. The very word sounds tame, doesn't it?" he asks. "Tame. Hell, everything is tame by today's standards. Thrill-seekers have become inured to roller coasters, pendulum rides, drop rides; no matter how high or how fast, they're boring, the riders are bored. We're losing their attention if we don't come up with something that can really scare them like they've never been scared before."

"But a carousel..."

Harold laughs at the anonymous challenge. "Yes, a carousel," he responds. "We're going back to the beginning. A carousel. 'The Carousel of Death'."

No one dares utter a word, but Harold knows he has their attention. He waits, allowing the board members to digest those words, then introduces his guest.

"I've retained a new designer and engineer to give form to the vision," he announces with a gesture and his guest steps into the glow surrounding the screen. "Meet Mark Gordon. He'll explain the details. Mark."

The slides change smoothly as the engineer describes the Carousel of Death. "It's based on the carousel from Logan's Run..."

"Logan's Run?"

"Yes, it's a science fiction film, popular in the sixties," Gordon continues. "The audience will watch an abbreviated version of the film that explains the story concept as they make their way to the ride."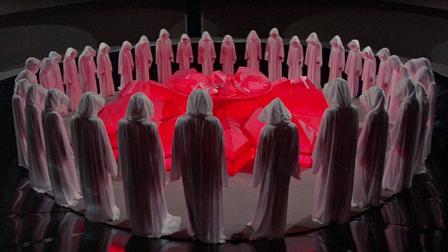 Harold steps into the light next to Gordon and explains. "In the distant future, the last survivors are living in domed cities with limited space and resources. Everyone takes a turn on the carousel when they turn thirty-five, with a chance of either being regenerated or disintegrated."

"Like the movie version," Gordon resumes his explanation, "riders will be dressed in robes and have a glowing disk attached to the palm of their left hand. We'll use air turbines to lift them off the ground and circle the hub of the ride."

"Won't they collide and hurt each other?"

Harold and Gordon peer through the darkness and spot the questioner, Max Rider, Corporate Counsel, standing by his chair.

"No," Gordon explains. "Each person will be encased in an individual airflow – like the vacuum cleaner displays you've seen in department stores with a beach ball suspended over the upturned nozzle – that will guide their passage swooping and diving, safely separated from the others."

The lawyer harrumphs and saves his objections for later.

"A laser rangefinder will measure each person's altitude and adjust automatically to provide gentle up and down motions. This will bring them close to the whirling blades in the ceiling..."

"Whirling blades?" the lawyer gasps.

"Yes, to provide an element of thrill."

"Someone could have a heart attack," the lawyer objects.

"Yes," Harold agrees. "Precisely," he adds and steps out of the light while the board members murmur among themselves. He is standing by his seat when the lights illuminate the room.

"In fact," Harold clarifies, "at least one person will die each time the Carousel operates. That is the thrill our patrons expect."

Harold glories in the expressions of shock that meet his announcement.

"In fact, we will guarantee that at least one person will die."

"That's absurd," the lawyer leads the objections. "You've lost your mind."

"No, I've finally found it," Harold counters. "Our patrons are leaving us because we haven't upped the ante, we haven't given them the greater thrills that they've come to expect from us."

"You're crazy. You'll go to jail."

"They'll sign waivers."

"You think a waiver will save you? Hell, you'll get us all thrown into jail."

"Will I?" Harold counters and challenges them with his eyes. "Why shouldn't we be able to use the chance of death, the ultimate risk, for its ability to send tingles down the spine? Death is no longer illegal."

"What do you mean it's no longer illegal?"

"Euthanasia is now sanctioned in most states. The Netherlands has led the way issuing every person a cyanide capsule on their seventy-fifth birthday, and the rest of Europe, as well as the United States, is expected to follow suit next year. The architects of Obamacare are already floating balloons to test public opinion for a Logan's Run-like world. Who is going to object if we give people another option, one they can enjoy?"

"You're saying that you're okay with someone dying on one of our thrill rides?"

Harold smiles a smile that makes the others in the room wince.

"Okay with it? I'm going to guarantee it."

"How? What if someone doesn't have a heart attack? Are you going to increase the air pressure and drive them into the whirling blades on the ceiling?"

"Heavens no!" Harold reacts as though insulted. "That would be... macabre." Although the gleam in Harold's eyes causes many to wonder if he's not as repulsed by the idea as he pretends.

Harold holds up his left hand with his palm facing the others. "Everyone on the Carousel will be wearing these," he explains. "All will contain tiny needles that will inject saline into the riders."

With the push of another button, the tokens respond and the board members jerk their hands and exclaim.

"That wasn't too painful, was it?" Harold asks.

All shake their heads but are not pleased.

"However," Harold continues, "one will inject a cocktail that will insure death. No one will know who has it. It will be applied randomly. Their token will turn black."

Quickly, the attendees check their palms.

"They will be allowed to keep the tokens," Harold adds with a sly smile. "Imagine the respect a person will garner when they collect several. I can imagine people vying to claim the largest number."

"This isn't legal," the lawyer objects.

Harold stalks around the board room table until he comes face-to-face with the corporate counsel. "I don't need you to tell me what is legal," he says evenly. "I need you to make it legal."