Humor
BOB RICHARDS WAS footsore and tired. Cowboy boots weren't made for walking, especially not his good ones. The heat radiating from the pavement and through his soles convinced him that his work boots wouldn't have been much better, but they might have been a little more comfortable.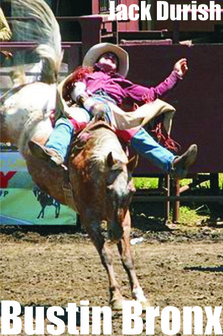 The crowd that flowed around Bob was better equipped. They wore sensible walking and running shoes, some almost as expensive as Bob's hand tooled leather boots. They were dressed differently, too. There were a variety of costumes reflecting a myriad of cultures and socioeconomic strata, but none stood out more than Bob's Stetson hat. Strangers might have overlooked his jeans and his pearl-buttoned long sleeve shirt, but that hat drew their attention every time.

It was afternoon now, and Bob had been walking ever since he left the Hotel Taft after breakfast. Two breakfasts actually. The waitress may have wondered how he kept his boyish figure eating Texas-sized meals, but she had no doubt that his smile was a winner. She scowled the first time he called her "ma'am," but quickly forgave him when she discovered that he used the appellation freely, even with women of every age seated around him.

He was finishing up breakfast with the waitress hovering over him, pad in hand, waiting to see if he wanted a third. Bob just smiled and thanked her, "Them was mighty good victuals, ma'am," he announced.

The waitress smiled hesitantly and made a mental note to look up the word.

"By the way," Bob interrupted her thoughts. "Do you know how I find the broncs? My brother told me to make sure I see 'em while I was in New York City."

The waitress smiled when he added the word "City." "Sure," she replied. "There's an entrance to the subway just down the block from the hotel door. Catch the B-Train and it'll take you there."

Bob smiled showing a mouth full of pearly white teeth and three gold caps. "Thanks, ma'am," he responded and took his bill to the cashier after computing a tip from the formula he found in his guide book. He added a dollar for the directions.

Bob had given up tipping his hat to every woman he passed a few minutes after leaving the hotel. He decided to walk with it in his hand for a few blocks, but that didn't work well either. Other pedestrians kept bumping into it. The streets were crowded with more people than Bob figured lived in all of Texas.

Caught up in the human flow, Bob found himself pushed past the subway entrance and half way across an intersection before he realized it. A disgruntled hack bulled his taxi through the crowd, and honked at Bob before he could get turned around and fight his way up stream and back to the subway.

The sun was well past its zenith when Bob surrendered his quest and sat on a bench near the lake in Central Park. He had wandered the canyons of New York all day without any luck. He was leaning forward with his elbows on his knees and his head hanging low, when he heard a familiar snort behind him.

"You lost cowboy?" a cop sitting astride a horse asked when Bob turned to look behind him.

Bob rose and stepped over the back of the bench to draw close to the officer's horse. He smiled as he reached under its chin and rubbed it gently. "No sir, sheriff," he responded as he touched the brim of his hat with his free hand in salute. "Just tired, I guess."

"Officer," the policeman corrected. "We're police, not sheriffs."

"Yes sir, officer," Bob answered and gave him another salute.

The cop smiled at the gesture. "You in the rodeo?" he asked.

"Yessir, sher... officer. Starts tomorrow at Madison..." Bob began and hesitated, groping for the right words.

"Madison Square Garden," the cop helped him.

"Yeah, that's the place, officer," Bob responded with another smile.

"What's your event?"

"I ride bulls."

The cop whistled. "You'd never catch me on one of them."

Bob blushed. "Tain't nothing, sir."

"Oh, it's something all right," the cop said with a note of respect in his voice. "I've got tickets to take my son on the second night. Will you be riding?"

"Sure," the cowboy replied, "if'n I ain't hurt."

"That happen often?"

Bob chuckled. "I got so much steel and screws inside of me they almost didn't allow me on the airplane."

The cop shook his head.

"Why do you do it?"

Bob reached down and twisted his belt buckle so the cop could see it better from his high vantage point. He smiled when he saw the cop's eyes widen in admiration.

"Is that real gold?" the cop asked.

"Sure is, and silver too."

The cop shook his head and whistled again.

Bob stepped around beside the horse and ran his hands over its chest and shoulder. He recognized the breed just by touching it, and appreciated that it was well-cared for. "Fine animal," he observed. "Quarterhorses are great for cutting and roping calves."

The cop chuckled. "Yeah, and criminals, too," he agreed.

The cop leaned closer to Bob with one arm across his horse's withers. His look became serious as he asked, "You looked pretty down there, cowboy. What's the problem?"

Bob sighed. "I dunno. My brother told me to make sure I saw the broncs when I was in New York City."

Like the waitress, the cop smiled when Bob added "City."

"But, I can't find any," Bob added, "cept'n yours and some pullin' some fancy carriages around here."

The cop laughed and Bob scowled.

The cop leaned back. "He wasn't talking about horses," he announced. "He's talking about a place."

Bob tilted his head to one side as he considered the cop's words. "Oh, that's what they meant."

"Who?" the cop asked.

"The waitress told me to take the train," Bob replied.

"The B-Train?"

"Yessir," Bob continued. "The people there said that I was there when I asked 'em where the broncs were."

The cop started laughing harder. He had finally figured out the source of Bob's confusion. "The Bronx is a borough," he explained.

"You folks have some funny notions in these parts," Bob ruminated aloud as he removed his hat and scratched his head with his free hand.

The cop collected his wits and responded, "How's that?"

Bob looked up at him without a trace of humor and replied, "A bronc ain't a burro."