Vietnam
MY FIRST ENCOUNTER with a latrine was during my first trip to Boy Scout camp when I was about eleven years old. One look, one smell was all it took. I held it in all week. Seriously, all week. My father had to exercise the plumber's helper vigorously after my first visit to the bathroom when I got home. Fortunately, I outgrew my aversion to primitive privies by the time I got to Vietnam. There's no way I could have abstained for thirteen months.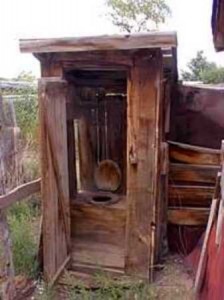 Oh, come on now. Get over it. I had to broach this subject sooner or later. I know you wanted to know. How did we attend to the routine functions that are common to all of us, regardless of race, religion, or rank? Yes, even generals do it. In fact that reminds me of one of the more interesting stories that circulated around Vietnam during the war.

A sergeant was seated upon a throne at USARV Headquarters (United States Army, Vietnam) in Saigon when someone entered the stall next to him. After a few minutes the sergeant began fanning the air with his newspaper. A few moments later he began commenting aloud, "Damn, what the hell did you eat!"

He continued commenting on the smell rising from the stall next to him using more colorful language until his neighbor made ready to leave. He was startled when the door to his stall was yanked open and he was face-to-face with an angry gentleman wearing two stars on his collar. "Well, you don't smell like no bed of roses yourself, sergeant," the general exclaimed and left.

At least the sergeant and the general had the benefit of modern conveniences in Saigon. I doubt if they would have noticed each other had they been in a base camp where we all used latrines.

We had urinals scattered around the camp. They were simply barrels sunk into the ground and filled with stones. A three-sided shed with a galvanized tin roof provided some degree of modesty from observation by helicopters passing overhead and anyone else except those directly behind you. Fortunately, there were few women. There were a few and I remember feeling some discomfort whenever one walked past as I was relieving myself.

Generally speaking, you are no more vulnerable than when you are using such a facility. It is difficult to react, to run, or to defend yourself when you're relieving yourself. One of my clerk-typists learned this lesson when the casing from a poorly aimed illumination round dropped inside our base camp. It fell beside him while he was in mid-stream. He began to run without pausing to stem the flow or secure his equipment. Even worse, he ran in the wrong direction – into the urinal.

Our thrones sat atop sawed-off barrels that were accessed from a hatch at the back of the latrines. The "shit" detail made the rounds regularly, exchanging empty ones for full ones. The full ones were taken outside downwind of the base camp. The soldiers added fuel oil and ignited them. Truthfully, those latrines weren't as bad as the ones at Boy Scout camp. Indeed, they were better maintained than most port-o-potties that I've seen.

Which all brings me to the story of Shit-for-Brains. Sorry, that was the name we used for it. It was a monkey, the pet of a major who shared our hooch. I'm pretty sure he called it something else. We didn't care.

I don't know where the major got it, but the animal was getting on in years, and monkeys tend to get surly with age. We complained about the damage he caused but his "master" was the senior officer in the hooch. However, even he "lost it" one day when we returned to find everything turned over or spilled out, and our mattresses torn apart. At first, the major defended it while we complained. The major refused to get rid of it until the monkey defecated on his shoulder. I don't know which made him more angry: The monkey's feces on his back or us laughing at him.

Before you accuse me of being insensitive to cruelty, please remember the degree to which we were provoked. We laughed as he grabbed the varmint and knocked it senseless with his fist. He shouted a few obscenities and carried the limp primate to the latrine and tossed it into one of the barrels. We sensed that something remarkable was about to happen, so we grabbed chairs and arranged them to be prepared for the next act.

A chief warrant officer (who shall remain unnamed for decency's sake) made his way unsteadily from the officer's club where he had been drinking, to the stage. Newspaper in hand, he entered. He must have been too focused on his mission to notice us.

The door closed.

All was quiet.

Then came the shout.

Next came the warrant officer bursting from the door. His pants were around his ankles. The monkey was hanging onto the only handle he could find in the dark.

I didn't know a man could run that fast bow-legged while straddling a snarling ape.

Men in the field had to squat wherever they could, whenever they were reasonably secure from attack. Interestingly, it was never a good idea to relieve oneself near a defensive position or when they were waiting for the enemy in ambush. Because of our radically different diets, the waste of Americans and Vietnamese have different odors, making it easy to smell your enemy at great distances. For the same reason, we also had to use soaps, shampoos, shaving creams, and deodorants without perfumes of any kind.

Although I didn't spend much time in the field, I was happy to pick up a can of G.I. Talcum powder. I didn't care that it was odorless. I only cared that it kept me dry at night. I spread a liberal amount between my mattress and my sheet when I made my bed with fresh bed linens each week. Then, just before I climbed in, I would pluck the sheet and a cloud of talc would filter through the sheet and keep me cool and dry all night.

I'm sure that after reading this, some grunt is going to hate us REMFs even more.