Short Story
"No! No, no, no, no, no..."

Jerry stared at the choreographer. "What?"

"It's one – two – three, stamp."

"That's what I did."

"No," Lex retorted. "You one – two – three, 'stomped'."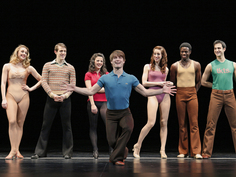 Jerry took a deep breath and allowed it to escape slowly, silently. He struggled to keep his eyes neutral. He needed this job. He needed it badly. The rent was due and his roommate hadn't gotten a gig in months. This was Jerry's first in three weeks. If all went well, it might even turn into a long run on Broadway if the show had legs. Suddenly the thought found its way up a layer or two of consciousness and he snickered. The show needs my legs.

"You think this is funny!" Lex exploded.

"No, Lex, no," Jerry stammered. "It's... it's just something else that I thought of."

Lex flounced away. "Well," he huffed. "I can always get someone else who can keep his mind on rehearsal." Lex paused, looked back over his shoulder, and added, "Someone who knows the difference between 'stamp' and 'stomp'."

Jerry lowered his eyes and apologized. "Sorry, Lex," he said with as much feeling as possible. He wanted to ask for a demonstration of the difference between 'stamping' and 'stomping' but feared to give Lex any more reason to replace him. He would just have to watch the others to see what Lex approved of in their performance.

"Okay, everyone," Lex called out. "Places."

Jerry found his place in the chorus line and assumed the first position, just like everyone else. He was determined to see what they were doing differently.

Lex clapped his hands. "All together, and six – seven – eight..."

The rehearsal pianist bit down on his unlit cigar and began hammering out the tune as the dancers began moving. Jerry watched the others. Lex watched him.

"No! No, no, no, no,..."

"What?" Jerry responded with a plaintive tone. "I did the same thing they were doing."

Lex stepped up to him and stood, hands on hips, a sneer playing across his lips.

"I did," Jerry repeated.

Lex shook his head and lowered his eyes to the floor. "Show me a 'stomp'," he commanded.

Jerry stomped.

"Now show me a 'stamp'."

Jerry attempted a 'stamp."

Lex shook his head and turned to walk away.

"Could you demonstrate?" Jerry asked realizing that he was about to be thrown out.

Lex stopped. His shoulders dropped. He paused. He turned. He raised his foot and pounded it back on the floor.

"Which was that?" Jerry asked.

Lex's eyes reached halfway up his forehead to his hairline as his eyes opened wide in surprise. "Which was that?" he shouted.

Jerry shrugged. "Stomp?"

Lex pointed to Mary, the dancer next to Jerry. "Tell him," he ordered.

"Stamp," she responded without hesitation.

Lex thrust out his chin at Jerry as though saying, "See?"

Jerry mumbled, "Yes, I see."

Lex pulled his scarf from around his neck and swiped it across his forehead. "Everybody take five," he called out and walked off stage.

The chorus line milled about the stage in small clusters. A few ducked out the stage door for a quick smoke.

Mary lingered near Jerry. "I don't get it," Jerry sighed.

"It's your ass," she explained.

"My ass?"

"Yes, he likes it," Mary added.

Jerry replied with a blank stare.

"Don't worry," she said. "He'll ask you to hang around after rehearsal for some 'instruction'."

"Should I?" Jerry asked.

"You need the work?"

Jerry considered her question carefully.

"Yes," he admitted and prepared for the worse.