Opinion
"THE MOST-TALKED-ABOUT LIMB at the Academy Awards on Sunday night? Definitely Angelina Jolie's right leg.

"The actress presented the screenplay awards while wearing a black gown with a thigh-high slit and striking an exaggerated pose that drew attention to her shapely leg."

--Gael Fashingbauer Cooper, MSNBC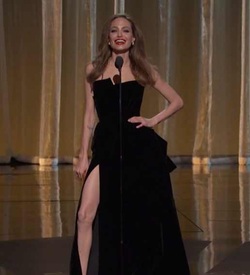 Seriously? Shapely leg? Is this what passes for beauty these days? Am I caught in some real-life version of "The King's New Suit of Clothes?" Is this the image that we want young girls to emulate? Is this the body choice that the actress will want her daughters to emulate?

I would far prefer that our daughters emulate any of the professional female dancers on Dancing With the Stars. Not all women may aspire to be athletes, however these dancers clearly demonstrate the figures that may be attained through healthy diet and exercise.

Something has gone horribly awry in our perceptions. I fear that peer pressure has escaped the bounds of adolescence and is making itself felt at all ages. Passing elementary schools, I see preteen girls dressing and acting like hookers on Hollywood Boulevard. Passing Starbucks outlets, I see adults paying exorbitant prices for coffee brewed from inferior beans heavily roasted to hide their poor quality. It seems that people of all ages are abandoning good taste for the allure of mass media advertising messages and the examples set by celebrities.

Do I sound old and crotchety? You may dismiss me as such if you like. However, emulating the example of Ms. Jolie, our daughters may be exposing themselves to health risks. Women have died pursuing a body mass index that comes with anorexia. Remember Karen Carpenter?

Anorexia stole one of the purest, most beautiful voices in recent decades. I don't know if Ms. Jolie is suffering from anorexia, however, that is the choice most girls will have to follow to emulate her example. Of course, they may not attain the actress's famous beauty. Given the manner in which Karen Carpenter hid her body, she did not have a self image of beauty. But, that was a different time, and I come from a different time.

I suppose that I may have some Latino in my soul. In Mexico the men say, "Bone is for the dog. Meat is for the man."