Cuba
OBAMA JOINS THE growing list of American presidents who promised to normalize relations with Cuba, but failed. An article posted on the Princeton University website for
American Foreign Policy
avers, "As the presidential election of 2012 approaches, more and more critics are deriding President Obama's pre-election vision of hope and change, targeting what they consider to be Obama's naivete in foreign policy." An argument could be reasonably made that all presidents have been naive regarding U.S.-Caribbean relations and, indeed, relations with all Latin American nations. We have not had a very good track record with any of them, but U.S.-Cuban relations have produced the most muddled results significantly including the Cuban Missile Crisis. Missteps with Cuba can be traced back all the way to Washington, George that is.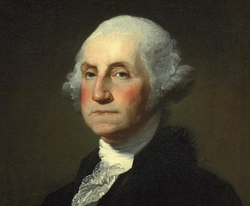 Trade with Cuba attracted American merchants to Havana during the Revolutionary War. Inasmuch as the Spanish were more than happy to tweak the British at every opportunity, they opened the port to the Yankee traders until the war ended. Boston merchants in particular were annoyed by the capricious decision to not only close the port when the Americans and British made peace, but also confiscate their merchandise and accuse the Yankees of smuggling.

"Although the American government favored free trade with Cuba, it steadfastly opposed Cuban independence." (The Cuban Policy of the United States: A Brief History by Lester D. Langley). Why? Independence from Spain would surely reopen trade between Cuba and America. Why would Washington and Adams, most notably, oppose Cuban independence? As Langley states, these presidents recoiled in horror at the prospect of the spread of negro republics through the Caribbean and the possible political impact they might have on America's slave South. Thus began an unspoken doctrine just as potent as the Monroe Doctrine, that guided U.S. foreign policy towards Latin America and persisted, some would argue, to this day.

This doctrine guided American politics in the mid-nineteenth century when influential men (women were not yet influential) in both Cuba and the United States dreamed of adding a Cuban star to the American constellation. However, Southern leaders feared that if it were to become a free state, it would beckon escaped slaves from their own plantations, and Northern leaders feared that if it were to become a slave state, it would upset an already tenuous balance in Congress. Thus, the dream of Cuban statehood languished.

The dream languished until the early twentieth century when the peculiar institution of slavery had been abolished, and Americans once again looked at the commercial potential of Cuba. Unfortunately for them, Cubans were already dreaming another dream, one of independence rather than U.S. statehood. The Cubans resented U.S. forces intruding themselves into their revolution. They chaffed when the Americans remained after the Spanish Dons were sent packing. They refused to be impressed by American gifts of modern roads, bridges, schools, and hospitals, until the Americans finally withdrew, indignant at being rebuffed by what they perceived to be their inferiors, negroes.

However, the Americans did not leave until they had extracted concessions as repayment for all the largess they bestowed on the Cubans. Many of the plantations owned by peninsulares, colonial Spaniards born in Spain, were now owned by Americans. Americans also owned key industries and utilities in Havana. The American mafia dominated the Havana tourist and gambling industries. And, most significantly, the Americans negotiated a treaty that allowed them to occupy Guantanamo Bay in perpetuity for a token annual payment. Guantanamo was a key naval base hovering over the shipping lanes leading to the Panama Canal. This final concession by the Cubans rankles to this day.

Thus, Cuban-American relations languished until the later half of the twentieth century, manipulated by a triumvirate of American businessmen, mafioso, and American-supported Cuban politicos until a charismatic rebel leader, Fidel Castro upset the apple cart, and Presidents Eisenhower and Kennedy reacted poorly. Every president since has continued the same diplomatic strategy of economic blockade. Judged solely on its stated goal, to bring democracy to the Cuban people, this strategy has failed. As the Princeton article explains, Presidents Carter, Clinton, and Obama have each voiced willingness to explore ending the blockade, but Castro has rebuffed every attempt. Driven from office by poor health, Fidel left his brother Raul in charge for a time, but returned when Raul voiced a willingness to respond in kind to American overtures, explaining that his brother's intentions were misinterpreted. Thus, popular opinion avers that no progress can be made in Cuban-American relations until Fidel dies.

So, let's not judge Obama too harshly. He is admittedly naïve in matters of foreign relations, but Cuban-American relations are a Gordian Knot that no other president has yet been able to solve.