Veterans
As I write this, responses to that question are arriving every minute from the Vietnam Veterans Only group on Facebook. It seems my question has hit a nerve. Take a look at a random sampling of the responses...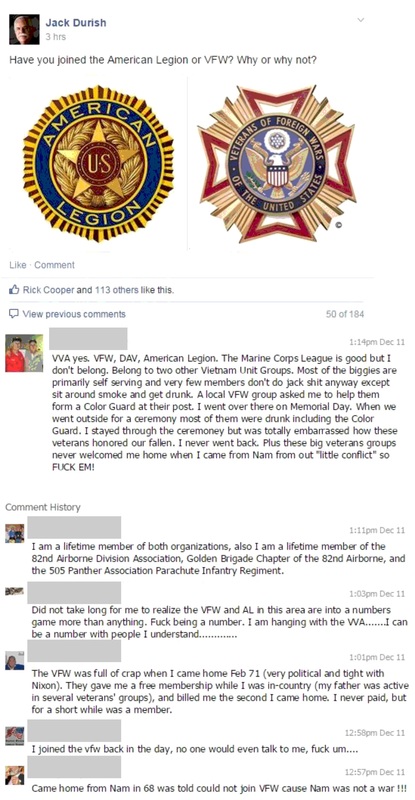 Can you imagine my surprise?

I was fortunate that when I completed my tour of duty in Vietnam, I was assigned to a post in Hawaii where there was little hostility between the military and civilian communities. Thus, I was spared the abuses that many Vietnam Veterans experienced on their return to CONUS (the Continental United States). I am appalled to learn that my comrades could not find sanctuary even among other veterans. It seems that "The Greatest Generation" wasn't as great as I once believed.

On Veterans Day and Memorial Day over the years, as we passed a veteran soliciting donations in exchange for a "Buddy Poppy", my wife would ask me, "Why don't you join?" I merely shrugged and replied that, "Those organizations are for 'real' soldiers. They don't want any REMFs hanging around."

REMFs are Rear Echelon Mother F___rs, the ones who served "In the rear with the gear". To be more precise, they were the commanders who sent troops in harms way, often disastrously, without exposing themselves to danger. So no, I wasn't one of those and, in truth, there weren't many "rear areas" in Vietnam. Base camps, such as the one to which I was assigned, were located all over the countryside and every perimeter was a front line. Also, in addition to administrative duties, I was a platoon leader for the base camp security force inasmuch as I was a trained infantry officer. Thus, my real reason for not joining, I suppose, was that I never felt the need.

Things changed as news broke about the scandals within the Veterans Administration. As we learned of veterans dying while languishing on secret waiting lists and other systemic failures, I decided that I had to do something. We were taught as soldiers to take care of one another on the battlefield. How could we do any less in these circumstances.

I joined both the American Legion and the Veterans of Foreign Wars and attended a couple meetings of both. The VFW post in my community seemed better organized, and I began focusing my attentions there; however, I intend on devoting more time to the American Legion once I'm settled into the VFW.

We visit patients at the Veterans Hospital in Long Beach and the Navy Hospital near Camp Pendleton to cater events for them, sponsor student competitions and award prizes for scholarship, sanction Boy Scout units, and provide honor guards for veterans' burials as well as community events. One of our most valuable services is helping veterans apply for VA benefits and shepherding them through the red tape jungle. Like all other VFW posts, we contribute to our national organization and the homes they maintain for widows and orphans of veterans who have fought in foreign wars.

I'm sure that the activities vary from one post to another, but there hasn't been any drinking or smoking at mine (yet).

To be honest, there are a few WWII and Korean Veterans still hanging on, but Vietnam Veterans seem to predominate, at least among those who attend meetings. I'm especially happy to see younger veterans fresh from the wars in Afghanistan and Iraq joining. Hopefully, we can help them network for education and job opportunities as they transition to civilian life. I certainly won't be a party to any behavior such as Vietnam Veterans experienced when they attempted to join, and I won't permit it to go unchallenged if others try.