Election 2014
The following is re-posted from the Online Townhall Meeting hosted by Greg Raths, conservative Republican candidate to represent California's 45th Congressional District.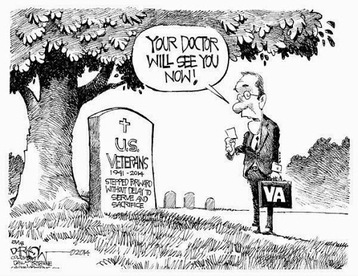 What will American healthcare of the future look like under Obamacare? Take a look at the healthcare provided to America's veterans. Sarah Palin was eviscerated for suggesting that there would be death panels and yet, we have since learned that the Patient Protection and Affordable Care Act (commonly referred to as Obamacare) does, in fact, provide for a panel of unelected bureaucrats who will make life and death decisions as to who is worth saving and who isn't (on a purely economic basis of course). Now, we discover that veterans would be lucky to have even that much consideration. Instead, they are relegated to secret waiting lists where they will be left to die without any right of appeal. Even criminals are treated better than that.

---
Visit Greg Raths for Congress to learn more and support this candidate, a retired Colonel, USMC, combat fighter pilot, corporate executive, and community leader.
---
What will American hospitals of the future look like under Obamacare? Take a look at any VA hospital today. Do you think that the bureaucrats will fare any better while taking care of 350 million of us than they do caring for a couple million veterans?

That's why I support repealing Obamacare as soon as possible. If you care to argue, answer my questions first.

Furthermore, while on the subject of healthcare for veterans, I propose that we provide them with the same healthcare that we provide for every member of the House of Representatives and the Senate. Certainly, it will cost. However, who deserves this more? Illegal aliens? Overindulged members of Congress? Or, the people to whom we owe our lives and our freedom?

I suspect that if we shut down the VA bureaucracy and gave every veteran the same healthcare insurance that we provide to members of Congress, there would be a substantial savings. Of course, there are many dedicated people working at the VA. Unfortunately, bureaucracies have the ability of defeating the best of them.

Just imagine how much worse things will get under Obamacare.
---